Patriotism and emotion will be flying high at the 4th annual LA County Air Show. Your company can show its support  for our military and reach out to a very captive audience by advertising in the Official Air Show Souvenir Program. This edition will feature all the scheduled events at this year's LA County Air Show.
The LA County Air Show 2017 Program, produced in full color, will be distributed as a supplement to Aerotech News in all its regular locations, plus will be given to spectators. It is estimated that 100,000 people will attend the show. Also, it should be noted that this publication is a special item that will be kept and looked at long after the Air Show. In addition, the digital edition will be available March 10, 2017 on Facebook as well as www.aerotechnews.com. The LA County Air Show Program will also be delivered to high traffic locations throughout the Antelope Valley.
Aerotech will also publish a special issue of Aerotech News and Review on March 17. Advertising in any one of these publications makes economic sense, and you can take advantage of our special crossover and combination rates to ensure that your business has maximum exposure at the Air Show and in our regular distribution.
Call now to reserve your ad space in these very special editions.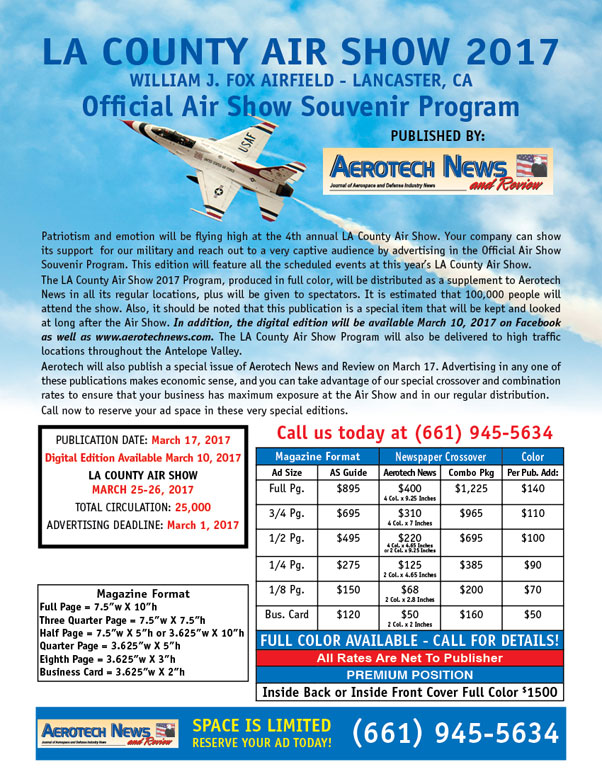 Click here to download the 2017 LA County Air Show Program Guide Rate Card.