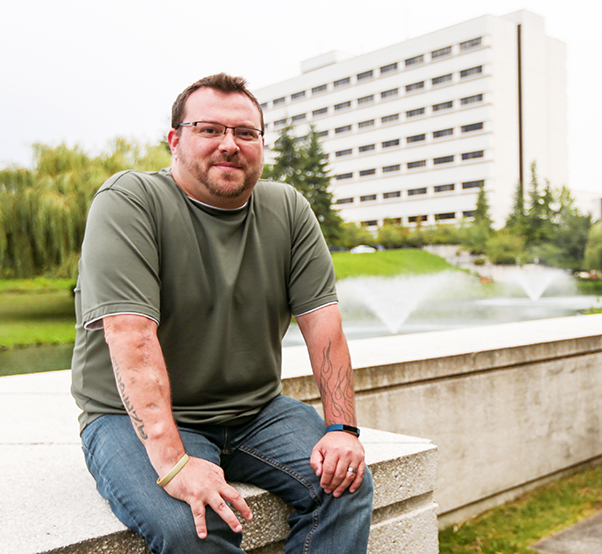 When Patrick Hogg first sets out to teach a new group of soldiers coping skills to deal with their depression, anxiety, or post-traumatic stress, he knows they will be nervous about sharing. Some might be downright reluctant.
As the group gets going, he'll ask them who struggles with a condition like anxiety. And then he'll always be the first to raise his hand.
As a survivor of a grenade attack in Mosul, Iraq in 2009, which severely injured his right arm, Hogg knows what it's like to have life radically shift direction without warning.
"I know what it is like to be that Soldier that literally lost everything, that thinks he lost everything," said Hogg, a certified occupational therapy assistant at Madigan Army Medical Center, Joint Base Lewis-McChord, Washington.
He spent a part of his recovery at Madigan's Warrior Transition Battalion, arriving here in 2010.
After his injury, depression set in: the infantryman who loved being in the Army no longer knew what his future held. He was in chronic pain, and he had lost a significant amount of function in his arm. The occupational therapy staff told him the grenade cut his nerves and that he had just a short time to recover before his body gave up the healing process.
"They were very straightforward and kind with me. The whole (occupational therapy) staff … gave me so much hope, and that just kept me going," said Hogg.
Once he had physically recovered, he knew what he wanted to do. He wanted to give back. Still a Soldier with the Warrior Transition Battalion, Hogg became an intern with the occupational therapy clinic where he offered encouragement to other patients who were struggling.
After leaving the Army, Hogg wanted to work full-time in the field, so he went back to school, where the same single-mindedness that had made him such an excellent patient propelled him to succeed.
The PTSD that came along with his injury, though, created new hurdles for him. The distorted thinking that is one of the hallmark symptoms of the condition made every test a life or death situation for Hogg; each one had the potential to snowball into his failing a course or not getting his degree.
"That first year was a nightmare, because you're trying to be normal and that's exhausting in itself," Hogg said.
At home, he wasn't coping well either. He was smoking cigarettes, eating poorly, and isolating himself from anyone he hadn't served with. The wakeup call came when Hogg realized that he wasn't demonstrating the same loyalty to his family and himself as he had to his Army buddies.
"I really had to take a hard look at myself and say, 'Why does this not apply to my family?'" Hogg recalled.
That startling realization led to his engaging in individual, group, and relationship therapy with Veterans Affairs. Hogg learned to apply coping skills to school, from showing up early to recording presentations, and at home, where he found that the best tools were communication, communication, and communication.
After first working for VA, Hogg eventually joined the Madigan occupational therapy team as a certified occupational therapy assistant in April. Upon learning that he would soon be working at the same place that helped heal him, he told his wife, "This is me literally going full circle."
Now he gets to share lessons from his own story of struggle with Soldiers he leads in daily group therapy sessions. The journey of his transition from his combat arms mentality of not wanting to be the weak link to his realization that it's okay to seek help is one that he draws on regularly.
Hogg works with both inpatient psychiatric patients as well as those in intensive outpatient therapy, teaching them coping and communication skills. He shows them how to change their thinking and their stories. He asks Soldiers to tell their own hero journeys and draw pictures of their worst fears, and then he asks them to draw how they will defeat the monster.
Even with their shared experiences, Hogg makes it a point never to tell Soldiers that he knows exactly what they're going through. He understands well that each person has his or her own journey.
"(But) I do say I know what it's like to be at the bottom of the mountain, with the whole weight of the world resting on your chest, and you're looking at this mountain wondering how the hell (you're) going to do that," he said.
"I know what that journey feels like, and I will help you in any way I can to guide you through that journey."