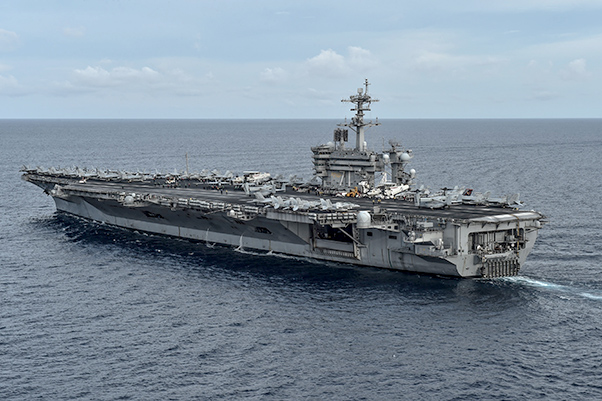 The Nimitz-class aircraft carrier USS Theodore Roosevelt (CVN 71) departed the U.S. 7th Fleet area of operations and entered the U.S. 3rd Fleet area of operations Nov. 13.
While in 7th Fleet, Theodore Roosevelt participated in Exercise Malabar 15 with the Indian Navy and Japan Maritime Self-Defense Force, made a port visit to Singapore and hosted Secretary of Defense Ashton Carter and Malaysia's Defense Minister.
"Our time in 7th Fleet was certainly well spent and eventful," said Rear Adm. Roy Kelley, commander, Carrier Strike Group (CSG) 12. "Malabar 15 was an excellent opportunity to build relationships and improve interoperability with our Indian Navy and Japan Maritime Self-Defense Force counterparts. It was also a pleasure to host Secretary of Defense Carter.
It was great for our crew members to hear, from the highest levels, why their service matters and how it is having a direct impact every day."
Theodore Roosevelt's entrance into 3rd Fleet marks the final phase of the ship's eight-and-a-half month deployment before pulling in to its new homeport of San Diego.
"It has been an arduous eight months and the crew has done a superb job, and I am incredibly proud of their accomplishments. I look forward to finishing strong and bringing Theodore Roosevelt to her new home in San Diego," said Capt. Craig Clapperton, commanding officer of Theodore Roosevelt.
Before the 2015 deployment officially ends Theodore Roosevelt will pick up friends and family for a five-day Tiger Cruise that concludes in San Diego. It is the first time Theodore Roosevelt will pull into San Diego in the ship's 29-year history. Theodore Roosevelt's change of homeport is part of a three-carrier swap that includes USS Ronald Reagan (CVN 76) forward deployed to Yokosuka, Japan, and USS George Washington (CVN 73), which is on her way to her new homeport in Norfolk.