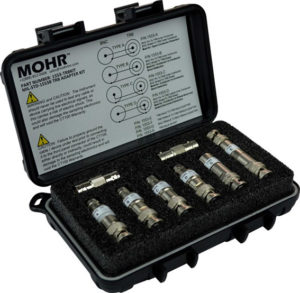 The MIL-STD-1553B avionics data bus is used on aircraft throughout the U.S. military, ranging from the F-16 Falcon to the AH-64 Apache, as well as on a wide range of commercial aircraft.
Many of these are aging aircraft for which damaged or degraded wiring can impact flight readiness and air safety. However, there are few good tools for localizing 1553B data bus cable faults to help speed repair of this important system.
This is where MOHR Test and Measurement LLC, a supplier of time-domain reflectometry cable test equipment, has stepped in with its new MIL-STD-1553B TRB Adapter Kit (P/N:1553-TRBKIT) that facilitates high-resolution TDR testing of 1553 data bus cables.  With the 1553-TRBKIT, technicians can use MOHR's CT100 high-resolution TDR to rapidly detect and localize MIL-STD-1553B main bus and stub faults, even through multiple transformer couplers.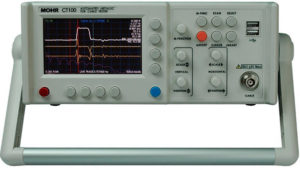 "Without the proper tools, it can be very time-consuming to find a 1553B data bus fault so that it can be fixed," said Brandt Mohr, MOHR chief technologist.  "It may take a substantial amount of work to expose a portion of the 1553 cable harness for inspection and repair, so knowing exactly where a cable fault is located could save avionics technicians hours of effort.  Of course, fixing wiring problems faster means aircraft get back into the air faster, something that is critical for both our defense and commercial aviation customers."
Mohr says the 1553B TDR testing kit expands the usefulness of its CT100 Series TDR instruments for its growing base of defense and commercial aerospace customers.  In concert with its coaxial adapter kits and new multi-conductor cable probe kit, the CT100 can be used to detect and localize faults in any type of avionics cabling.