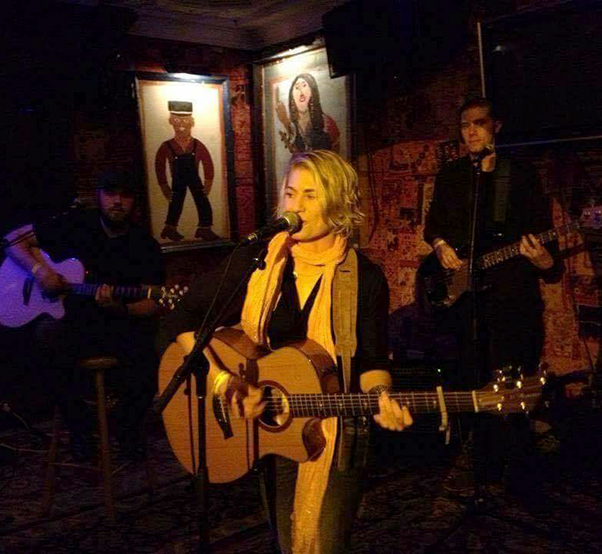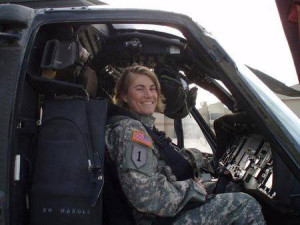 LANCASTER, Calif.– Antelope Valley's Veteran of the Year, selected by the California State Assembly, is a two-tour Iraq War veteran, a Blackhawk helicopter pilot and military parachutist. She is also a singer-songwriter who leads the Hous Band.
Make that "Hous," not "House," because the group name is a twist on her own name, Jennifer Housholder.
Her military credentials and background has an impact on the music she composes because while it is a blend of contemporary folk blended with classic rock, she will sing to you about flying into Baghdad, and about the trials of coming home from the wars that America fights.
She has performed, in Army dress blue uniform, at ceremonies to present the Antelope Valley Mobile Vietnam Veterans Memorial, and at local Veterans of Foreign War posts. And she has jumped into her "civvies" to play gigs at the House of Blues, Whiskey A Go Go, and the BeX stage in Lancaster.
And while she sings a repertoire of her own composition about the enduring topics of love, and loss, and affairs of the heart, she also has composed songs with titles like "The Mission Continues," and "Warriors Live On."
"There is always at least one military song," Housholder said. "It's how I find the folks" from the military.
"Music is such a powerful connection," she said during an interview at a local Starbucks. "It is a great way to communicate."
So, while she will take her band along on her own musical journey through the themes that are emblematic of folk and rock, with a little jazz, another theme is her love and admiration for the United States military, in which she has served in both the Air Force, and the Army.
"The music is a great way to create a bond with the Vietnam War veterans at the VFW," she said. "My music really speaks to them."
If you assessed measurements in increments of height and weight they would range in the short and slight, barely topping five feet of rangy soldier. Shift the measure to a warrior's heart and you will see the heart of a combat pilot.
Housholder shifted from her Air Force commissioned rank to Chief Warrant Officer 2 with the Army National Guard because her opportunities for flying combat improved if she shifted her dream from being a fighter pilot to being a combat helicopter pilot in a UH-60 Blackhawk.
Missions of her Guard units in Iraq included air assault, combat casualty evacuation, and security for VIPs under armed escort.
Housholder survived combat, and she also survived trauma. One of the ironies of war is that the fight is not always with the enemy in the combat zone. Sometimes the enemy comes from an unexpected and demoralizing direction. Housholder's survival of a profound harassment experience, and her recovery from trauma associated with the ordeal inside an institution she loves took her military career in a new and different direction.
"I have had 18 years in the military, and only one of them has been bad," she said. "That is only one bad year out of 18 years. Most of my years have been really good."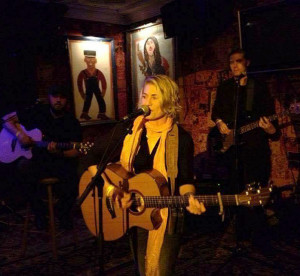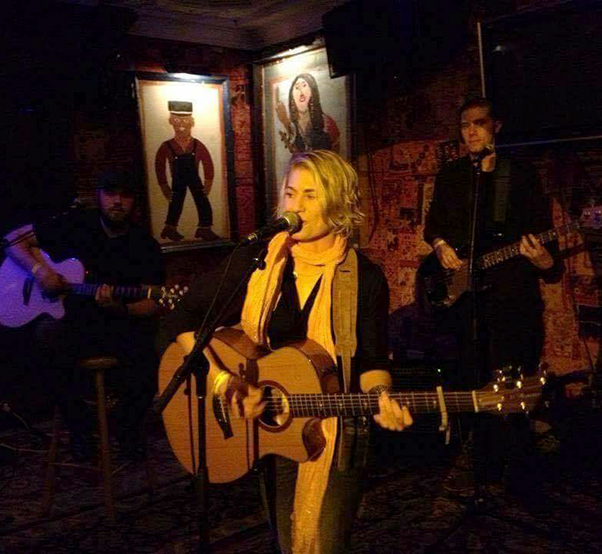 But it was her recovery and journey of healing from that really bad year that jumpstarted her acquisition of an entirely new skill set. She is rated as a "Master Resiliency Trainer" from both the Air Force and the Army and has worked with the Warriors Live On non-profit, which helps veterans of Iraq and Afghanistan to regain their footing after being impacted by Post Traumatic Stress Disorder.
The "master trainer designation" is a term that she chuckles about, because she thinks the "master" term is kind of ironic and funny. The big picture is that she has qualified herself to assist others in recovery from trauma, on the battlefield, or off.
"Jennifer Housholder is doing great work for veterans in the Antelope Valley and is our choice for the 36th Assembly District's Veteran of the Year," Assemblyman Tom Lackey, R-Palmdale, said in making the announcement. "Her work in combating the stigma around PTSD is taking on one of the biggest issues facing California's veterans."
Resilience, a key term in the military after 15 years of war, is what fails to happen "when you don't strengthen that core of your own values and integrity," Housholder said. "It's like the military's Code of Conduct. What is it that you want to be said about you?"
Resiliency results from cultivation and growth of a "strong moral compass," and it also takes into account that "We are all weak in different areas."
Housholder said that her life experience as a Christian has provided values that she could rely on when the going got tough enough for her to comprehend that she was experiencing a deep crisis. She has learned enough about trauma resiliency skills that she feels confident enough to start sharing with others on a professional basis in the future.
She attests to the effectiveness of techniques taught by the Trauma Resource Institute.
"It was 'the money,'" she said, meaning the best training she had experienced. "You learned how to regulate your own nervous system. It was from learning those skills that I got my own breakthrough."
She added, "My role is like a combat medic pulling people out of the trenches with wellness skills."
In addition to her interests and military career she works as a flight test engineer at Edwards Air Force Base, the place where she chose to serve early in her career as an Air Force officer.
For Housholder the tapestry of skills and passions she follows aren't a sign of being over-committed. Rather, she is a kind of Renaissance artist, pilot, performer, combat veteran, trauma survivor, resilience trainer.
"I have a lot of interests," including a new album that is coming out soon, she said.
Her mission continues.