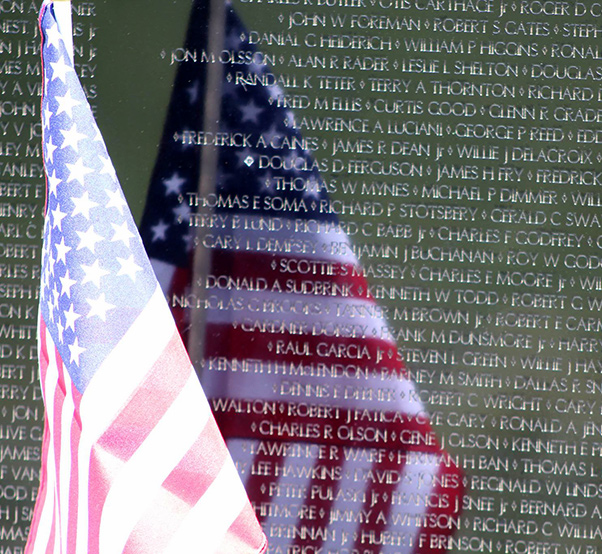 Across the nation, several veteran-oriented non-profits built traveling half-scale tributes to the Vietnam Memorial on the Mall in Washington, each serving their own need and purpose, arriving in towns across the nation for display.
For many veterans, and their families and communities, the assorted "mobile memorials," provide the experience of a visit or remembrance denied to many people who cannot travel all the way to Washington to view the Vietnam Memorial on the Mall.
About 60 miles north of downtown Los Angeles in the Mojave Desert, the desert community of the Antelope Valley decided it would be the veteran-friendly community to build its own ½ scale tribute wall in salute to the veterans who fought and endured one of America's longest wars. The effort flowed from a grassroots drive that included more than $20,000 in pennies donated by Antelope Valley schoolchildren.
Ultimately, more than $100,000 in local contributions were raised to become what is known in Southern California as the Mobile Vietnam Memorial Wall, or locally, is simply known as "The AV Wall" for its origins in the Antelope Valley, a suburban community of the Mojave Desert near Edwards Air Force Base about 60 miles north of downtown Los Angeles.
Like the mythic Scottish village of Brigadoon that would emerge from the mists and then retreat, the AV Wall emerges on Veterans Day and Memorial Day, erected by more than 100 community volunteers who helped build it, display it and maintain it.
Now, the AV Wall is recognized as a major partner in the national 50th Anniversary Vietnam War Commemoration that draws major support from the Department of Defense and Department of Veterans Affairs, corporate support and thousands of community efforts.
Army draftee infantryman Mike Bertell began his journey to spearheading a local Vietnam Memorial effort on Christmas Eve, 1970, when he lost most of his squad mates in his 101st Airborne unit when a "friendly fire" incident killed nine of his platoon brothers-in-arms, and wounded a half dozen more.
"That was Christmas Eve," he said. In the dark of the Vietnam jungle canopy, Bertell recalled sitting, stunned, as rain poured down. "I just kind of zoned out." Since then, he says, Christmas is the most difficult holiday. He spends it quietly with friends.
With daylight, bodies and body parts had to be bagged, and wounded had to be hoisted by cable onto hovering helicopters as the injured soldiers cried out their agonies.
From that Christmas on, and all the Christmas holidays since, and all the passage of Memorial Day and Veterans Day observances, all of those and many other days and nights marked passage toward Bertell's role in building a Vietnam War memorial tribute wall that could be experienced and seen by people who may never see the Vietnam Memorial in Washington.
For Augie Anderson, an Air Force veteran and member of the committee that oversees the "Antelope Valley Wall," the path to commitment began at the age of 12, on notification that his 22-year-old brother, Richard K. Carter, was killed in action as a combat engineer in Vietnam.
In 1974, as the Vietnam War ended its final stages, Augie Anderson enlisted in the Air Force, but was shifted from Vietnam assignment because of his brother's death in action, the 61-year-old veteran said.

Army Spec. Carter's death by explosion in Tay Ninh Province, Republic of South Vietnam, on Nov. 19, 1967, "is something that never goes away," Augie Anderson said.
Becoming part of the American circle of Gold Star families is the most un-sought of honors.
"Being a member of this group of people is not something anyone wants," Anderson said, as he and other volunteers for the AV Wall prepare for the next presentation of the memorial on Nov. 10-15.
The tribute memorial, Anderson said, provides "the next best thing" to a visit to the Vietnam Memorial in Washington.
Since the Antelope Valley's Mobile Vietnam Memorial made its debut during the Veterans Day observance in 2009, it has been displayed across Southern California, most often in one of its home Antelope Valley communities. Each year, thousands of visitors attend the presentations.
This year's presentation at the Marie Kerr Amphitheater in Palmdale, Calif., will be themed to honor Gold Star Families of the Vietnam War, such as Anderson's family. In past year's women killed during the Vietnam War have been honored, as well as the 76 troops killed in action who called the Antelope Valley home.
"We are reaching out and want the community's assistance in helping us find Gold Star families of the Vietnam War period, so that we can recognize and honor them," Stacia Nemeth, one of the organization's key volunteers said in announcing this year's theme.
Nemeth at 50 is too young to remember much about the Vietnam War, but she has a daughter who is an Air Force Academy cadet, and she is one of more than 100 volunteers who manage the memorial's presentation during patriotic holidays.
"My husband, John, and I, are an Air Force family," Nemeth said, "So, we decided to volunteer."
To build the local Vietnam mobile monument — which has all 58,315 names engraved on it — took a sustained grassroots fundraising drive of nearly five years, noted Linda Willis, one of the original volunteers. Veterans, volunteers, and finally, school children, raised the more than $100,000 needed to construct the wall and auto-engrave the more the thousands of names.
Linda Santana, wife of a Vietnam War veteran Marine, came up with the idea to place jars or water bottles that could fill with small coins, and she made presentations at local schools across the Mojave Desert suburbs of Los Angeles that make up the Antelope Valley. Ultimately, school children raised more than $20,000 in "Pennies for Soldiers," that helped put the fundraising goal over the top.
In later years, after the AV Wall was built and displayed, elementary children who had grown to high school age, saw the memorial on display, and learned with delight that the AV Wall was what their contributions created.
"They would say, 'I remember this! We brought pennies for the jars,'" Willis said. "And we could tell them, well, this is what your pennies built."
The success of the community drive — and the renown that the memorial has gained regionally across Southern California and all the way to the foothills of the Eastern Sierra — has given the Antelope Valley's mobile Vietnam Memorial a national profile. The AV Wall is now as "Strategic Partner" with the national United States Vietnam War Commemoration.
The Vietnam 50th Commemorative Anniversary is partnered with groups such as FedEx, United Airlines, other major corporations – and the AV Wall Committee in the Antelope Valley. Of the 10,000 partners, some are as small as a single Veterans of Foreign Wars Post, and others as large as a Fortune 500 company. The Vietnam 50th Commemorative will coordinate ceremonies and recognition through 2025, the 50th anniversary of the end of the Vietnam War.
The AV Wall "is not a small partner," said Joe Ramos, an Iraq War veteran who coordinates with communities on the 50th Commemorative observations from office space at the Department of Defense. "When that wall is shown, thousands of people come out, and that is not small."
The grassroots drive was never a sure thing. It took off, initially, after a 2005 Palmdale Playhouse community performance of "A Piece of My Heart," an emotional tribute to the role that women played in the Vietnam War, whether military nurses or volunteer "Donut Dollies" for the American Red Cross.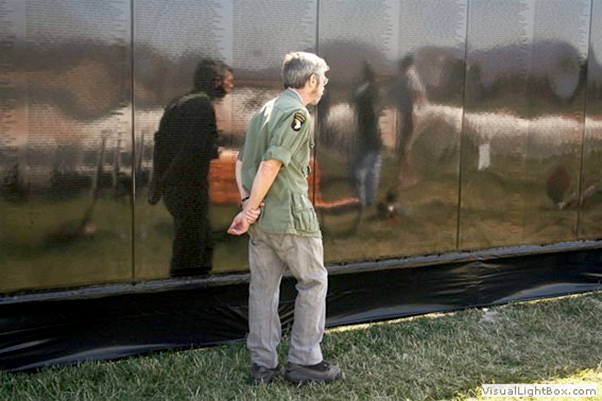 "It was such a powerful play," said Willis's husband, Steve, who played a "universal soldier," in the drama that culminates with a ceremony at the Vietnam Memorial. "I just wanted to be a part of it."
Additionally, a trio of local Vietnam combat veterans, Bertell, joined by Marine vet George Palermo, and draftee Army vet Gerry Rice, visited the Vietnam Memorial in Washington in 2006. Joined by volunteers from the playhouse, and other veterans, they decided to get something going.
"One of the guys from the playhouse said, 'Why don't we just build our own wall?'" Palermo recalled. "We were joking about it then, but it got serious and we started working the process."
Performers from the play, and playhouse staff joined with veterans in jumpstarting a drive that started fast, but sputtered. After a few years, with fundraising stuck below the cost of building the memorial, a meeting was held at the community playhouse, and discussion centered on whether to shut the effort down and return money to donors.
Bertell, the combat infantryman who lost so many of his friends to the mislaid artillery shell landing near him on Christmas Eve 1970, was one of the key Vietnam War veterans in the community drive.
People waited for what he had to say, Willis recalled, saying "you could have heard a pin drop."
Then said to the small fundraising committee, "It seems like we have put a lot of effort into this. Maybe we should give it one more try."
Donations revived – large and small – coming from the cities of Lancaster and Palmdale, from major defense contractors such as Lockheed Martin, Boeing and Northrop Grumman, American Legion and VFW posts, and yes, schoolchildren.
Santana's concept to enlist the aid of the Antelope Valley's schoolchildren contributed to a strong finish, with the Antelope Valley Mobile Vietnam Memorial making its debut for the Veteran's Day observances in 2009. Before the memorial was unveiled, local parents of soldiers whose names are on the wall were invited to Signs & Designs, the local firm auto-engraving the names on sheets of black composite materials that make up the tribute.
Jean Betts of Lancaster, Calif., mother of slain soldier Terry Joe Bailey, watched the process of her son's name being engraved.
"It's a piece of my heart too," Betts said in a 2009 interview for the Antelope Valley Press. "I think of him every day. When I think of him, he's still just a young man." She added, "He was killed saving his platoon."
Bailey, who exposed himself to fire while protecting his platoon, was killed April 14, 1971, and posthumously awarded the Silver Star, and Purple Heart, also the Bronze Star and Army Commendation Medal with Valor clasp – one of the 58,315 names on the Vietnam Memorial.
Mrs. Betts is planning to attend ceremonies this year to honor Gold Star families of the Vietnam War.
In partnership with the Vietnam 50th Commemorative observations, the Antelope Valley volunteers will be awarding ceremonial pins to all veterans of the Vietnam War Era when the AV Wall is presented on Nov. 10-15 at the Marie Kerr Park Amphitheater.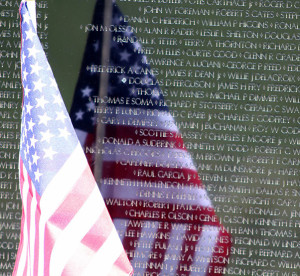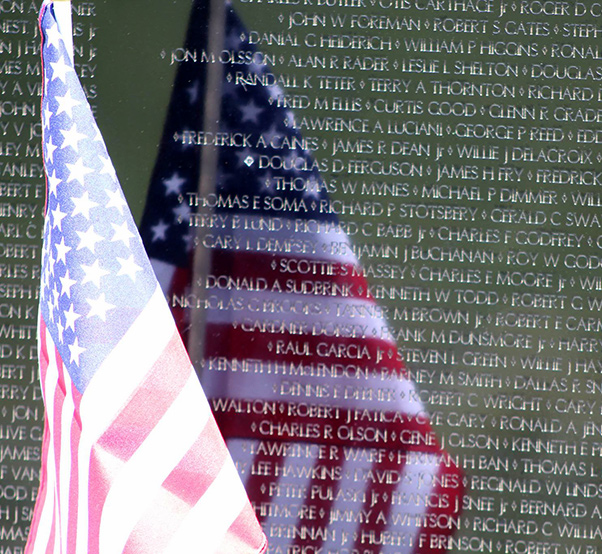 Ramos, an armor cavalry officer in Iraq, said, "We are very proud of what the Antelope Valley has achieved. It definitely has a grassroots feel to it, and with their events to date, they have reached tens of thousands of veterans and their families. … They do superbly."
As a national effort the Vietnam War Commemoration has reached out to 1.2 million Vietnam War Era veterans thanked, and honored 1.5 million families.
"We have a goal," Ramos said. "We are proud of our statistics-driven abilities, and we want to reqch approximately five of the seven million veterans."
The AV Wall will be on display 5 p.m., Nov. 10 through 8a.m., Nov. 15 at The Palmdale Amphitheater at Marie Kerr Park, 2723 Rancho Vista Blvd.
The theme for this display is "Honoring Gold Star Families of the Vietnam War."
Opening Ceremony/Veterans Day Ceremony
Nov. 11, 2016 at 11 a.m. Candlelight Memorial Walk Honoring Gold Star Families and AV 76
Nov. 12, 2016 at 9 p.m. Gold Star Family Recognition Ceremony
Nov. 13, 2016 at 2 p.m.
Taps will be played nightly at 10 p.m.
More information about the AV Wall events can be found at www.avwall.org. More information about the national Vietnam Commemoration events can be found at www.vietnamwar50th.com.
Editor's Note: Dennis Anderson is a Vietnam War Era veteran who served in Cold War Europe and as an embedded journalist in the Iraq War. A graduate of USC's military social work master's program, he works as a therapist with veterans emotionally impacted by war.