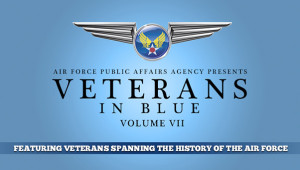 The seventh volume of "Veterans in Blue" is now available online. The exhibit captures 28 stories of heroism and service by Air Force veterans. Each veteran's portrait is also displayed on the fifth floor of the Pentagon in A ring between the eighth and ninth corridor.
Larry Clavette, the Air Force Public Affairs Agency director, said the Air Force is proud to honor each veteran's military service.
"Veterans old and new have shaped our Air Force, and we are using this project to chronicle their experiences and lessons learned from their generations of service," Clavette said.
The Air Force veterans honored in this volume are:
– Retired Col. James Barr joined the Air Force in October 1983 and retired in January 2009. He piloted a C-141, C-17 Globemaster III and Air Force 2, whose passengers included Vice President Al Gore and Secretary of State Warren Christopher.
– Retired Chief Master Sgt. Craig Bergman joined the Air Force in 1970. As a career helicopter maintainer, Bergman and four fellow citizen Airmen established the 71st Special Operations Squadron at Davis-Monthan Air Force Base, Ariz.
– Retired Chief Master Sgt. Terry William Cook enlisted in the Air Force in 1972 and retired in 2002. After basic training he trained as a weapons mechanic and worked on the F-4 Phantom, B-52 Stratofortress, F-15 Eagle, and A-10 Thunderbolt II.
– Retired Col. Arthur Fiedler scored six aerial kills as a P-51 Mustang pilot before separating from the military in 1945. The Air Force called Fiedler back into its ranks for the Korean conflict and his service continued into Vietnam.
– Retired Senior Master Sgt. Clay Gillam, Jr. enlisted in the Air Force in 1968. He served eight years on active duty as a hospital administrator before transitioning to the Air National Guard where he served until he retired in 1990.
– Retired Master Sgt. Brenda Gutierrez joined the Air Force in 1994 as a military videographer. Her tours included deployments in support of Operations Joint Endeavor and Enduring Freedom. One of her most memorable assignments was as a broadcaster at the White House Communications Agency.
– Capt. Jenean Hampton commissioned in the Air Force in 1985 as a computer systems officer. During her seven years of service, Hampton was deployed to Riyadh, Saudi Arabia, in support of Operation Desert Storm where she was responsible for critical radar software used for search and rescue missions and tracking enemy aircraft.
– Retired Master Sgt. Johnny Hernandez joined the Air Force as a tactical aircraft maintenance specialist in 1981. As a maintainer, Hernandez worked on the A-10, Lockheed U-2 TR-1A, C-130 Hercules and Cessna 337 Skymaster.
– Retired Lt. Col. Michael Hoffman commissioned as a personnel staff officer through Texas A&M University's ROTC program in 1968. During his years of service, Hoffman served at every level in the Air Force, including two tours on the Air Staff at the Pentagon.
– Retired Maj. Wallace Kirkpatrick joined the U.S. Army Air Corps in 1942. On his third combat mission over France, Kirkpatrick was shot down and captured by Nazi forces and was sent to a prisoner-of-war camp. Kirkpatrick was freed from the POW camp in 1945 and returned to the United States.
– Retired Lt. Col. James Lawrence commissioned in the Air Force during the height of the Vietnam War to become a pilot. Lawrence served 18 years in special operations, and helped develop standards and procedures for the AC-130 gunship airframe.
– Retired Col. Ronald Lord became an Air Force pilot and fought hostile forces in the air above Hanoi and Haiphong where he engaged communist North Vietnamese MiGs during the Vietnam War.
– Retired Master Sgt. John Lukens joined the Air Force in 1963. In 1964, Lukens deployed to Vietnam for the first time and was one of the first Airmen on the ground setting up operations at De Nang Air Base.
– Retired Maj. William McBride joined the Air Force in 1988. After 13 years as an enlisted personnel systems manager, McBride applied for Officer Training School. He led Airmen as a communications officer and cyber operations officer.
– Staff Sgt. Nicole Mickle joined the Air Force in 2005. During her eight-year career as an Air Force photographer, Mickle was stationed at Vandenberg AFB, Calif., Lackland AFB, Texas, and Joint Base Charleston, S.C.
– Retired Master Sgt. David Miller joined the Air Force in 1971 to become a fire protection specialist. During a short tour to Utapao Air Base, Thailand, Miller assisted refugees fleeing from South Vietnam when Saigon fell to the North.
– Staff Sgt. Ryan Milliken served as an Air Force explosive ordnance disposal technician from 2004 to 2012. "If I have an IED (improvised explosive device) or a bomb in front of me, in order for me to know how to take it apart, I have to know how to put it together," Milliken said.
– Michael Moriatis served in the Air Force from 1989 to 1995 and finished his career with the U.S. Navy Reserve in 2009. He joined the Air Force as an imagery production specialist working with reconnaissance long-roll imagery on the C-130 and U-2 aircraft.
– Retired Chief Master Sgt. Wayne Norrad enlisted in the Air Force in 1966 as a B-52 nuclear bomb loader. He separated from active duty in 1969, but returned to active duty in 1970 to begin a new career as a combat controller.
– Retired Maj. George Pankonin served in the Air Force from 1970 to 1993. Pankonin's enlisted career spanned eight years before he earned a bachelor's degree and attended OTS.
– Retired Senior Master Sgt. Dan Quasius followed in his father's footsteps when he enlisted in the Air Force, but he never imagined it would last 33 years. During his career, he flew on KC-135 Stratotankers and KC-10 Extenders, and participated in Operations El Dorado Canyon, Desert Shield, Desert Storm, Just Cause and Iraqi Freedom.
– Staff Sgt. Walter Quering was drafted to serve in World War II in 1943. He became a waist gunner on a B-17 Flying Fortress, and was assigned to the Eighth Air Force's 487th Bomb Group, 838th Bombardment Squadron, which flew out of Lavenham, England, and was commanded by Brig. Gen. Jimmy Doolittle.
– Staff Sgt. Norman Ransom voluntarily joined the Air Force in 1967, despite being drafted into the Army. Ransom provided video documentation of Air Force missions around the world, and also recorded aerial footage of the closing of Da Nang Air Base, Vietnam.
– Retired Chief Master Sgt. Don Shelton joined the Air Force in 1971 when he was 18 years old. Shelton attended training to become a member of the Air Force's elite pararescuemen. "The Air Force has always instilled character in people," Shelton said.
– Lt. Col. Gene Smith entered the Air Force in 1956 after graduating and commissioning through the Air Force ROTC program. Smith was picked up for pilot training in 1961. In 1967, he was sent on a mission to destroy the Doumer Bridge, a railroad bridge over the Red River in Hanoi, Vietnam, that was a critical link for supplies.
– Retired Senior Master Sgt. Robert Stillwell joined the Air Force in 1968 during the Vietnam War and served as a security policeman. After three years in security forces, Stillwell was given a chance to pursue his childhood dream of being an illustrator.
– Retired Master Sgt. James Stuart spent 20 years in the Air Force from 1961 to 1981. After basic military training, Stuart went to technical school to become a ground communications radio technician. During his career, Stuart served two tours in Vietnam at Bien Hoa AB.
– Senior Airman Aubrey Trufant joining the Air Force in 1999 as a heating, ventilation, air conditioning and refrigeration technician. After 9/11, Aubrey deployed to Kwangju AB, South Korea, where he helped get the closed installation up and running to house service members deploying to Afghanistan.
View their biographies, photos and video interviews on the VIB website.