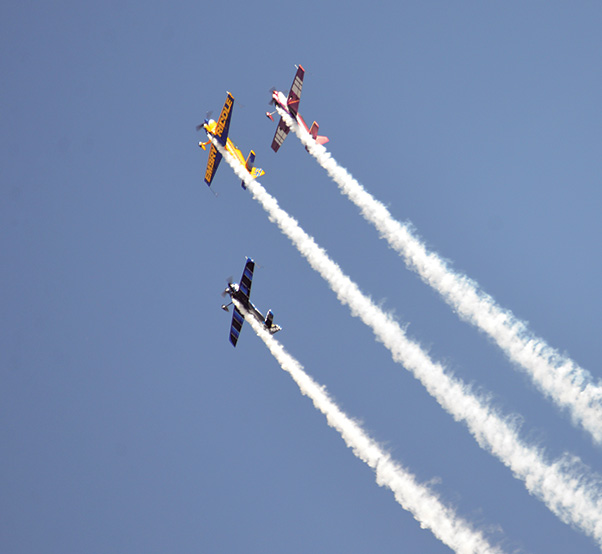 "Red, White and Boom!" delivered as promised as thousands enjoyed the 4th annual Los Angeles County Air Show at the Gen. William J. Fox Airfield in Lancaster, Calif., March 25-26.
Officially kicking off the event the evening of March 24, Jacob Nelson and the Tone Wranglers got the party started at BEX restaurant in Lancaster, while the title sponsor of the show, Lockheed Martin, hosted the U.S. Air Force Thunderbirds air demonstration team in a private reception.
The precision demonstration by the Thunderbirds was beyond impressive, along with numerous aerobatic performers including Rob Holland who has won 18 International medals, nine of them gold.
Among his many awards, Holland is a six-time U.S. National Aerobatic Champion and seven-time U.S. Four-Minute Freestyle Champion.
"I wanted to be a pilot as long as I can remember," said Holland before the show while he was prepping his aircraft. "Maybe it was Star Wars or something cool like that, that inspired me, or perhaps my dad taking me to an air show as a little boy — I'm not really sure, I just knew it was my mission in life to become an aerobatic pilot." Whatever the inspiration was, Holland's ability to entertain a crowd is indisputable.
"I had no idea a plane could hang in the air like a helicopter," said Jillian Guarna, 27, from Pasadena, after watching Holland's performance. "I'm pretty blown away by the entire venue but this is guy is amazing." He said it was the first air show he has ever attended and it will definitely not be his last.
Opening the show both days with an invocation, a moment of silence for Sgt. Steve Owens, an LA County sheriff who was killed Oct 5, 2016, and the National Anthem sung Saturday by the Satin Dollz and Sunday by Joei Fulco of The Fulcos — the tone was set.
"It is nice to see that America is still America — I think air shows simply bring out the best in everyone and bring out the best people," said Sandy Myers of Phoenix, Ariz., while she was waiting to get an autograph from Joe Kittinger, the first man to parachute from space.
Summing up a world-class air show is sort of like enfolding a dinosaur in a Tootsie Roll wrapper. With aerial demonstrations and historic aircraft such as the Lockheed P-38 J Lightning and other "Planes of Fame" from the Chino Air Museum, entertainment was non-stop; however, the real magic, for many, took place on the ground and around the Antelope Valley.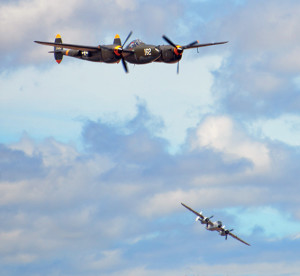 Thunderbird pilots and team members visited the AV Academy High School where Maj. Alex Turner (#5 pilot) inspired students to make good choices in life and write their own story.
Maj. Whit Collins (#6 pilot) and other team mates also visited the William J. "Pete" Knight Veteran's Home in Lancaster where they showed a short video of what it is like inside of a cockpit while performing.
"We are standing on your shoulders — we are here because of what you did, because of your sacrifices," Collins told residents. "We will do our best to carry on. We want you to be as proud of us as we are of you." The Thunderbirds listened to veterans who served in World War II and wars that followed.
Referring to the video, several female residents commented that the flying looked like a lot of hard work. "They must be very strong — and are they ever cute!" said one resident as she blushed like a teenager.
F-15 pilot Capt. Evan Erickson of Hill Air Force Base, Utah, has applied to be a Thunderbird and is accompanying the team to see how they conduct themselves in the communities they visit. "Flying is very cool but I think one of the best parts is on the ground, hanging with the team and seeing how truly sincere they are," said Erickson, as he met with the veterans.
Ken Lawrence of GEM Mortgage, who brings 10 pies every month for residents' birthday parties, also donates a unique plaque annually to the home which is later autographed by the pilots. "Just make sure you hang it above the Blue Angels' display," joked one pilot.
"To see the mutual respect and exchange between the generations and to see how curious the Thunderbirds are about our residents is very impressive," acknowledged Elvie Ancheta, the home's administrator. "Who knows, maybe someday the Thunderbirds will be residents here also."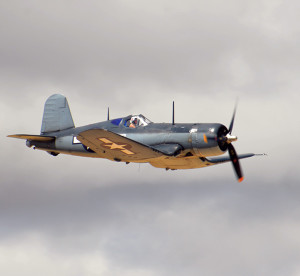 Make-A-Wish family members were special guests on Friday and enjoyed front row seats to watch the practice run while hanging out in the performer's tent. "My favorite part was when they made a heart and a flower in the sky," said 10-year old Owen Mooney. Owen was diagnosed at 27 months with leukemia.
"Cancer is rough for the entire family," said his mother, Roz. "Owen's brother was eight when Owen was diagnosed and most of the attention went to Owen and his care." Roz and her husband, Jim, were very thankful for Make-A-Wish and the Thunderbird team for their hospitality and amazing support. "To see the pilots playing Go Fish and making the children feel so special is truly heartwarming," she said.
Each year the air show brings in a few new performers and is in constant state of improvement.
This year they introduced "The VIP Experience" where guests could purchase different levels of tickets and view the show from the chalet area which is normally reserved for major sponsors.
Roscoe and Glen from New Zealand bought VIP tickets and will be back again next year. "It is the best seat in the house, even better than Lockheed's tent," said Roscoe with a wink. He said next year he may even buy a ticket to take a spin on the runway in a Ferrari or Lamborghini. "Where else can you go 160 MPH and not worry about getting a ticket?" Other than the wind, Roscoe and his friend had no complaints, adding that if they didn't have NASCAR tickets already for Sunday, they would be back to see the show again.
Since the number of takeoffs equaled the number of safe landings, Air Show Executive John Fergione said it was a very successful show.
"The Aviation History panels were a huge success as was the STEM Exhibition and the Red, White and Boom VIP Experience packages we initiated this year," explained Fergione. "Overall, I am exceptionally pleased with the performance of our staff and volunteers for safely accomplishing what I am calling our first in-house air show. I had my doubts last year, but we did it in style. The good vastly outweighed the not-so-good comments we received."