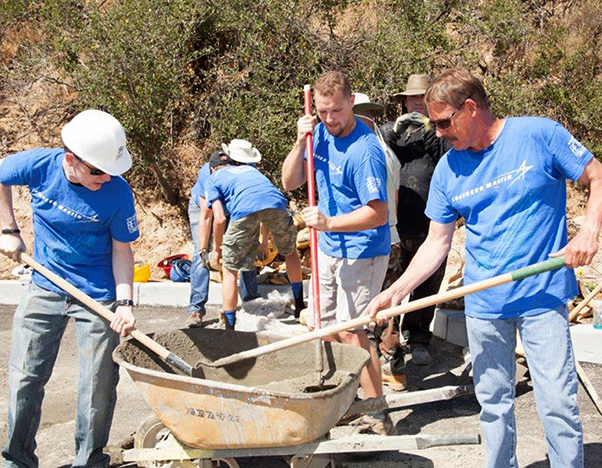 Veterans are one step closer to moving into their new homes in Santa Clarita and soon a new neighborhood for veterans will be built in Palmdale, thanks to Habitat for Humanity and hundreds of volunteers, including Lockheed Martin employees.
Aerospace industry volunteers recently painted flashing, mixed and poured cement for sidewalks, and reinforced framing in homes that will soon be ready for low-income veterans and their families. The Habitat housing project in Santa Clarita consists of 78 homes.
"It's such a blessing and heartwarming to be working alongside Lockheed and other volunteers," said retired Army veteran Mark Johnson, who will be purchasing a home in Santa Clarita. Johnson is a single parent with three children. "I would never be able to afford such a beautiful home if it wasn't for this program and volunteers."
Veterans must put in 500 hours of sweat equity as a part of paying for their homes. Johnson said that he has been coming every Saturday for the past year to do his part. "I really count my blessings every day and I wish I knew how to express how thankful I am." He paused to wipe his eyes and catch his breath. "This is what makes this country so great."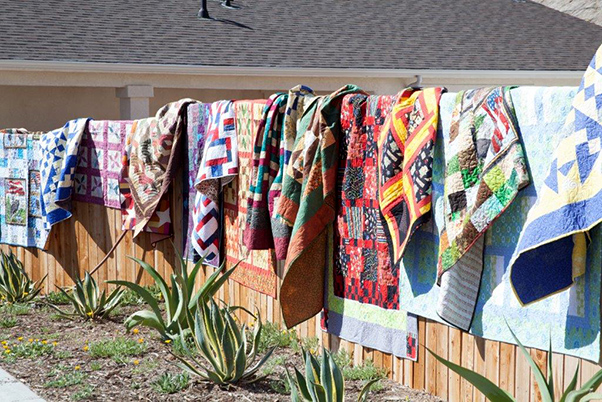 Katelyn Humphrey, a Lockheed Martin aerospace engineer associate, helped Johnson and others pour sidewalks. She also volunteers to build loft houses with her church, the Desert Vineyard Christian Fellowship in Lancaster, for families in Mexico. "Volunteering to help build someone a home is such a great honor. Just by volunteering a few hours, you can really impact lives — it's a very cool thing to be a part of."
Veterans do not use their VA Loan benefits, but instead secure a first mortgage though Cal Vet and a second mortgage through Habitat for Humanity. Because of the volunteers and donations, a house is about half price for a veteran.
Homes are 100 percent solar powered, with tankless water heaters and no florescent lighting, which can trigger PTSD. The average electric bill is 97 cents per month and nobody's electric bill has exceeded $6 per month, explained Donielle De Leon, director of Corporate and Community Engagement.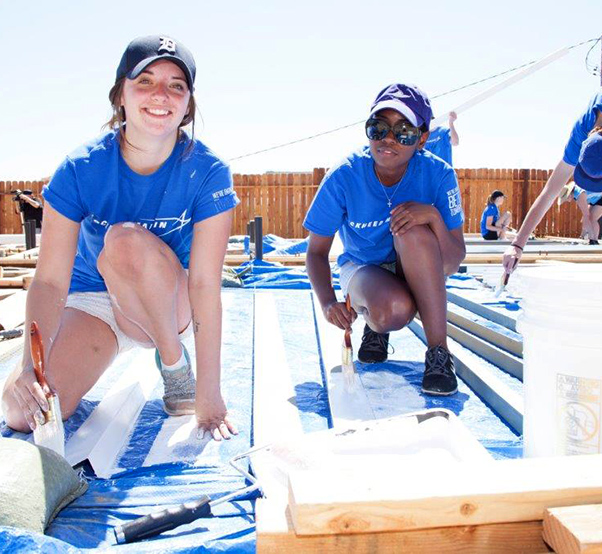 Families are also required to take 50 hours of financial literacy training. "It is great for first time homeowners because we can teach them how to budget and they know what to expect to make them successful homeowners," said De Leon.
"Our military proudly serves to keep us safe. Along with organizations like Habitat for Humanity, we are in turn trying to support our veterans and their families to help improve their lives," said Theresa Garcia, Lockheed Martin community communications manager. "Plus, by doing this, we also encourage greater awareness and appreciation for our military among the civilian population."
A ground breaking ceremony took place July 5 at 30043 Division Street in Palmdale, where 56 Habitat homes will be built.