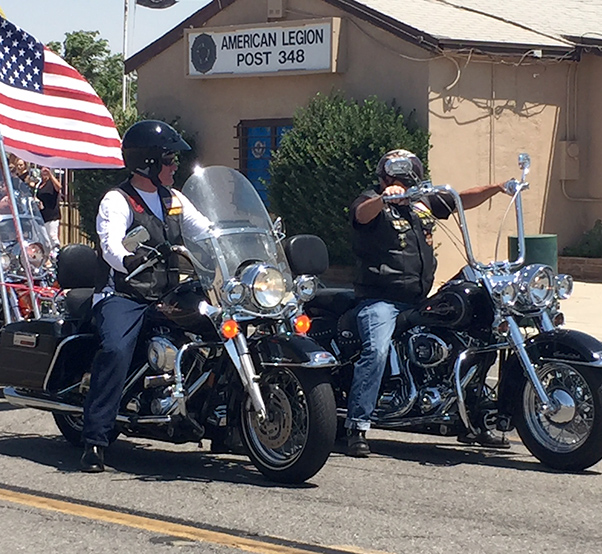 PALMDALE, Calif.–You could say that it was a "fait accompli" that World War II veteran Elias Ramirez would get a hero's send-off from his American Legion Post.
Ramirez graduated Antelope Valley High School in 1943 and quickly enlisted in what was known in World War II as the Army Air Corps.
It would be a few years before the Army's own Air Force became the U.S. Air Force, but in the meantime, Ramirez joined his crew mates in the 457th Bombardment Group, part of the "Mighty Eighth," the 8th Air Force that flew thousands of missions over Nazi-Occupied Europe.
"Eli" Ramirez, who died July 24 at the age of 94, survived 36 of those missions.
The unit's motto was "Fait Accompli." If the 457th was coming, your fate was sealed.
Air crew during World War II suffered the highest casualties, and the documentary and film "Memphis Belle" chronicle the crew of that famous Flying Fortress completing their 25th mission.
Ramirez flew 36 missions, a statistically daunting number. By that time, the statistics said you should be dead, or captured.
On Aug. 5, 2017, the veteran brothers and sisters and supporting families of American Legion Post 348 gave their friend and comrade "Eli" a hero's send-off that was fitting for the angels and the wild blue yonder.
About two dozen Harley-Davidson-riding patriots of the American Legion Riders mounted up outside the post, the lead bike sporting the winged star flag of the Army Air Corps.
"We just got that flag this morning," said Vietnam War-era Navy veteran Bobby Breech.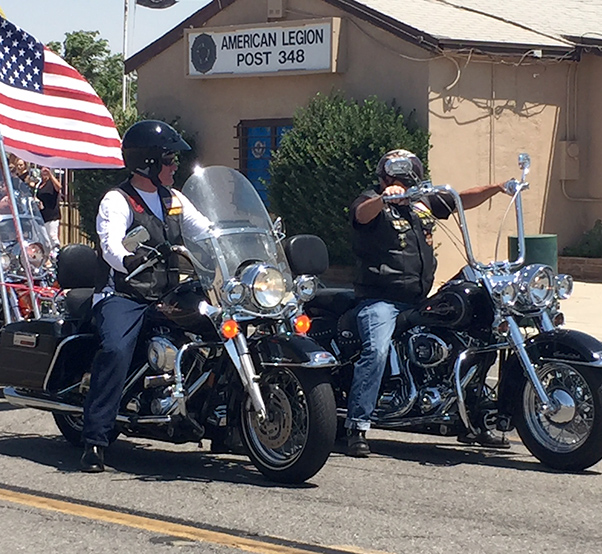 The riders, American flags trailing in their tailwind, rode to the home of Eli and Bonnie Ramirez in order to escort Staff Sgt. Ramirez's cremation urn back to the Post.
More than 100 people packed into Post 348 on a gritty stretch of 6th Street East in Palmdale to pay their respects.
Air Force veteran Bob Alvis was there, saying, "These people were legends. It is just emotionally overwhelming when you realize what it was that they accomplished, winning World War II, and giving us the world we inherited."
Alvis, a Cold War veteran, recounted that Ramirez volunteered for the Army Air Corps right after graduation from Antelope Valley High School and went off to fight in World War II. He is documented historically as one of "The Boulevard Boys," so named because they grew up in the Antelope Valley when Lancaster Boulevard was the Valley's downtown commercial center. They are memorialized at Lancaster Cemetery in the Veterans Honor Court.
Ramirez was patriarch of a military family. Along with his own voluntary enlistment, his son, Mike Ramirez, served in the Marine Corps.
Two of his grandchildren, Kristi Thrift and Scott Hayman, both are career U.S. Navy. Both are senior chief petty officers, and wore their dress blue uniforms to their grandfather's "Celebration of Life."
Thrift and Hayman wore four rows of awards and decorations on their respective senior chief petty officer uniforms.
"Eli always had a warm smile, and a warm welcome at the Post," said Carl Hernandez, an Air Force veteran of the Vietnam War. "That is why this is a celebration of life."
As post members and family spoke in loving and glowing terms about "Grandpa," his bride of 64 years listened, and nodded, an occasional smile.
Hayman, a nuclear submariner in the U.S. Navy, said he remembers his grandfather as an outdoorsman with a penchant for folksy, rather than salty or risque, expression.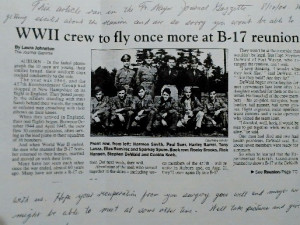 "He would say, 'Well, I'll be doggone!' and I'd answer back, 'Dad burn!'"
After World War II, and continuing service in the Korean War as crew on a B-29 Superfortress, Ramirez went on to hold a responsible position in security at Lockheed's famed "Skunk Works."
"We'd ask him, 'What did you do, grandpa?' and he'd answer 'If I told you, I'd have to kill you,'" his grandson quipped.
In the Big Band era lingo of his day, Ramirez would gaze lovingly at his wife and say, "What's cookin', good lookin'?"
Ramirez's granddaughter, Thrift, ran construction projects with the Seabees in the embattled Anbar Province capital of Iraq, among other missions.
Brushing back tears, Thrift said, "We are all better people for being part of Grandpa's life. We're not going to be sad. We are going to do it up, pretty-like."
An Air Force Honor Guard from Edwards Air Force Base in dress blues presented the folded flag to Bonnie Ramirez and sounded "Taps," followed by a 21-shot rifle volley salute by the Palmdale Veterans Honor Guard.
"A lot of work went into putting this together," said Breech, one of the Legion Post's longest-serving members.
Hayman said his grandfather "had great friends at this Post, always came here … always wanted us to come here."
During history's deadliest conflict, Ramirez and his crewmates defeated odds that they would be killed or shot down and taken as POWs. As the "Memphis Belle" crew returned to the United States after 25 missions to sell war bonds, they were pulled out of the bombing rotation because of the loss of so many air crew.
"I saw some film of my dad in his position, with German fighters flying in," Mike Ramirez said. "It was scary."
The unit's motto and patch was "Fait Accompli," meaning that if the 457th was airborne, the bombs dropped constituted a certain fate for the target.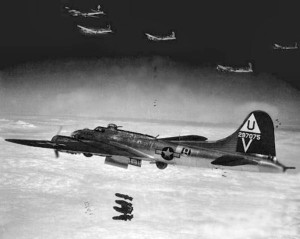 According to author-historian James L. Bass who wrote "Fait Accompli: A History of the 457th Bomb Group," the unit flew its first mission on Feb. 21, 1944, during Big Week, taking part in the concentrated attacks of heavy bombers on the German aircraft industry. Until June 1944, the group engaged primarily in bombardment of strategic targets, such as ball-bearing plants, aircraft factories and oil refineries in Germany.
The group bombed targets in France during the first week of June 1944 in preparation for the Normandy invasion, and attacked coastal defenses along the Cherbourg peninsula on D-Day. They struck airfields, railroads, fuel depots and other interdictory targets behind the invasion beaches throughout the remainder of the month.
Beginning in July 1944, the 457th resumed bombardment of strategic objectives and engaged chiefly in such operations until April 1945. Sometimes they flew support and interdictory missions, aiding the advance of ground forces during the Saint-Lô breakthrough in July 1944 and the landing of British 1st Airborne Division during the airborne attack on the Netherlands in September 1944. They also participated in the Battle of the Bulge, December 1944 – January 1945, and the assault across the Rhine in March 1945. The group flew its last combat mission, number 236, on April 20, 1945.
Editor's note: Dennis Anderson is a veteran and seasoned journalist who works on veterans issues at High Desert Medical Group.