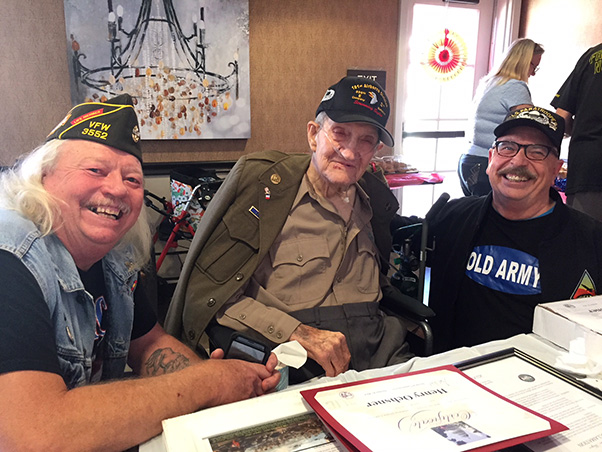 LANCASTER, Calif.–The thing was, at 94 years old, and on the mend from some pretty serious surgery, Henry Ochsner, of California City, really did not much feel like getting out of bed.
His four great daughters, and his wife, Violet, were being persuasive as possible. Wouldn't he please put his World War II vintage Eisenhower "Ike" jacket on so that he would present well for "picture day?"
Ochsner did, ultimately, put on his "Ike" jacket, the one with the medals on it. And he did don a very particular black baseball cap. The one with the "Screaming Eagle" of the 101st Airborne Division on it.
It was a little more than "picture day" at a skilled nursing facility near downtown Lancaster.
From a distance of around 40 miles, it was "Henry Ochsner Day" in California City, but that extended all the way into Lancaster where Ochsner was recuperating.
California City Mayor Jennifer A. Wood read the Proclamation of "Henry Ochsner Day" into the record, with the appropriate "Whereas" preamble.
In a real way, it was "Henry Ochsner Day" anywhere in the world where people prize their liberty and freedom.
Ochsner, in or out of bed, presides as a surviving member of the 101st Airborne Division, which wrote its open chapters in the history books from D-Day until "VE-Day," Victory in Europe Day was declared.
Heading on a vector well past his 90th birthday, Ochsner remained as determined Saturday as when he headed for the French coast for the invasion of Normandy that began on D-Day.
Ochsner said he didn't much care for service in a glider infantry regiment because he didn't like a crash landing his unit mostly walked away from during a training mission in England. Ochsner belonged to the 321st Glider Artillery Battalion that would go on to provide fire support for the "Screaming Eagle" paratroopers of the 506th Parachute Infantry Regiment, the regiment that was home to Easy Co., the outfit made famous by Stephen Ambrose and Steven Spielberg and Tom Hanks in the book and miniseries, "Band of Brothers.
"A first sergeant came over and asked us if anyone wanted to be a paratrooper, and I said, 'I'll go. Take me,'" Ochsner said during a recent interview.
So, Ochsner jumped into the D-Day fray, but did it the way he wanted to, "standing on my own two feet."
It will never be forgotten what 101st Airborne paratrooper Ochsner and his "Band of Brothers" did on D-Day, through the siege of Bastogne, and all the way to Adolf Hitler's "Eagles Nest" alpine retreat.
He was among those who could — for the rest of their lives — say that they were the ones who ended Nazi tyranny and brought World War II to a close with the unconditional surrenders of all the Axis forces they had defeated.
The government of France remembers. On Sept. 18 at the National Cemetery in Westwood, Calif., Ochsner was awarded the highest honor the nation of France can bestow, Chevalier (Knight) of the Legion of Honor.
Ochsner's wife and family were there, along with Kirk Milton, the family friend who escorted Ochsner in France at the 70th anniversary of the D-Day invasion at Normandy.
"Boy, if you can just imagine, the stories he had to tell," Milton said.
It was not long after Sept. 18 when Ochsner was honored by the French Consul General that he was injured, changing a tire.
"He never should have been changing a tire, but that is dad," said one of his four daughters, Sandra Ochsner Ahrens.
The tire change accident put Ochsner into the hospital, and a stint in rehab, and he is on the mend.
On Oct. 21, just a little over a month after receiving the honors of France, Ochsner was a little grumpy about leaving his recovery bed and putting on the old "Ike" jacket with his decorations, including the Legion of Honor.
In the community room of the Ellison John Transitional Care Center, Mayor Wood was waiting, along with a representative for State Sen. Scott Wilk, R-Santa Clarita, and State Assemblyman Tom Lackey, R-Palmdale, who represents California City in the state Legislature.
It has been a year of honors for Ochsner: The Legion of Honor, and a luncheon at High Desert Medical Group to celebrate the 70th anniversary of Henry and Violet Ochsner's marriage after World War II.
About two dozen friends and relatives waited in the community room, which was festooned with red,white and blue bunting, and Activities Director Misty Montagna (CQ) had a poem that she composed in Ochsner's honor. Her poem honored all veterans, but there was an illustration on it of the end of World War II in Europe, that depicted the "Band of Brothers" paratroopers taking a rest break atop Adolf Hitler's mountain retreat, the Eagles Nest.
There was a big cake, too.
Ochsner's wife of 70 years, Violet, walked out behind the wheelchair, and she was joined by all the daughters, Sandra, Lenelle, Susie and Jackie.
Also waiting for him among the friends was the Rev. Ron Sparks, the Ochsner family's pastor, and a career Army Reserve chaplain, joined by Matt Jackson, a Navy veteran who commands Veterans of Foreign Wars Post 3225 in Palmdale. Seeing Ochsner, wearing his "Ike" jacket and ball cap with the 101st Airborne Division's "Screaming Eagle" insignia, Jackson teared up.
"It's just such an honor to meet you, sir," Jackson said. "An honor and a privilege."
Ochsner teared up a bit also, and at first, seemed a bit overwhelmed.
Mayor Wood read the California City proclamation, and Richard Cook, representing Lackey and Wilk, presented Ochsner with a flag flown over the state Capitol.
"We just want to thank you, and honor you for what you have done."
Ochsner jumped on D-Day, and also in Holland, for Operation Market Garden, a massive airborne operation intended to end the war by Christmas, 1944. But when that did not work out, Oschner spent Christmas in a Belgian city called Bastogne, surrounded by Nazi forces that demanded their surrender. But that also never happened. The response to the surrender demand from a 101st Airborne commander was "Nuts."
"We got into Bastogne in anything that rolled," Ochsner said. "I rode on a DUKW." The amphibious vehicle, pronounced "Duck" was among the rolling convoy that put the 101st Airborne into Bastogne where they succeeded in holding the line against the last-ditch Nazi onslaught at the "Battle of the Bulge."
"Our lines held," Ochsner said. "We didn't have to be rescued. Our line never broke."
A couple of fellow paratroopers huddled with Ochsner to celebrate his survival of World War II, his decoration by France, and his resilience.
"I loved being a paratrooper," Ochsner said. "It was fun. It was my second favorite thing in life, after my love for my wife, Violet."