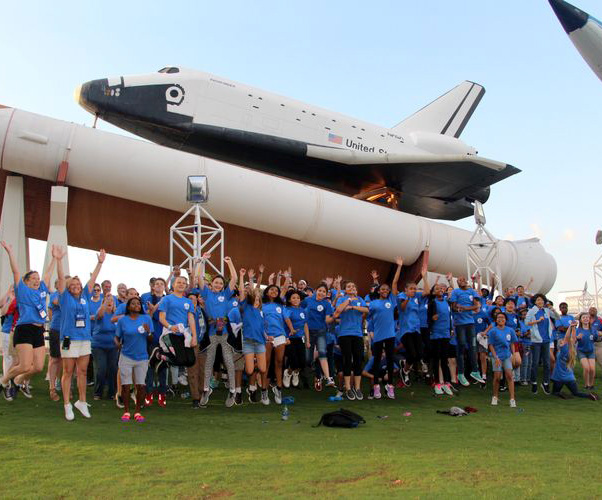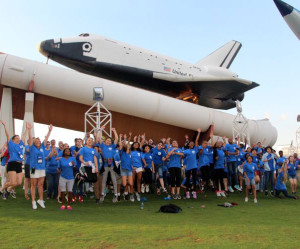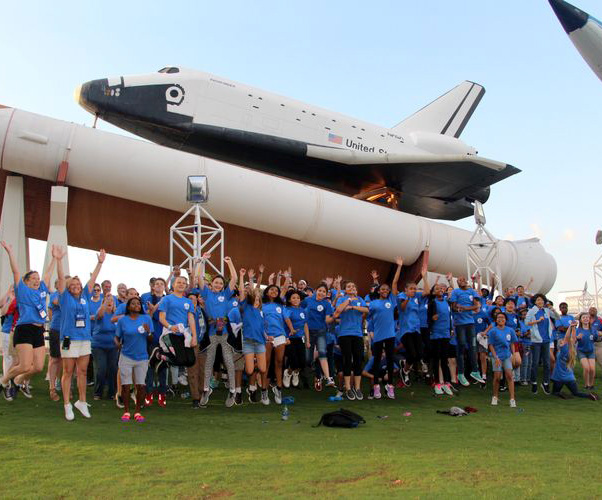 FALLS CHURCH, Va. – July 10, 2018 – The Northrop Grumman Foundation has sponsored scholarships for middle school students and teachers from Australia, Japan, the United Kingdom and the United States to attend Space Camp® this week, July 8-13 at the U.S. Space and Rocket Center® in Huntsville, Ala.
Thanks to the scholarships, two students and one teacher from the Palmdale Aerospace Academy in Palmdale, Calif., will attend camp.
The foundation is sponsoring 54 teachers and 98 students to attend this year's camp. This year marks the tenth year the Foundation has sponsored the program, partnering with nearly 280 schools, exposing nearly 1,000 students and teachers from around the globe to space exploration and science, technology, engineering and mathematics.
"Space Camp is an incredible experience for students who want to explore the wonders of space and for teachers who want to generate more excitement in the classroom by using tools and resources they gain during camp," said Sandra Evers-Manly, president, Northrop Grumman Foundation and vice president, global corporate responsibility, Northrop Grumman. "Our partnership with the Space Camp® program supports our education strategy in exciting, engaging and inspiring middle school students and their teachers in STEM."
Students are participating in activities such as building and launching rockets, experiencing astronaut-training simulators and simulating space shuttle missions. Science teachers are attending the Space Academy for Educators®, a program designed to provide teachers the tools to enhance how they use STEM concepts in their classrooms.
"I'm passionate about space and love to learn about what it takes to become an engineer or astronaut," said Clyus Moore, a sixth grader from Twin Peaks Middle in Poway, California who is attending camp this year. "I have aspirations to go to college and work for Northrop Grumman when I get older and I will be the first generation to graduate college from my family."
In addition to Space Camp®, the Northrop Grumman Foundation is proud to support Space Camp for Interested Visually Impaired Students, a special week of Space Camp® coordinated by certified teachers of the visually impaired. SCIVIS brings students together from across the United States and several countries, to engage in space exploration using special equipment such as braille and voice output computers.
Space Camp adventures
The USSRC Space Camp® is the premier provider of authentic, inspiring and entertaining educational experiences in space science and aviation. The Space Academy for Educators® amplifies that mission by using the excitement of the program to create an immersive learning environment where teachers learn new ways to present concepts in their classrooms effectively. Additional information about Space Camp® can be found at http://www.spacecamp.com/.
Northrop Grumman and the Northrop Grumman Foundation are committed to expanding and enhancing the pipeline of diverse, talented STEM students globally. They provide funding to sustainable STEM programs that span from preschool to high school and through collegiate levels, with a major emphasis on middle school students and teachers. In 2017, Northrop Grumman and the Northrop Grumman Foundation continued outreach efforts by contributing over $20.4 million to diverse STEM-related groups such as the Air Force Association and CyberPatriot, the REC Foundation (VEX Robotics), National Science Teachers Association, Great Minds in Stem (Viva Technology) and EarthEcho International's Expeditions.