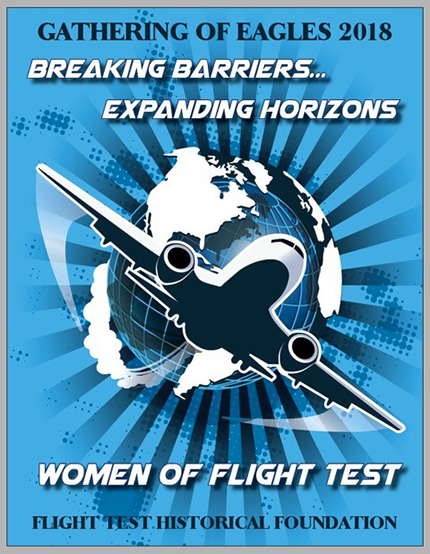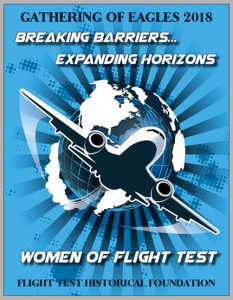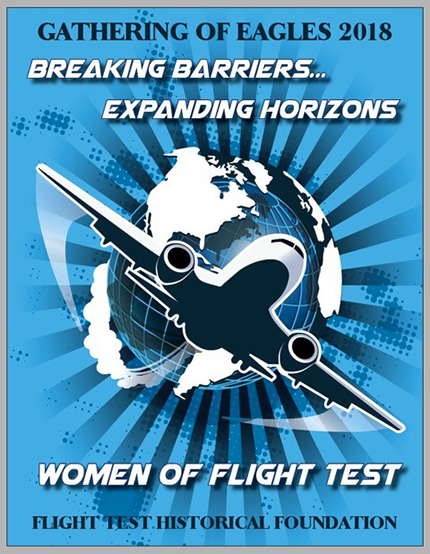 The Flight Test Historical Foundation cordially invites you to attend the 2018 Gathering of Eagles – "Breaking Barriers, Expanding Horizons – Celebrating the Women of Flight Test"
The 2018 Eagles are:
Dr. Eileen Bjorkman, U.S. Air Force, SES
Dr. Sandy Miarecki, Lt. Col., U.S. Air Force retired, Air Force Academy
Kelly Latimer, Lt. Col., U.S. Air Force retired, Virgin Galactic
Cynthia "C.J." Bixby, NASA Armstrong Flight Research Center
Laurie Grindle, NASA Armstrong Flight Research Center
Florence Lowe "Pancho" Barnes, Aviation Pioneer (Posthumously)
This year's honorees will inspire us with their amazing journeys in flight test, during the Eagle Panel Discussion. The panel will be moderated by Col. Angella Suplisson, vice commander of the Air Force Test Center; and master of ceremonies is "Evil" Bill "Evil" Gray, chief test pilot at the U.S. Air Force Test Pilot School.
Additionally, the C. Gordon Fullerton Memorial Scholarship and William J. "Pete" Knight Scholarship will be presented during the event.
The Gathering of Eagles is at the Antelope Valley Fairgrounds in the H.W. Hunter Pavillion. No-host cocktail hour starts at 5 p.m., and dinner and program start at 6 p.m. Dress is business.
Cost is $75 per person, and tickets can be purchased at www.flighttestmuseum.org. R.S.V.P. by Oct. 4.
For more information, visit to www.flighttestmuseum.org or contact Danny Bazzell at 661-916-3309, or email generalmanager@flighttestmuseum.org.
All proceeds from the event support the AFFT Museum and its Blackbird Airpark Annex. The Flight Test Historical Foundation is a private organization. It is not part of the Department of Defense or any of its components and has no government status.