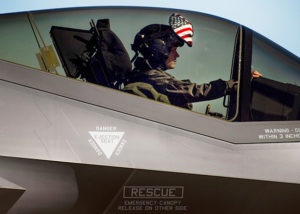 America's most advanced aircraft integrated with a variant of one of its oldest and truest air frames this week to provide more combat flexibility to the Air Force.
For the first time, Airmen from the 388th Fighter Wing at Hill AFB, Utah, and Airmen from the 26th Special Tactics Squadron and the 27th Special Operation Logistics Readiness Squadron at Cannon AFB, N.M., trained and carried out a Forward Air Refueling Point (FARP) operation from the MC-130J to the F-35A.
During this forward refueling scenario, an MC-130J lands at a remote airfield secured and managed by Air Force combat controllers. The C-130 crew, made up of loadmasters and fuels troops, or "Farpies," quickly set up equipment and fuel lines, then transfer fuel from the MC-130J to other aircraft landing behind them – in this case, an F-35A.
The training is a building block in adaptive basing development. Adaptive basing is a key component to providing air power in highly-contested modern warfare. To succeed, Airmen from different platforms and different specialties must train to work together effectively, planners said.