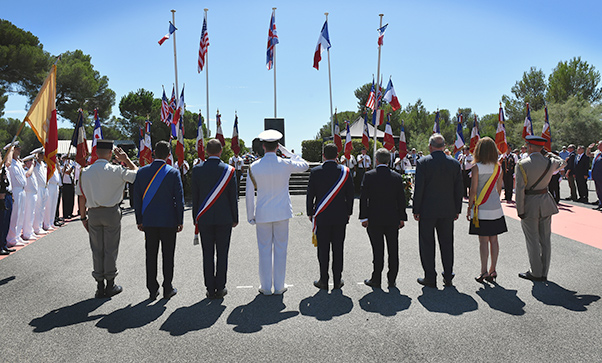 The city of Saint-Raphaël hosted three ceremonies honoring the sacrifices of the U.S., French, and Allied Soldiers and Sailors who participated in Operation Dragoon during World War II to commemorate the 75th anniversary of the liberation of Southern France, Aug. 15, 2019.
French President Emmanuel Macron delivered remarks during the memorial ceremony at Nécropole Nationale de Boulouris, which holds the remains of 464 Soldiers who were killed during the invasion of Provence. Rear Adm. Matthew A. Zirkle, U.S. Naval Forces Europe-Africa chief of staff, was in attendance, as was former French President Nicolas Sarkozy.
"You gave back our country its freedom and dignity," said Macron. "You gave back our flag its colors and its motto to our people. It's our duty to preserve it, hand it down, to make it bear fruit against darkness and ignorance."
Cmdr. Chris Lepore, assistant U.S. Naval Attaché to France, participated in a wreath-laying ceremony at a monument in honor of the fallen Soldiers and Sailors that rests at the foot of the beaches where the U.S. 36th Infantry Division came ashore in 1944.
"Operation Dragoon is sometimes called the 'forgotten invasion' because the débarquement soldats (Southern landings) rest in the shadow of Normandy," said Lepore. "The Southern French people in communities of Saint-Raphaël, Théoule-sur-Mer, Sainte-Maxime, Cavalaire-sur-Mer, Draguignan and others do an amazing job every year and make it a point to recognize the sacrifices of U.S., French, Canadian, British, and African Soldiers and Sailors who participated in the liberation of Southern France."
At a third event, a plaque was unveiled during a ceremony under a historic bridge at the Beach of Anthéor to honor the memory of the U.S. Soldiers and Sailors who sacrificed their lives during the liberation of France. On the plaque are the names of two U.S. Navy Sailors, Coxswain Robert J. Larkin from Butler, Indiana, and Coxswain Harold E. Bell from Samaria, Michigan.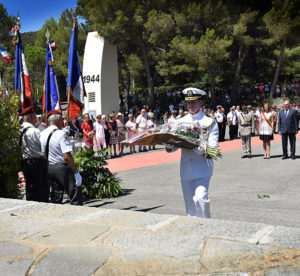 France holds a special place for Americans, dating back to the Revolutionary War. More than two million U.S. service members came to France in defense of our shared liberties in WWII. Of these, more than 68,000 are buried or memorialized at American cemeteries in France.
"Our alliance with France, our first ally, is stronger than ever," said Lepore.
Operation Dragoon took place in 1944, just two months after the famous Allied invasion of Normandy on June 6 known as D-Day. A total of 450,000 Sailors and Soldiers participated to remove German forces, immediately liberating Marseille and Toulon. Casualties included 3,000 American and 10,000 French service members.
To commemorate the anniversary of Operation Dragoon, multi-national service members are participating in approximately 25 ceremonies from Aug. 14-17 throughout six French communities in the Provence-Alpes-Côte d'Azur region of Southern France to include participation of the U.S. Naval Forces Europe Band and a port visit by the Arleigh Burke-class guided-missile destroyer USS Donald Cook (DDG 75).
U.S. Naval Forces Europe-Africa, headquartered in Naples, Italy, conducts the full spectrum of joint and naval operations, often in concert with allied and interagency partners, in order to advance U.S. national interests and security and stability in Europe and Africa.