In my collection of books, I have the works of one Sergeant George Baker, which came into my inventory of World War II collectibles at some point when I was on a mission to save as much of the Greatest Generation's memorabilia as I could.
At the time, I didn't realize that this book and its writer probably were one of the most important morale-boosters to come out of World War II, often single handedly keeping the American soldier moving forward during times of stress.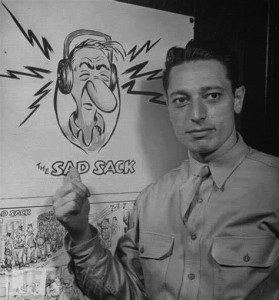 Working for Aerotech News, I realize the importance of the simple format that keeps the military and civilians up to date about current events, while at the same time entertaining them with articles and subject matter to take their minds off of current events. In World War II the publication "Yanks" did that same job, and did so with so many great contributors who went on to become renowned for their craft. One of those was Sgt. Baker and the creation he came up with which delighted GI's till the end of the war: "The Sad Sack."
George Baker was born May 22, 1915, in Lowell, Mass., a son of middle class parents. In 1923, the family moved to Chicago where George attended Roosevelt High School. After graduation, he worked a variety of jobs including the truck driver, cleaner and dyer assistant, salesman, and clerk. In the mid-1930s, he moved toward his true gifting when he became an assistant to a commercial artist. In 1937, he applied to Disney Studios for a job, was accepted, and moved to California. He worked in Disney's effects department, contributing to classic animated features including Pinocchio, Dumbo, and Bambi. In June 1941, Baker joined Disney's rank and file cartoonists in their strike against the Disney studio. Strapped for cash, he was drafted into the Army and sent to Fort Monmouth, N.J., for basic training. His inaugural assignment was to the Signal Corps, as an animator for training films.
Being in the Army, George observed: "Civilian ignorance of the Army was appalling. Everyone seemed to have been educated to the military through the movies … Simple terms such as K.P. or Inspection drew a blank and needed explanation. In an endeavor to rectify this sad state of affairs and also to occupy my evenings with something constructive for a change, I decided to do some cartoons that would explain pictorially what Army life was like."
Baker envisioned his cartoon protagonist as a comically put-upon, lowly GI. His goal was "to refute the ads that were then beginning to make their appearance, in which soldiers always looked bright and cheerful, bedecked in tailored uniforms immaculately pressed and shined." Far from that ideal, Baker's hapless hero was mired in the absurd bureaucracy of everyday Army life.
"The actual state of mind of a soldier was more authentic and real to me than his outer appearance," George wrote in the preface to one of his books in 1946, "so, therefore, my character looked resigned, tired, helpless, and beaten. Going the whole hog, he looked clumsy and even a little stupid, but these last two elements were actually unintentional and only slipped in because I was still a bit rusty in my drawing."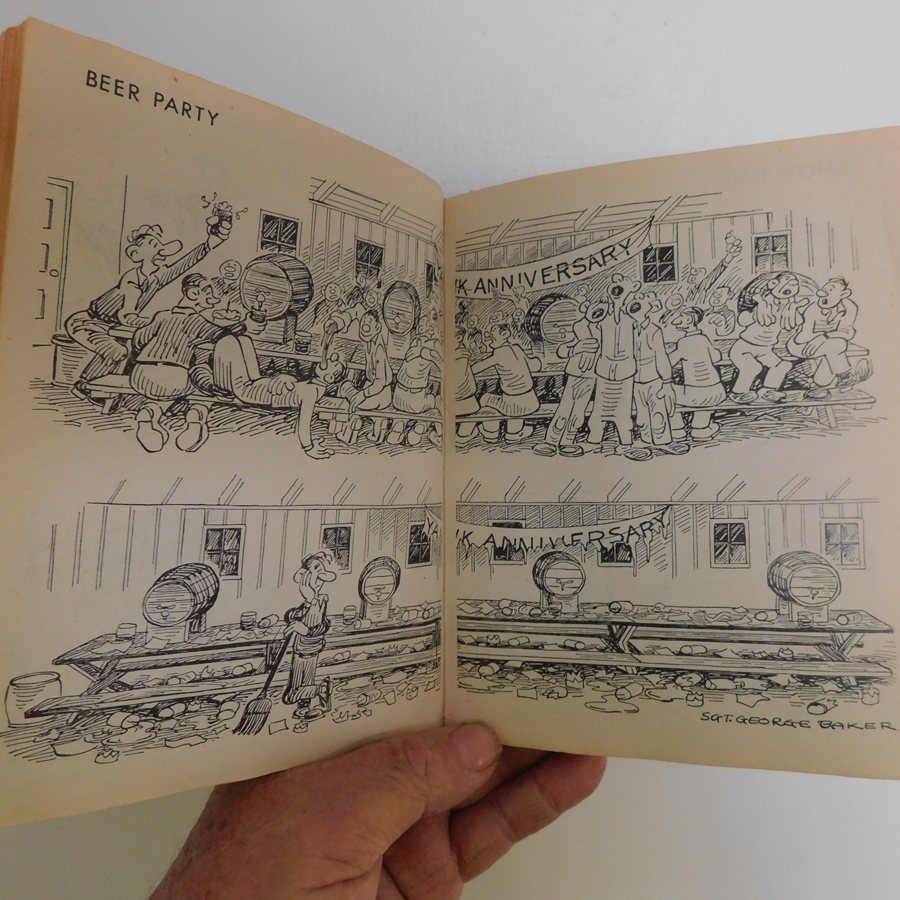 The cartoon quickly gained a following, and drew the notice of Maj. Hartzell Spence. Spence was on staff with Yank, a weekly Armed Forces tabloid magazine. Recognizing talent when he saw it, Spence "enlisted" Baker as a weekly contributor to Yank. George titled his strip "The Sad Sack,'' based on an Army slang term for a worthless soldier (aka "a sad sack of a word I can't use here!"). "The Sad Sack" appeared in Yank's first issue, published June 17, 1942.
Baker's talent earned him a permanent assignment to the staff of Yank before 1942 was out. He served there for the duration of World War II. As part of his assignment, he traveled to military installations worldwide to observe military life and mine for comic strip gold. Baker also helped sell subscriptions to the magazine in its early days, and later created promotional posters for the magazine and "The Sad Sack,"
Cartoons nowadays do not carry the same weight as they did generations ago. New Sad Sack comics carried on for a while after the war ended — and Sad Sack even reenlisted when the Korean war broke out (what was he thinking??) The material was seen more in comic books than in newspaper publications; however, those strips did motor on for a while.
Being an old veteran myself, when I sat down for the first time and really took in the works of Sergeant Baker, I realized just how important it was back then that the GI have an alter ego that kept him grounded in reality in such a dangerous business. "The Sad Sack" let it be known to soldiers that, in the fox hole or the kitchen, they were not alone, or any different than any other enlisted man in the service.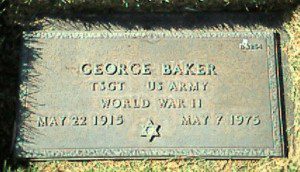 George Baker went on to many other projects in his life, but none more important than his works which, during a very brutal world war, kept the American military grounded in reality. He helped to put a smile on GI's faces, as they faced the horrors of war on a routine basis. When it came to understanding he "nailed it" as around bunks, Sad Sack was usually sharing wall space with the sexy pin up girl who kept the lonely GI dreaming of home and moving forward.
Sgt. George Baker had so much more to his life than I can share here. After seeing a photo of his simple headstone at Riverside National Cemetery it leaves me in awe that this Disney artist who was responsible for adding his talent to Disney masterpieces, then carrying the American GI on his back for the duration of a World War, would just be another headstone in a sea of thousands.
But that's no reason to grieve. In death, as he was doing what he did in life, he was being the same Sad Sack that all those at rest around him related to. His spirit was likely just happy to end up in a beautiful setting and not ending up with a peeler and an infinite stack of potatoes!
Sgt. George Baker, American Legend and a friend to every man that put on the uniform, may you rest in peace, even if a Sad Sack can ever relate to the word "peace!"
Until next time, Bob out!