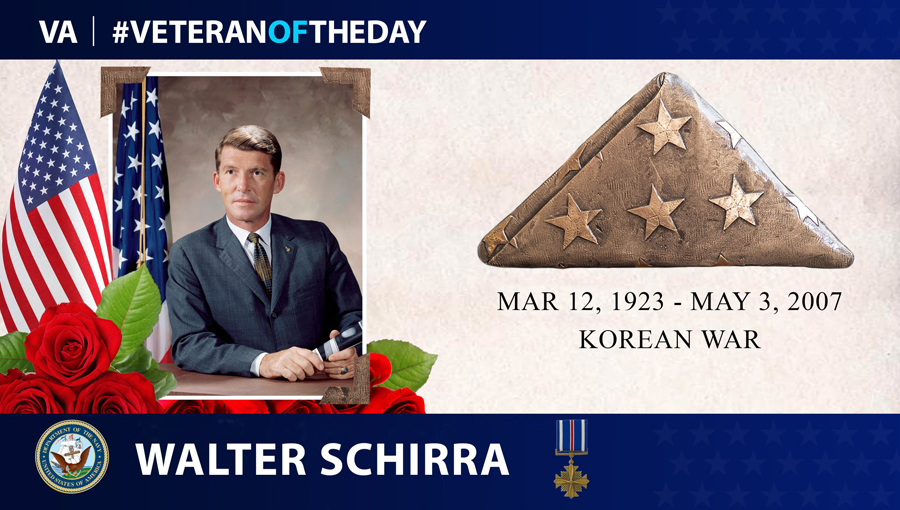 Walter "Wally" M. Schirra Jr. was born in New Jersey in 1923. He graduated from high school in 1940 and enrolled in the Newark College of Engineering.
When the U.S. joined World War II, Schirra left college to enter the Naval Academy, graduating in 1945 as a commissioned ensign in the Navy. Afterwards, he served in Okinawa, Japan, aboard USS Alaska, a large cruiser, as a turret officer. He was then stationed in Tsingtao, China, and assigned to USS Estes, an amphibious command ship. Later, acting on a long-held desire to fly for the military, he attended the Naval Air Station Pensacola in Florida in 1948, where he began training as a naval aviator.
Schirra earned his wings in June 1948, becoming a naval aviator and joining Fighter Squadron 71 at Naval Air Station Quonset Point in Rhode Island. He then served in Korea from June to December 1951, flying 90 combat missions with the 154th U.S. Air Force Fighter-Bomber Squadron before being ordered to the Naval Ordnance Test Station China Lake in California in 1952. There, he helped develop the Sidewinder missile, later becoming the first pilot to fire the missile. He was thereafter assigned to Fighter Squad 124, deploying to the USS Lexington, an aircraft carrier, in the Pacific in 1956. Upon his return to the U.S., he attended safety school at the University of Southern California before receiving pilot training at the Naval Air Test Center in Patuxent River, Md., graduating in 1958.
Schirra also had an extensive career with NASA. In 1959, he became one of seven astronauts chosen for the Mercury Program. He participated in the Mercury, Gemini and Apollo Programs and was the only astronaut to be involved in all three. Onboard the Mercury-Atlas VIII flight in 1962, he became the fifth American in space, the third American to orbit Earth and the ninth human to travel into space. He was also the first astronaut to go into space three times. Schirra completed a total of 3,200 flying hours throughout his career before retiring from the Navy with the rank of captain and leaving NASA in 1969.
We honor his service.