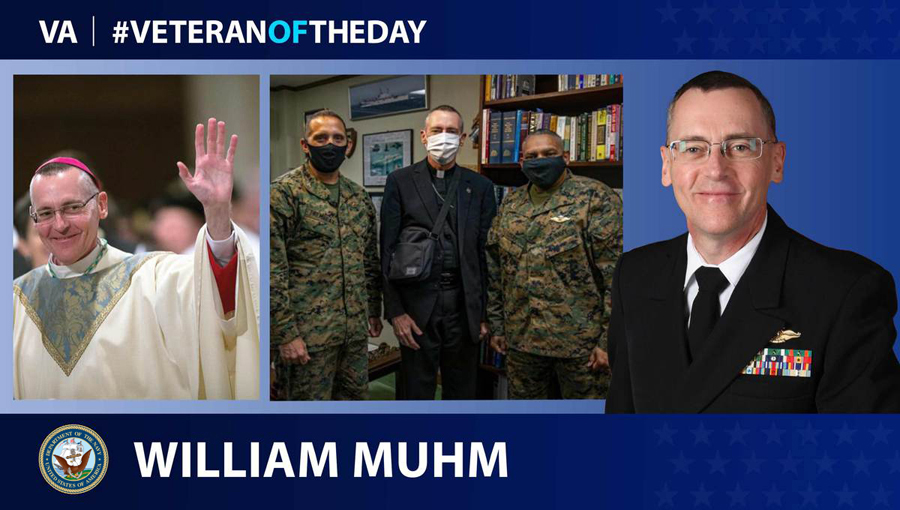 William "Bill" Muhm was born in June 1957 in Billings, Mont., to James and Anne Muhm. He was raised in Denver, Colo., and attended Colorado State University, graduating in 1980 with a Bachelor of Science in Business Administration. Seeking to continue his family tradition of serving in the Navy, in which his mother grew up and his father served, he attended Officer Candidate School in Newport, R.I., becoming a Navy supply corps officer in July 1981. He subsequently served for two years in San Diego, Calif., on the USS Belleau Wood before serving for a year at the Naval Air Engineering Station in Lakehurst, N.J.
After his tours as a supply officer, Muhm left active duty to work as an accountant in Denver. After four years, Muhm "felt [that] the Lord was calling [him] to seminary" and joined the minor seminary for the Archdiocese of New York in 1989. Graduating from St. Joseph's Seminary in Yonkers, N.Y., he was ordained to the priesthood in 1995. He then served as a parish priest in Ossining, N.Y., and Staten Island, N.Y., in the Archdiocese of New York for three years. At the same time, he served as a reserve chaplain in the Navy with Fleet Hospital 22 in Fort Dix, N.Y.
With the bishop's permission, Muhm returned to active duty in 1998 as a chaplain, fulfilling his hope to return to the Navy. He was first stationed at the Naval Air Facility in Atsugi, Japan, as a priest. Though being disconnected from the diocese was challenging, Muhm loved his experience in the country.
After serving in Japan, Muhm was stationed on the USS Wasp in Norfolk, Va. On that ship, he deployed to Djibouti in February 2002, sailing around the African country for six months. He then attended the Jesuit School of Theology of Santa Clara University, studying homiletics before moving to the Recruit Training Command in Great Lakes, Ill., where he served from 2003-2006. He was then stationed at Camp Pendleton, Calif., where he served with the 11th Marine Regiment and then with the 1st Marine Regiment, with which he deployed to Anbar Province, Iraq, in January 2008. As with his 1st Marine Regiment role in the U.S., Muhm was a mentor for junior chaplains in Iraq and chaplain for 400 marines, helping them navigate through their personal issues.
Muhm returned to the U.S. in January 2009, serving for another two months at Camp Pendleton. He entered the Naval Academy in Annapolis, Md., in May 2009. There, a big part of his role involved preparing and holding ceremonies for marriages, baptisms and funerals.
Muhm retired from the Navy as a Navy captain in 2018, sometime before which he stated, regarding his career, that one "can't ask for a better variety of experiences." Throughout his varied career, Muhm earned the Legion of Merit, the Meritorious Service Medal with two gold stars, the Navy Commendation Medal with gold star and the Navy Achievement Medal with gold star. Muhm currently serves as auxiliary bishop of the U.S. Archdiocese for the Military Services.
We honor his service.