What was once considered nerdy no longer is
Video gaming systems have been around longer than most current service members have been alive. In fact, some gamers in their 40s remember playing Super Nintendo or Sega Genesis in their parents' basements before taking those consoles with them on deployment in the 1990s.
A lot has changed since then, but one thing is for sure — military members have continued to play video games. As the esports industry continues to grow exponentially, nearly every branch of the military now has an official service-sanctioned gaming program.
For some of these service members, that means it's actually their job to play video games.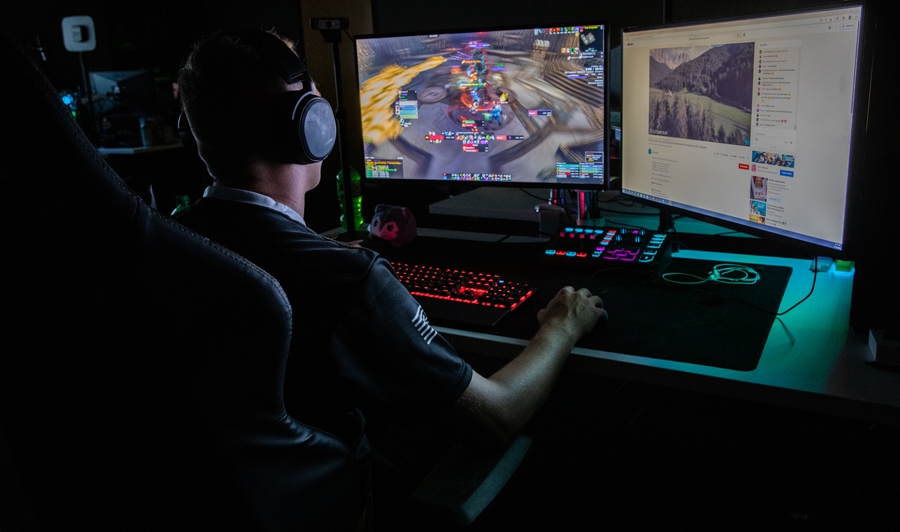 For instance, soldiers on the Army's eSports team are assigned to the unit, much like soldiers are assigned to the Army Marksmanship Unit. The esports team has 11 soldiers who compete full time; however, there are nearly 200 more soldiers who could get called upon to compete if needed — as long as their participation doesn't interfere with their unit's mission requirements.
"We have every other traditional sport, just like in the World Class Athlete Program. So, why not esports?" questioned Army Sgt. 1st Class Chris Jones, who founded U.S. Army eSports team. He said there were about 7,000 soldiers who wanted to participate when the program first started in November 2018. Now, there are more than 18,000 active-duty, reservists and National Guard soldiers who are members.
The newer Navy esports team, called Goats & Glory, is set up similarly with 12 sailors assigned to participate full-time in about a dozen events a year. To supplement that, each of the service's 26 talent acquisition groups have a representative who's designated to help the team when needed.
"The big part of what we do is outreach," Navy Lt. Aaron Jones, a flight officer who ran the Navy esports program until recently, said. "Our goal is to dispel myths and rumors about the Navy and let them see that we have the same hobbies and likes that they do. We get to go into high schools and colleges and give talks to students about the opportunities in the Navy, and then we also put on tournaments."
Where Recruitment Meets Morale-Building
While the Army and Navy programs fall under recruitment commands, Air Force Gaming serves a different purpose. Its mission is to build morale and mental health resiliency while supporting force retention through competitive leagues.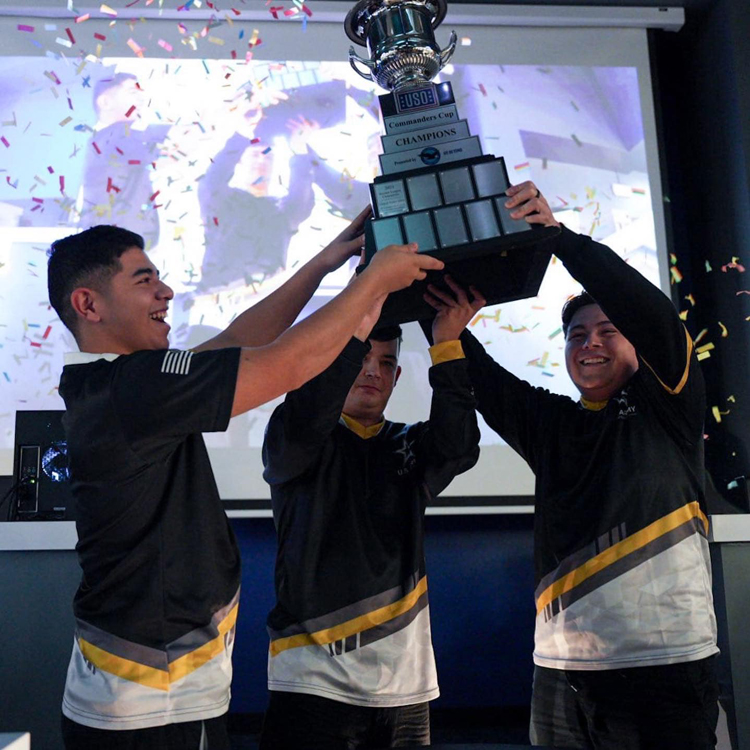 "We were the first and still currently the only program that exists just for MWR purposes," Space Force Master Sgt. Mike Sullivan, one of the founders of Air Force Gaming, said. However, he said the unit still works closely with Air Force recruiting services.
Air Force Gaming officially launched in November 2020 and includes the Space Force in its fold. Sullivan said they now have more than 28,000 members and even started a minor league earlier this year in which retirees and young family members can play.
"One of the things that we started hearing early on is that more senior [military] folks … connect with their kids by playing video games," Sullivan said. "So, we wanted to make sure that we didn't leave anybody out."
None of the Air Force gamers gets to do it as a full-time job, but the program does build a sense of community.
"A gaming community allows service members to make and keep friends where time, space and location, as well as rank, age, gender and ethnicity come secondary," Capt. Oliver Parsons, the chief of the Department of the Air Force Esports and Sports, said. "You make friends with someone behind a gamer tag. This allows those that are introverted to be more vulnerable and open when they wouldn't be in a typical social setting."
Esports competitions can be pretty lucrative, as well. Two service members earned an all-expense-paid trip to the Super Bowl last year thanks to their gaming skills.
A Popular Escape
Nearly every branch's esports representative said gaming beats out traditional sports in military popularity.
"Gaming's definitely got to be number one," said SFC Jones. "You can always take it with you in today's day of technology, so it's definitely the top thing for sure."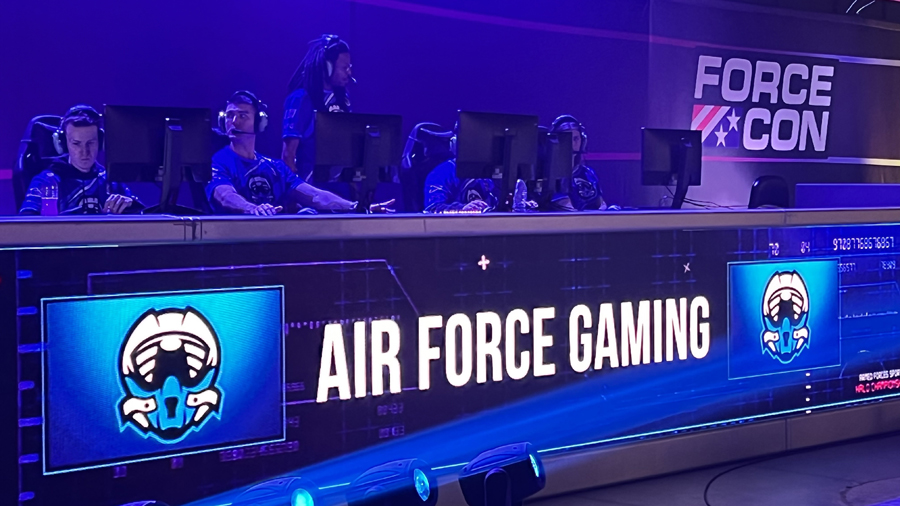 "I'd say right now, traditional sports still have a stronger hold over the Navy in general," Lt. Jones, the lone dissenter, said. "But video games are huge. I know they're an escape for a lot of people."
They're an escape that builds morale, whether the programs are meant for recruitment or not.
"As soon as you find out that this is something you could do as your day job, everyone throws in their application," Lt. Jones said. "I definitely think it's a motivator — that it's something that raises morale."
The folks who run the esports programs said gaming helps service members decompress, especially when they're stressed, deployed or just far from home.
"Personally, it helped me when I was struggling with severe depression and anxiety while in the frozen tundra of Minot, North Dakota," Parsons said.
"You can't really go anywhere when you're on a carrier, other than port calls," Lt. Jones said. "So, for me, going back to my room was always an escape. My work is done for the day. I need to relax. So, what am I going to do? I'm going to go play video games."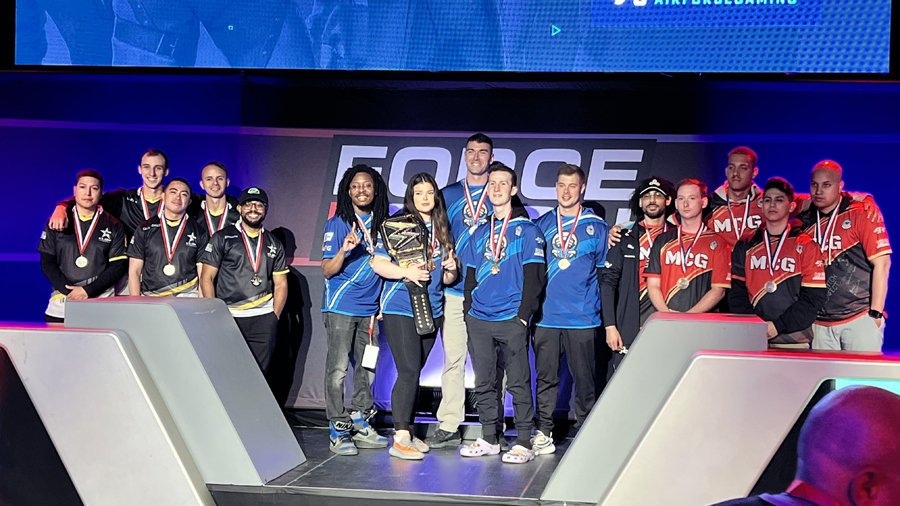 Camaraderie Via Competition
Earlier this year, the Defense Department Armed Forces Sports program held its first federally sanctioned esports competition called the Armed Forces Esports Championship. More than 2,000 people attended in person, while the online broadcast received 850,000 total views.
Since online broadcasts of these types of tournaments have begun, they've reached millions of viewers across the Defense Department. Aside from building morale and recruitment, they're also helping foster more technology-focused environments and empowering technically capable individuals.
"Most gaming nerds are very technically capable in all things STEM and STEAM," Sullivan said. "By empowering the idea that it's good to be a nerd and that there are millions of individuals like you, you're also fostering that environment to say, 'Hey, let's talk about computer programming.' Or, 'Let's talk about modeling and simulation.'"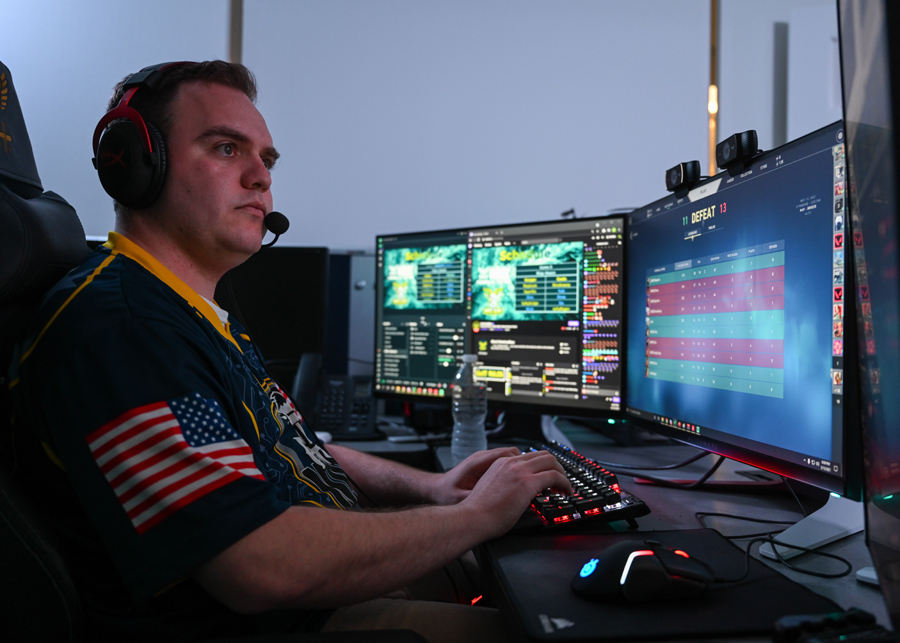 As esports continue to grow, these experts believe gaming will become increasingly integrated into morale and welfare activities across the board.
"There's a huge need and desire in all of the branches to start … doing it for the service members first," Sullivan said.
Of the six DOD service branches, Marine Corps Gaming is the only esports program that is not officially sanctioned; however, it still fields teams to send to competitions.