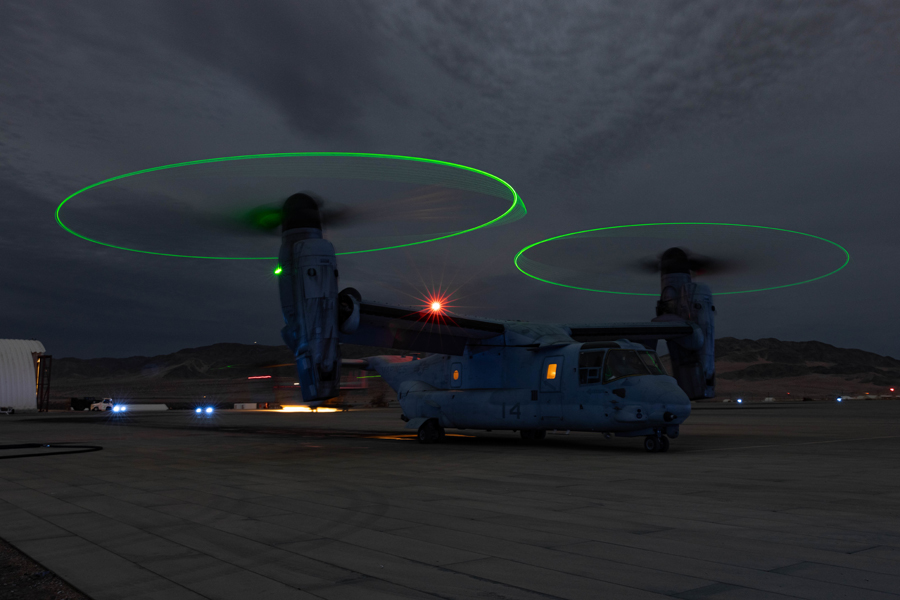 A steady chorus of thumps reverberated through the air as a U.S. Marine Corps CH-53 Super Stallion delivered fuel to a Forward Arming and Refueling Point at Inyokern Airfield, Calif.
The Marines swiftly seized the delivery and made quick work of preparing the FARP for sustained operations as part of exercise Steel Knight, an annual training event that sharpens the skills and lethality of the 3rd Marine Aircraft Wing and 1st Marine Division.
The leadership of Marine Aircraft Group 16 has made significant efforts to develop the capabilities of their Marines, Sailors and assets in response to guidance from the Commandant of the Marine Corps, Gen. David H. Berger. One such capability is the establishment of FARPs in austere environments.
Nestled under the larger Steel Knight 23 exercise, MAG-16 established FARPs at Inyokern and Laguna Airfields, allowing them to successfully refuel a variety of aircraft, including the fifth-generation F-35B Lightning II joint strike fighter.
"In future conflicts, the Navy and Marine Corps will be challenged to achieve sea denial and control in close, contested, and confined maritime regions," Berger said. "Our war games highlight the real threat of long-range missiles; to succeed, we must possess the capability to persist within the arc of adversary fires."
One approach to the MAW effectively operating inside the arc of enemy fires is by using a nodal network of aviation support, what 3rd MAW calls the "hub, spoke, node" concept. The hub acts as the 3rd MAW command element foothold. From the hub, spokes are established, which are headquartered by a group such as MAG-16. Finally, these hubs have the capability to employ smaller, temporary, and quickly-established nodes which can refuel and re-arm various aircraft platforms. The nodes are established within the range of enemy weapon systems, and accomplish their assigned mission fast enough to avoid detection by enemy forces.
"MAG-16 utilized this training to streamline our Expeditionary Advanced Base Operations," said U.S. Marine Corps Col. Sean P. Hoewing, commanding officer of MAG-16. "The hard work by all of the Marines and Sailors of MAG-16, as well as Marines from some of our adjacent groups in this exercise has allowed us to set a baseline for deployment of a MAG-level spoke from which we can scale future operations. The most important thing for us was getting the reps and sets in with building out this nodal network; we are building proficiency and getting faster. Quickly establishing simultaneous nodes to continue generating fixed-wing, tiltrotor and rotary-wing sorties is something 3rd MAW is refining, should we be called to fight and win in a distributed, contested environment."
3rd MAW continues to refine their Wing-level warfighting in support of I Marine Expeditionary Force and fleet maneuver.