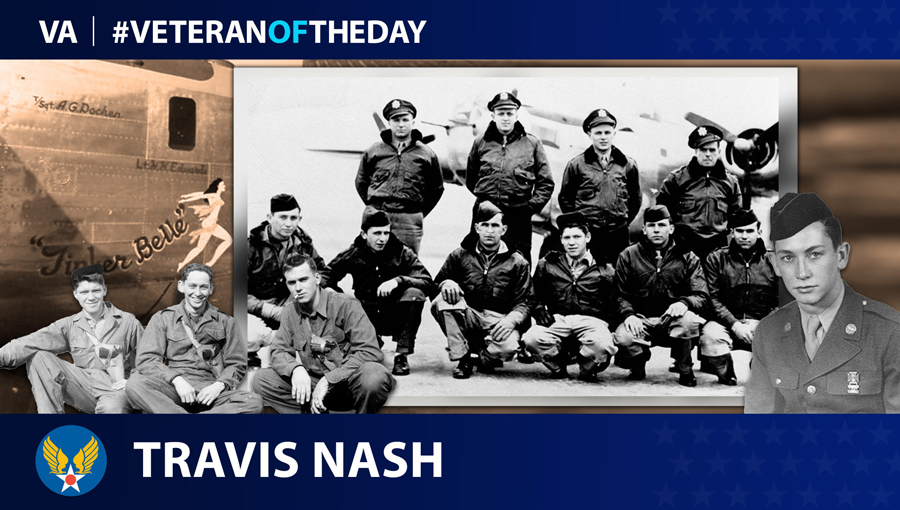 Army Air Force Staff Sgt. Travis Nash was a radio operator with the 506th Bomber Squadron, 44th Bomber Group.
He was the youngest of 10 children born in Paris, Tenn. In a story, his mother Edna said that "He was kind and gentle, and he just worshipped his mother." She also said, "My husband and I took him to the bus the day he went into the service. Your grandfather [speaking to Nash's niece] gave him $30, and I remember how he hugged and kissed everybody goodbye. When he got to your grandmother [Nash's mother], he just clung to her and wept and wept. We could hardly get him to turn loose."
Nash's niece, Alanna Nash, has greatly invested her time and emotion into piecing together what happened leading up to and during Travis Nash's military career. Alanna connected with the adopter of Nash's grave, Maria Pittie, who is a volunteer for the Faces of Margraten, an initiative that pays tribute to Veterans by decorating their graves. Maria Pittie volunteered to decorate Nash's grave at the Netherlands American Cemetery in the Dutch town of Margraten, and had asked for any personal information about Nash's career and life to add to the decorations of his grave. Pittie said "It is important that we continue to honor our liberators for what they have done for us … You realize how young and far away these boys were from home."
After connecting with Pittie, Alanna began to dig through the letters that Travis Nash had written to his family during World War II. She found one letter written toward the end of 1944 which described Nash's strong desire to fly a B-29 aircraft, saying, "If I do get on this type plane, I'll hardly even stand a chance of being killed in the air." Then on March 29, in one of his final Victory Mail letters, he wrote to his brother Warren and his family, saying the "Fighter opposition is almost nil now … but the flak is the roughest now than in any other part of the war."
On April 5, 1945, Nash sent a high frequency radio report saying his plane was getting bombarded with flak, an anti-aircraft projectile shot by a cannon, over Germany. The pilot called back to his radioman: "It's gettin' pretty hot back there, isn't it, Nash?"
Nash's aircraft, a B-24 nicknamed "Tinker Belle," had taken a direct hit. Nash was killed in action during the bombing mission about a month before the end of the war. The plane lost altitude and was found with three damaged engines. Nash went down with the plane. The rest of the crew evacuated before the crash and were immediately captured as prisoners of war.
In 2005, Nash's grave was adopted by Pittie and she has tended to it with her son Stefan. It was not until earlier this year that Maria Pittie and Alanna Nash were able to connect via Skype after years of trying to find each other. They now consider each other extended family and hope to meet in person someday.
We honor his service.