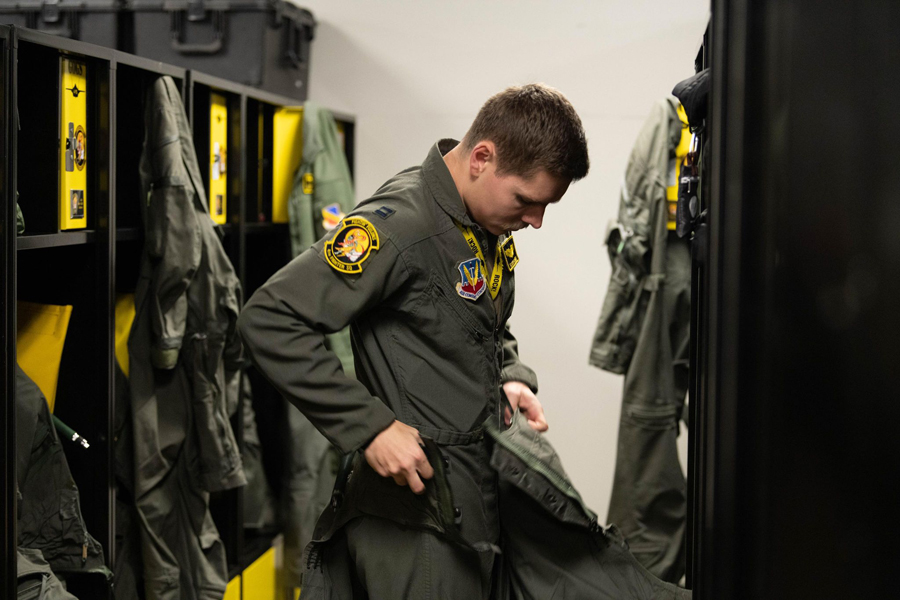 Hollywood fighter-pilots are smiling, swaggerific, sunglassed men and women always looking to beat somebody at something.
In reality, F-35A Lightning II pilots are not simply daredevils with skill and guts, willing to strap themselves to a single engine with 40,000 pounds of thrust. They are also mathematicians, logisticians, engineers, and computer scientists.
By the time they become experienced tacticians in the cockpit, the Air Force has invested tens of millions of dollars into their development, and each pilot has invested thousands of hours in learning. The flight suit may as well be the tweed of a tenured professor.
The goal is to create tactically-sound, critical-thinking warfighters who can meet modern threats with confidence and process split-second decisions when the stakes are at their highest.
"To be the best fighter pilots, they need an encyclopedic knowledge, a detailed understanding of the threat environment, and a PhD-level of general knowledge about their own platform," said Col. Brad Bashore, 388th Operations Group commander at Hill Air Force Base, Utah. "It takes disciplined, dedicated individuals who are willing to put in the study time."
Flying – the stick and throttle – can become second nature. Skilled pilots nail the tactics, techniques and procedures, but that's not the challenging part, said Bashore. Keeping up with the constant technological and tactical evolution of friend and foe is what truly defines the best tacticians and fighter pilots.  It's a journey that starts early and doesn't end until the flight suit is hung up.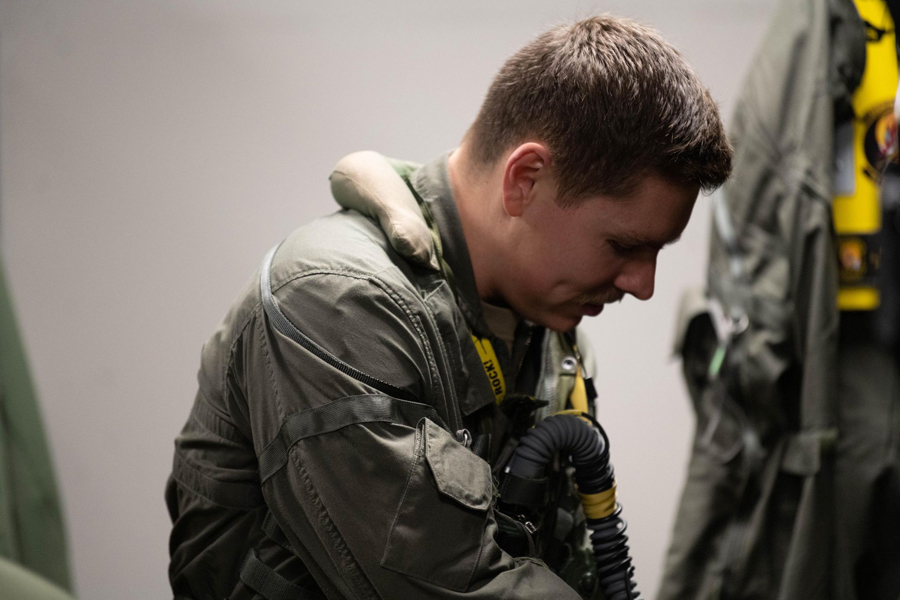 Learning to fly
During college at the Air Force Academy or in the Air Force Reserve Officer Training Corps, students with an interest in flying apply for a limited number of pilot slots. The selection process is challenging, nerve-wracking and for some can be disappointing.
If selected, they go to a basic flight school immediately after commissioning, where they learn to fly in the DA-20, a "weed whacker" of an aircraft in which the students are taught the basic principles of flight, communication, and how to handle both ground and airborne emergencies.
Graduates move on to Air Force Undergraduate Pilot Training and the T-6A Texan II, a small turboprop aircraft and then to their first jet aircraft, the T-38C Talon. At each step along the way, student pilots meet a board, a ranking, a selection or a denial. If they graduate, they move on to the Formal Training Unit or "schoolhouse" for their assigned fighter platform.
They have been learning in layers – "system academics," or how each individual aircraft operates, more emergency procedures, the airspace of their new base. Reams and reams of information. From the time they graduate college to the time they make it to their first operational squadron; most fighter pilots have spent about three years in school. They've essentially earned an advanced degree in tactical flight.
"When they graduate the basic F-35 course, they are 'roughly' capable of employing the aircraft," said Maj. Matthew Powell, 388th Fighter Wing weapons officer. "But there's a lot more learning to do. We are trying to train them to be empowered to make the right decisions when the time comes and that's what's great about this Air Force culture."
Young lieutenants are trained to become mission qualified wingmen. Through a combination of flights and simulator rides, they are familiarized with local flying conditions and the squadron ensures that the skills they've learned can be employed and "they're ready to go to war if the call comes tomorrow."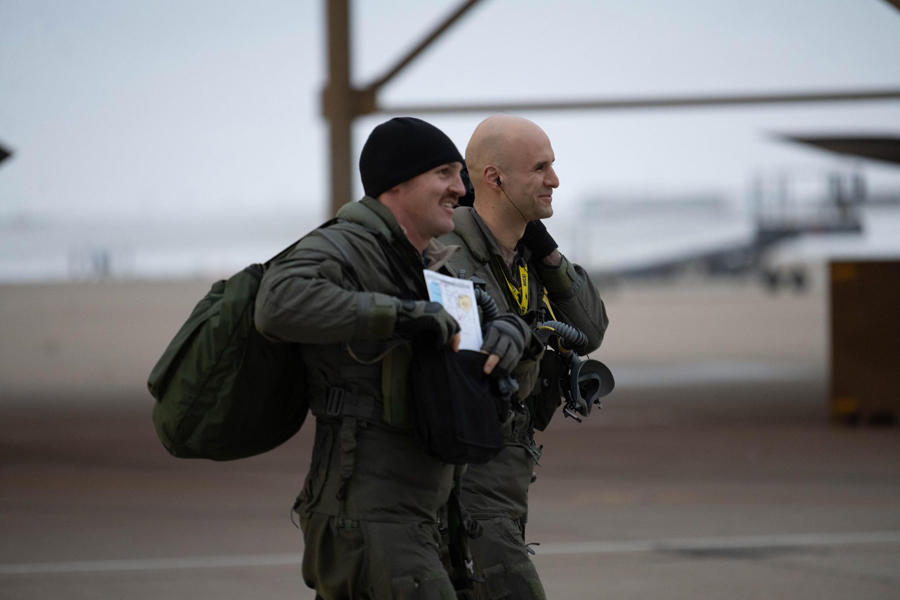 The constant cycle
Nearly every pilot in the squadron is working on (or preparing for) an upgrade in one phase of the training cycle – wingmen prepare to be flight leads, flight leads prepare to be instructor pilots, instructor pilots prepare to be mission commanders and mission commanders prepare to become weapons officers if they desire.
After each training cycle, squadrons have a board to select the pilots that are best positioned to move on to the next phase of training.
"It is based on performance, attitude, experience, academics – there's a lot that goes into those," Powell said. "We're about to throw a lot of resources in training you and we want to make sure you're ready and fully committed."
During these training upgrade periods, pilots are put to the test, asked to perform a series of evaluated missions, if they pass, they move on.
There's plenty of time "in the vault" the classified mission-planning and debriefing area that serves as a laboratory for tactics. There's bouncing ideas off more experienced pilots, poking holes in plans, scheming and diagraming on the white board and the laptop. Often, there are exchanges of tough feedback.
The F-35A is a multi-role fighter with the capability to provide offensive or defensive counter-air, close-air-support and "the bread and butter" of the mission, suppression of enemy air defenses. Depending on a squadron's deployment or exercise cycle, they are training to specific areas of that mission.
"One week we're training to integrate with other fighters to take out some surface-to-air threats, and the next week we're escorting bombers in to take out a target," Powell said.  "Some people struggle with certain aspects of the mission. That's where we can look and really get them to focus on those during our day-to-day training, depending on what cycle we're on to get them ready for their next phase."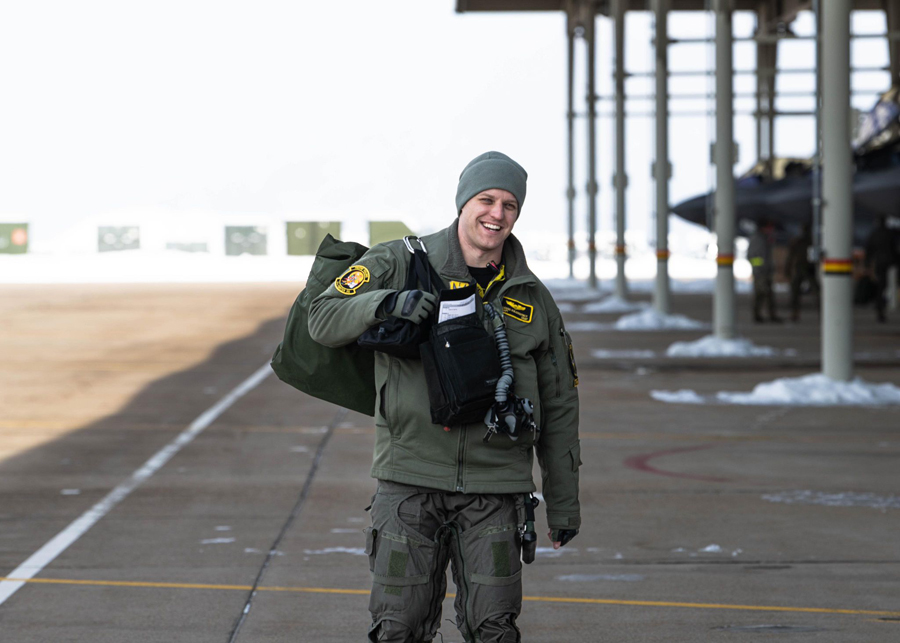 Becoming tacticians
As the capstone of their mission-commander upgrade, pilots are asked to lead an integrated mission, which usually takes place at a large force exercise like Red Flag or Checkered Flag where multiple platforms are integrating together against a capable enemy force.
As a mission commander, pilots aren't just thinking about the F-35, or what their capabilities are. They need to gather all the information from their entire support team, and team leaders from other platforms, to work out a plan to tackle a "complex problem set," Powell said.
"The planning takes a while because these missions are taking place over a very short period of time, maybe a 30-minute window, and you're trying to take in all the information, deconflict it, and come up with the best possible solution," Powell said. "Then you and your team, are trying to poke holes in it, figure out where it can go wrong and what the acceptable level of risk is."
The mission commander upgrade is good preparation for what might be considered the crucible of fighter academics, United States Air Force Weapons School, hosted at Nellis Air Force Base, Nev. It's six months of intensive air-to-air and air-to-ground tactics training, where every day is crammed with academics and culminates in a month-long large force integration exercise.
"It's almost like a PhD in tactics, integrating your platform across the battlespace, air, space and cyber to tackle threats across the entire spectrum as a team," Powell said. "When you're finished you bring those lessons back to the squadron and weave them into the academics, so everyone benefits."
Weapons school graduates become squadron weapons officers, or "patches." They set the training cycle for the squadron. Their job is to make everyone better and ensure they are prepared with the most up-to-date tactics.
Goals of the patches are to be: "humble, approachable, credible" –  words that need to be remembered by any effective teacher, said Powell.  A product of the fighter-squadron culture of constant progression, weapons officers are now, at least in part, responsible for ensuring it continues.
"Everything is always changing. It's cyclical. You get to the end and then you start over again, refreshing your knowledge and learning new tactics," Bashore said. "You can't just get done with weapons school, the pinnacle of our learning, and be done. You have to keep learning. There are new threats, new weapons, new software, new hardware. You can get behind fast if you don't remain dedicated to your craft. If you get off the wheel, you'll be asking, where am I? What happened?"