LANCASTER, Calif. — It was a poker game with buddies that saved Carroll Ray Bierbower's life during World War II, and he was not even much of a poker player.
"The Lord had other plans for Carroll," Pastor Joel Plantinga observed at the memorial service for Bierbauer on Feb. 15, 2023. "We are here to celebrate the life of Carroll, for one reason, because there simply are not many left like him in the world."
Of the 16 million Americans who served in World War II, a little more than 100,000 are alive today, and Bierbower was one of the fast-departing "Greatest Generation." He was 97 and died on Feb. 6, known and loved by a large family and a community of friends and veteran buddies.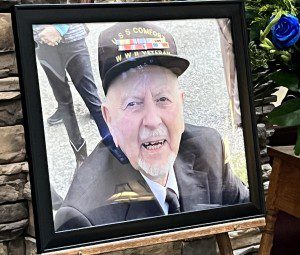 A veteran of World War II's "Greatest Generation," and sailor on a great ship, Bierbower was an electronics whiz, a minister in the Antelope Valley and across the "Bible Belt," a Dodgers fan, and not much of a poker player, but it was one floating card game saved Carroll Ray Bierbower's life.
If he was anything other than a man of such conviction in his Christian faith, April 29, 1945, might have been called his lucky day. But there was nothing lucky about the Japanese pilot, a human turned into a flying bomb, piloting an explosives-laden fighter plane into the ship floating off Okinawa.
The kamikaze pilots, their name taken from the Japanese words "Divine Wind," represented Imperial Japan's last-ditch effort to hold the Americans and their Allies at bay before they reached the Japanese home islands. American pilots in Navy Hellcats and Corsair fighters did their best to swat them away, but some, about 20 percent of them, crashed into Navy and merchant ships causing death and destruction.
The USS Comfort hospital ship joined the enormous flotilla that landed divisions of Marines and Army on Okinawa for the last, and one of the largest battles of World War II.
According to the Comfort's official history, it stood by off Okinawa from April 2-9, 1945, receiving wounded for evacuation to Guam. Returning to Okinawa on April 23, six days later she was struck by a Japanese suicide plane. The Comfort was organized as a Navy ship that was staffed by Army medical personnel.
The plane crashed through three decks exploding in surgery that was filled with medical personnel and patients. Naval history record 28 killed, including six nurses, and 48 wounded, with major damage to the ship. After temporary repairs at Guam Comfort sailed for Los Angeles, Calif., arriving on May 28.
A celebration of the long and adventurous life of Bierbauer convened at Halley-Olsen Murphy Funerals on Feb. 15, attended by family, friends, and veterans. The Veterans of Foreign Wars Post 3000 saluted him with full military honors.
Bierbauer was just 20 years old, a Sailor and an electronics and communications specialist, serving aboard the USS Comfort. The Comfort was one of the three great U.S. hospital ships of World War II that evacuated and cared for thousands of wounded troops, bringing them home to the United States.
"They found out I was a radio repair man, and that is what they had me doing, working on radios," Bierbower said in an interview.
Bierbower served during some of the great naval and land battles of the Pacific campaigns, including the Battle of Leyte Gulf to liberate the Philippines from a brutal Japanese occupation, and the last great battle of World War II for the island of Okinawa in 1945.
A reluctant poker player, he finally agreed to play a few hands with buddies. That decision saved his life. He was in a different part of the ship when the Japanese "kamikaze" fighter plane crashed through three decks of the Comfort.
The ship, Bierbower noted in a legacy interview with Marine Corps veteran Jeff Collins, had an enormous red-cross marking, "like a target." It was years before he could discuss what happened.
The heavily damaged USS Comfort brought the wounded home to the West Coast and while it was in dock for repairs at port in Los Angeles, Bierbower married his fiancé, Dorothy Buhler, and they remained together for more than 70 years.
The couple settled in Quartz Hill, Calif., where they raised a family of five. After working with Southern California Edison, he started a television repair business, which over the decades following World War II eventually evolved into satellite dish systems. Along the way, he completed a doctorate in theology, then established and ministered a church in Quartz Hill.
The church and congregation later relocated to Cave Junction, Ore., his obituary stated.
"He was often invited to speak at churches across the country, including in the "Bible Belt" of the South." He toured the Holy Lands, and as a spiritual scholar published short volumes on Christian topics.
In recent years, Bierbower traveled to the beaches of Southern California, attended Dodger games, and shared with friends and family, "I've lived a good life. I have no regrets."
"He was just a great man," his Marine Corps buddy Collins stated. "And he had some great stories."
Collins was among the Marines, Navy veterans, Army friends, Air Force and other supporters who attended his memorial. They watched photos from his childhood in the Ozarks region of southern Missouri, to his service-era photos in sailor blues, and wedding photos with his beloved Dorothy.
A brother, four children, seven grandchildren, 12 great-grandchildren, and nine great-great grandchildren survive Bierbower, his legacy materials stated.