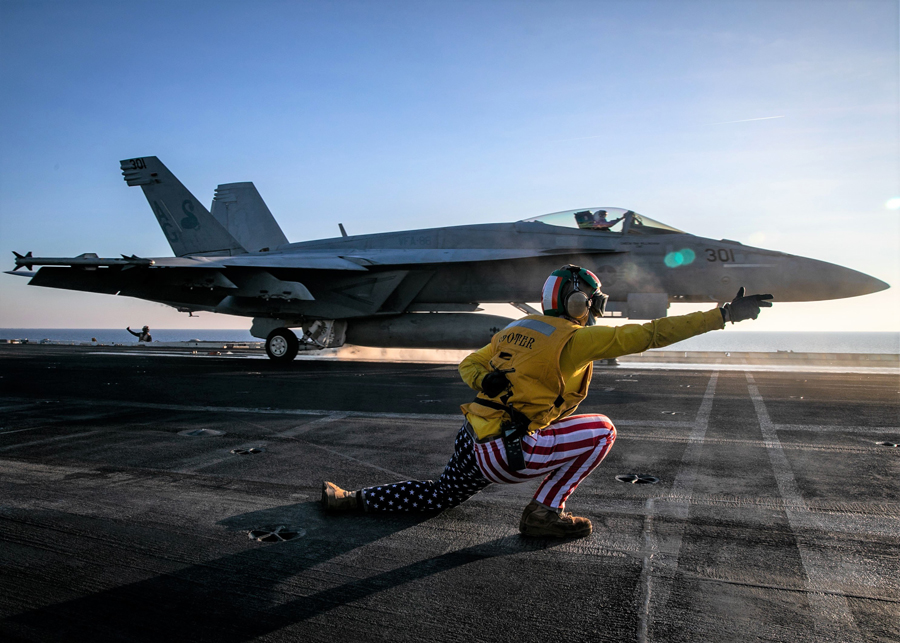 Ensuring the F/A-18E/F Super Hornet continues to serve effectively as the backbone of U.S. Navy's carrier air wing is a priority for Naval Aviation.
New Super Hornets continue to enter the fleet, with the Navy now expecting the final delivery to occur in 2025—ensuring the capabilities of the strike fighter remain at the service of the nation now and well into the future.
"Our mission remains the same—to support, sustain and advance the fleet through acquisition and readiness of combat aircraft and systems," said Rear Adm. John Lemmon, Program Executive Officer, Tactical Aircraft Programs (PEO(T)). "The fleet will continue to fly these aircraft for decades to come through effective sustainment and modernization programs and practices directed by the F/A-18 and EA-18G Program Office (PMA-265)."
The Super Hornet will be the numerically predominant aircraft in the carrier fighter air wing into the 2030s. Service Life Modification initiatives and capability upgrades help the aircraft already in the fleet maintain their tactical relevance. Future SLM efforts will provide Block II aircraft with Block III capability, increasing service life to 10,000 hours, significantly enhancing lethality and survivability via on-board and shared high-fidelity sensor data, and improving aircrew tactical decision aids.
"This organization is no stranger to hard work and dedication, and that continues as we remain focused on our capability and readiness goals," said Capt. Jason Denney, PMA-265 program manager. "As a team, we are committed to supporting naval aviation, its warfighters and our foreign partners." PMA-265 falls under PEO(T).
The Super Hornet entered fleet service in 1999 as a replacement for the F-14 Tomcat. Its first operational cruise was aboard USS Abraham Lincoln (CVN 72) in 2002. That same year, it flew its first combat mission over Iraq. Super Hornets are designed to meet current Navy fighter mission requirements, maintain fleet air defense and close air support, and increase mission range.
PMA-265 is responsible for acquiring, delivering and sustaining the F/A-18 and EA-18G aircraft, ensuring mission success for U.S. Navy and Marine Corps aviators, as well as international partners. As part of PEO(T), PMA-265 provides critical current and future capabilities in the form of total life cycle support management for the F/A-18A-D Hornet, F/A-18E/F Super Hornet and EA-18G Growler weapons systems.