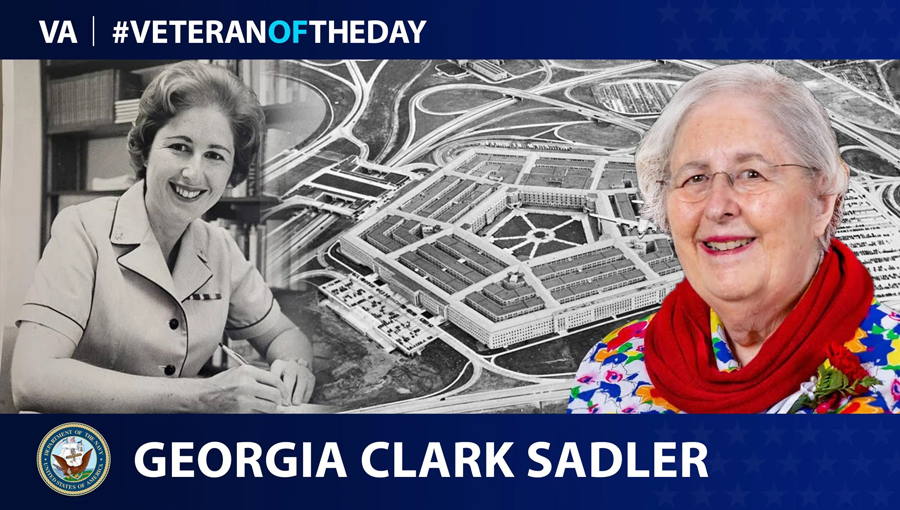 Georgia Clark Sadler dedicated 29 years of her life of service to the Navy and paved the way for the service of women in the military. She was born in 1941 and grew up in Los Angeles, Calif., until her father moved their family to Saudi Arabia pursuing a position in the Arabian American Oil Company. Her education mostly took place in Beirut, Lebanon, where much of it was defined by the political crises in that country. Her family returned to the U.S. in 1958, and she pursued a college degree in education and physical education at Drury College in Springfield, Mo. However, she dreamed of furthering her career in teaching and joined the Navy in 1962.
Sadler attended basic training at the Women Officers School in Newport, R.I., where she graduated top of her class. In 1970, she was selected for graduate school at the University of Washington and later graduated with a degree in public administration. At the Defense Intelligence School, she earned a masters in 1968. She was the only female in her class of 80 students. The school was also the place where she met her husband, Dudley Sadler. Four years later, she started teaching political science at the Naval Academy. In 1975, she became the first female intelligence briefer for the Chairman of the Joint Chiefs of Staff.
In a 2023 interview, Dudley said that, at the time of Sadler's position, "The only command post women would have been eligible for in those days would have been cleaning command and other administrative duties."
Sadler defied these odds and continued to rise to leadership positions not previously open to women in the Navy. She was described to be confident and levelheaded in her leadership ability, leading to her being selected to head the women's program office for the Chief of Naval Operations. This selection played a key role in the increased stationing of women on ships. Sadler also served as the head of the Defense Agency's Soviet Union and Warsaw Pact Division. Toward the end of her career, she was promoted to the rank of captain in 1984 before her official retirement in 1991.
In retirement, Sadler continued to advocate for women in the military through her service as director of the Women in the Military Project at the Women's Research and Education Institute in Washington. She also made several publications, many of which continued her work fighting for women's equality. In 2001, she was invited by the Australian Army to present on the history of American women in the military. More recently, she served on the board of directors for the Military Women's Memorial.
Sadler died in November 2022 in Alexandria, Virginia. She was 81.
We honor her service.