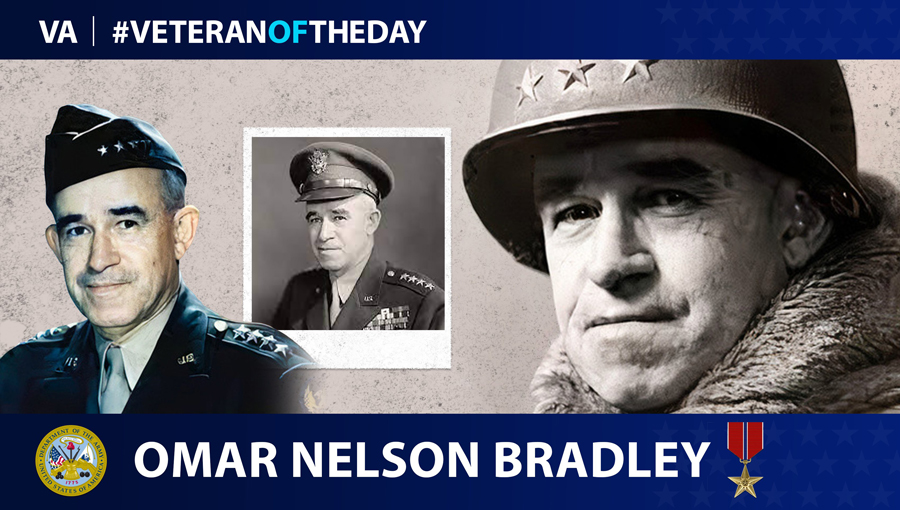 Omar Bradley was born in February 1893, in Clark, Mo. He grew up in poverty and lost his father when he was only 15 years old. His mother, Mary, remarried and moved them to Moberly, Mo. Bradley attended Moberly High School and excelled as an athlete; he was named captain of both the baseball and track team. He graduated high school in 1910.
After high school, Bradley worked as a boilermaker for 17 cents an hour before taking the entrance exam for the United States Military Academy at West Point. He finished second on the placement exam.
Bradley was considered one of the most outstanding college players during his time at West Point and often played on semi-pro teams. He turned down offers to play professional baseball to honor his Army commitment, and graduated from West Point in 1915 ranked 44th in his class of 164. Notable graduates from this class included Dwight D. Eisenhower and many other future generals.
In 1915, Bradley was commissioned as a second lieutenant and assigned to the 14th Infantry Regiment, where he served on the Mexico-United States border during the Mexican Revolution. In 1917 he was promoted to captain and stationed at the Montana copper mines.
From 1919 to 1920, Bradley served as an assistant professor of military science at what is now South Dakota State University. In 1923, he was stationed at West Point as a mathematics instructor, and it was around this time that he became a member of the Freemasons. He was promoted to major in 1924. After an assignment to Hawaii, he was selected for the U.S. Army Command and General Staff School at Fort Leavenworth, Kansas, in 1928. Upon graduation, he served as a tactics instructor at the U.S. Army Infantry School.
Bradley returned to teach at West Point in 1929 and studied at the U.S. Army War College in 1934. In 1936, he was promoted to lieutenant colonel while working at the War Department. In 1941, he was promoted to brigadier general, allowing him to command the U.S. Army Infantry School at Fort Benning, Ga.
In 1942, Bradley was promoted to major general and took command of the 82nd Infantry Division and the 28th Infantry Division. There, he oversaw parachute training and the division's transformation into the Army's first airborne division.
According to Charles Kirkpatrick in The Centennial, "At Bradley's suggestion, the II Corps, which had just suffered a great defeat at the Kasserine Pass, was overhauled from top to bottom. Bradley succeeded Patton as commander of II Corps and directed it in the final Tunisian battles of April and May. Bradley was promoted to Brevet Lieutenant General on June 2, 1943, and continued to command II Corps in the Allied invasion of Sicily (codenamed Operation Husky)."
In 1943, Bradley became commander in chief of the American ground forces in London. On D-Day, he commanded the 1st Army. He commanded III Corps during the Normandy landings and Operation Overlord. Later, he made modifications that led to the creation of the Rhino tank and planned Operation Cobra—a devastating aerial drop of 3000 bombs followed by another 1000 bombs and napalm during World War II.
Bradley continued to command forces in Germany, including at the Battle of the Bulge. In 1945, his 9th Armored Division captured a pertinent bridge, which allowed the capture of over 300,000 Axis prisoners.
After the war, Bradley was appointed head of what was then known as the Veterans Administration and fought to improve the health care system and G.I. Bill of Rights. (Today, the Secretary's primary conference room at the now-known Department of Veterans Affairs headquarters is honored after Bradley.) In 1948, Bradley was named the Army Chief of Staff, and then the first Chairman of the Joint Chiefs of Staff in 1949 by President Harry S. Truman. In 1950, he was the fourth and last person to achieve the rank of General of the Army and the first Chairman of the NATO Military Committee, where he served until 1953.
Bradley continued to serve as an advocate for Veterans, including serving on the President's Intelligence Advisory Board, as an advisor for Truman during the Korean War, and as one of Lyndon Johnson's Wise Men during the Vietnam War.
Bradley died on April 8, 1981, in New York City. Among his other accomplishments, he is remembered for serving the longest active-duty career with a total of 69 years, eight months, and seven days.
We honor his service.