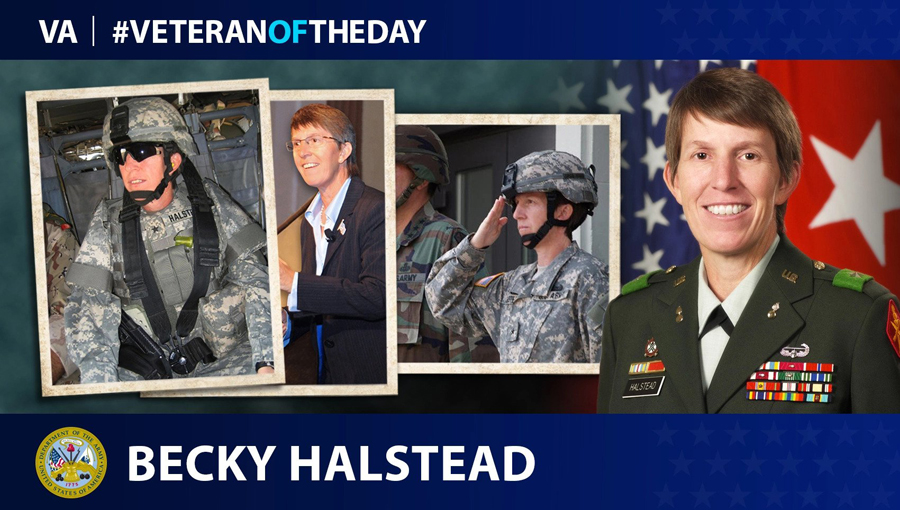 Army Veteran Rebecca Halstead was a pioneer for women in the military, graduating from the U.S. Military Academy at West Point in its second ever class to include women. Halstead grew up in Willseyville, N.Y., and became the first person from her town to attend West Point after graduating from Candor High School in 1977. She completed a Bachelor of Science in Engineering from West Point in 1981.
After graduating from West Point, Halstead was assigned to the ordnance corps. Over her career, she has served in Italy, Hawaii, Fort Drum, N.Y.; South America, Germany, Iraq and Afghanistan.
In Afghanistan, Halstead served during Operation Enduring Freedom as a logistics staff officer for Coalition Task Force Afghanistan. In 2004, she was promoted to brigadier general, becoming the first woman graduate from West Point to attain a general officer rank.
Halstead became the first female commanding general in Iraq, where she led about 20,000 soldiers across 55 different bases in Iraq. In 2006, Halstead became the first female chief of Ordnance and commanding general of the Army's Ordnance Center and Schools.
While still in the Army, she continued her education, obtaining a master's degree in advanced military studies from the Army Command and General Staff College at Fort Leavenworth, Kansas, in 1993. She also received a master's degree in National Resource Strategy from the Industrial College of the Armed Forces, National Defense University at Fort McNair in 2000.
Halstead retired in June 2008. In 2010, she founded and became CEO of STEADFAST Leadership, a consultancy company dedicated to training leaders and developing teams. She also is a spokesperson for the Foundation of Chiropractic Progress advocating for Veteran health and resources. In addition, she serves on the Board of Advisers with the Thayer Leader Development Group at West Point and as an advisor at the Gordian Institute.
For her service, Halstead received the Distinguished Service Medal, the Defense Superior Service Medal and the Bronze Star Medal, among many honors. In 2007, Halstead received the National Women's History Project award. In 2011, she was inducted into the Ordnance Corps Hall of Fame and, in 2013, the New Jersey Women's Hall of Fame. In 2021, she was inducted into the National Women's Hall of Fame.
During her career, Halstead has advised generals, multi-national teams and coordinated with the Office of the Secretary of Defense, Joint Chiefs of Staff, Department of State, Congress and ambassadors from international organizations. After 27 years in uniform, she continues to dedicate her life to leadership development around the nation. She is currently based in Washington State and works in inspirational speaking, leadership training, coaching and mentoring in the academic and corporate levels.
We honor her service.