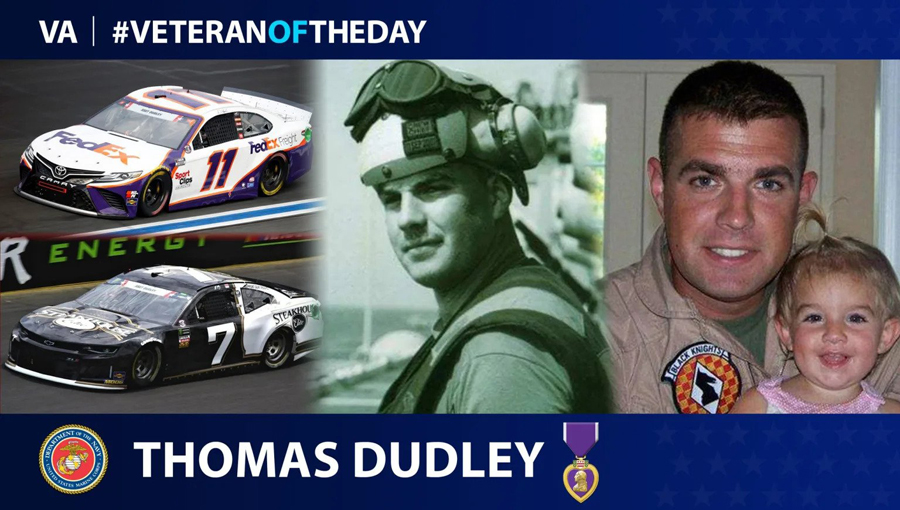 Thomas Joseph (T.J.) Dodds Dudley enlisted into the Marine Corps at 18 after graduating high school in 2000. He was born in August 1981 in Rochester, N.Y., where he lived before moving to Tega Cay, S.C., and later Fort Mill, S.C., with his parents and 13 siblings. He graduated from Fort Mill High School in Fort Mill, completing Junior Reserve Officers' Training Corps and drill team. He also participated in the Tega Cay Rescue Squad in high school.
Dudley completed bootcamp on March 9, 2001, and was assigned to Marine Aircraft Group 26, 2nd Marine Aircraft Wing, II Marine Expeditionary Force at the Marine Corps Air Station New River in Jacksonville, N.C. He served overseas for six tours in Iraq and Afghanistan. Dudley was a crew chief for the CH-46 Sea Knight for much of his career before he was reassigned to a V-22 Osprey.
On July 7, 2011, Dudley was killed during combat operations in the Helmand province of Afghanistan. He was 29 and was just two weeks away from returning to the U.S. to his wife Mary and three children.
In his spare time, Dudley was a volunteer firefighter at the Haws Run Volunteer Fire Department while stationed in Jacksonville. After his death, a friend remembered him as "a great Marine, a true friend, a loving father and a devoted husband." In his memory, one of his younger brothers enlisted in the Marines and one of his sisters joined the Navy.
Dudley received a Purple Heart for his sacrifice. He was also awarded an Air Medal, a Korean Defense Service Medal and an Outstanding Service Medal, among other honors. He was buried in the Rock Hill Memorial Gardens, S.C., with full military honors.
We honor his service.