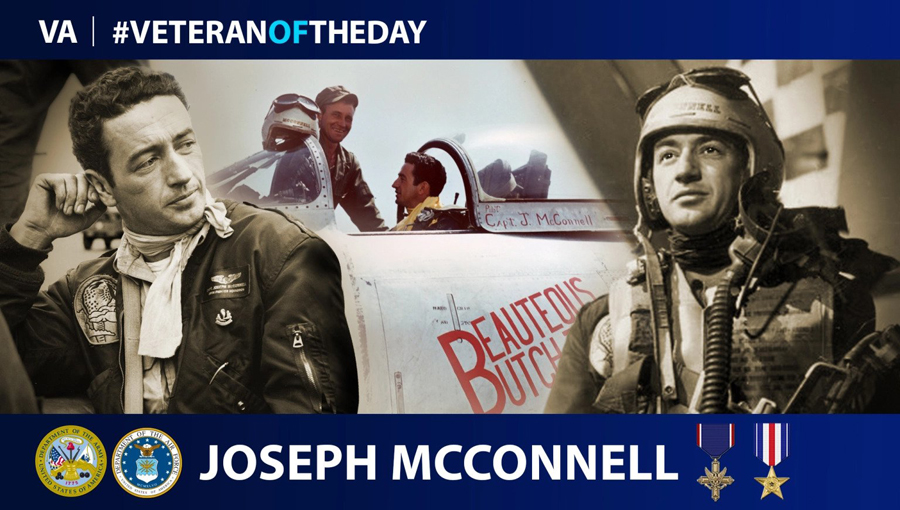 Joseph McConnell Jr. was born in January 1922 in Dover, N.H. He enlisted into the Army in October 1940 and served in the Army Medical Corps until 1943. With dreams of becoming a pilot, McConnell transferred to the U.S. Army Air Forces and began the Aviation Cadet Program. However, he was assigned to navigator training rather than pilot training, and served as a navigator with the 448th Bomber Group until the end of World War II. It wasn't until 1946 that McConnell entered pilot training. On Feb. 25, 1948, he received his pilot wings at Williams Air Force Base in Arizona. He formally joined the U.S. Air Force after its formation from 1947 to 1954.
McConnell was assigned to the 39th Fighter-Interceptor Squadron of the 51st Fighter-Interception Wing in September 1952 and quickly became a victorious and respected pilot during the Korean War. He attained his first victory on Jan. 14, 1953, and within a month he took down four more enemy aircraft, becoming an ace. Flying F-86 Sabres, He shot down his eighth MiG over the Yellow Sea before being shot down himself by Soviet fire. He bailed out of the aircraft and spent two minutes in freezing cold enemy waters before being rescued by helicopter. The next day, he shot down his ninth MiG and, by the end of April 1953, he became a double ace for taking down a tenth aircraft.
McConnell's final victories were secured on May 18, 1953, when he shot down two MiGs on one mission, becoming a triple ace; later that afternoon, on a new mission, he shot down his 16th MiG. He secured all victories within only four months and became the first triple ace in U.S. history.
Later that year, McConnell returned home to Apple Valley, Calif., stationed at George Air Force Base where he was testing F-86s. On Aug. 25, 1954, when testing the newest F-86H at Edwards Air Force Base, Calif., McConnell died in a crash following a control malfunction attributed to a missing bolt in the aircraft.
For his service in World War II and the Korean War, McConnell received the Distinguished Service Cross, the Silver Star, and the Distinguished Flying Cross, along with many other awards. His hometown of Apple Valley dedicated many awards including a new home, the "Appreciation House," to McConnell and his family. The 1955 film "The McConnell Story" chronicled his life.
McConnell was buried in Victor Valley Memorial Park in Victorville, Calif., where in 2008 his wife was buried with him.
We honor his service.