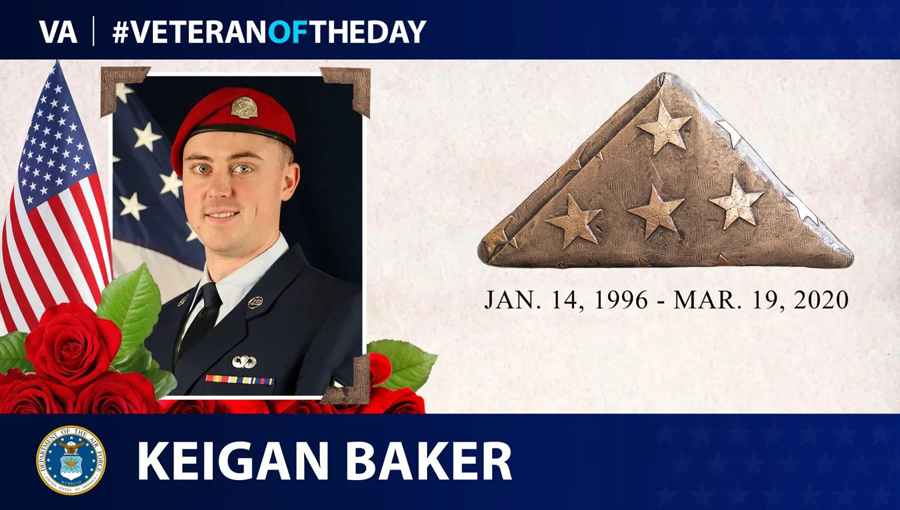 Keigan Baker was born on January 14, 1996, in Longview, Wash. He died on March 19, 2020, at the Air Force Dive School in Panama City, Fla. He was 24.
The Air Force Dive School instructs trainees to become combat divers. Training at depths of 130 feet, the school is standard training for Special Tactics Combat Controllers.
Baker went missing during a surface swim and was eventually found unresponsive. He was a Combat Controller apprentice.
"This is a devasting loss to the entire Special Tactics community," said Col. Matthew Allen, 24th SOW commander in a AF Special Warfare article.
Throughout his life, Baker played several sports, including soccer, baseball, wrestling, track, basketball and football. At Mark Morris High School in Longview, he earned first team all-league in football. After graduation from high school in 2014, Baker went to Eastern Washington University, where he earned a BS in Business Management. He also participated in the ROTC program.
Baker enlisted into the U.S. Air Force in June 2018. At Basic Military Training, Airman First 1st Baker was selected to lead 18 Airmen as Element Leader. Upon graduation, he earned distinction as an Honor Graduate. After BMT, he was selected for the highly competitive Air Force combat control program. Combat Controllers are trained in combat reconnaissance, coordinating precision strikes, and conducting personnel recovery operations.
Due to his leadership abilities, Airman Baker was again selected as an enlisted team leader during Air Traffic Control School, where he led 12 Airmen through seven weeks of rigorous training at Keesler Air Force Base in Biloxi, Miss. According to an Air Force Special Tactics article, he also taught, under the guidance of Combat Control School instructors, four classes and mentored teammates through advanced air traffic control scenarios.
In December 2019, Baker earned the coveted scarlet beret to serve as a Special Tactics Combat Controller. He was assigned to the Special Tactics Training Squadron, 24th Special Operations Wing out of Hurlburt Field, Fla., when he died in the swim training exercise.
Keigan Baker was laid to rest at Willamette National Cemetery in Portland, Ore.
We honor his service.