June 6, 2023 marks the 79th anniversary of the Allied invasion of France's Normandy beaches to free Europe from Hitler's hold.
The date was June 6, 1944 or now known as D-Day. D-Day" was the first day of any military operation during the war. The expression "D-Day" has come to mean the greatest single Allied operation of World War II, the invasion of Normandy, France.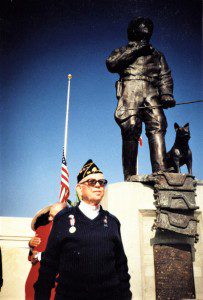 In the earliest hours of the beach landings, one in every two men was wounded or killed. Some of them spent an hour in the water trying just to make it to shore, all of them easy targets. The victory of the Allies was based on the individual decisions of thousands. Out of courage or simple duty, they offered themselves on freedom's altar. Their stories are what we remember and what we honor.
Our former Bakersfield Navy League friend, retired U.S. Army Lt. Col. Edwin Stinemeyer, worked in General George Patton's war room and was attached to Gen. Dwight Eisenhower's headquarters for the D-Day Invasion. Before, during and after the landings, he was there with the Third Army and got to go across the beaches for the breakout. He said, "I was so lucky to be there when history was being made. I was just in the right place at the right time." Stinemeyer passed away at the age of 97 in 2006.
Patton took command of the U.S. Third Army in Normandy after the landings and during the breakout phase of the campaign.
To have the opportunity to work with legendary Generals such as Patton and Eisenhower is rare. Ed was the oldest living person in the world with this distinction.
Ed Stinemeyer turned 97 on March 26, 2006, and had led a full and exciting life. He was born in Canon City, Colo., and was 20-years-old when the stock market crashed in 1929, but was able to earn a degree in metallurgical engineering in 1931 from Colorado School of Mines.
In 1936, he went to work for Shell Oil when James H. Doolittle was vice president of the company. Doolittle served as VP for Shell Oil before and after World War II and was instrumental in having Shell develop aviation fuel. During the war, Doolittle became famous when he led B-25s off the carrier Hornet bombing Tokyo in 1942.
Months after D-Day, Ed was still with Patton and in November 1944, he was in Luxumberg during the Battle of the Bulge. He served in the war room in Germany until shortly after VE Day.
During his military career, which began in college with ROTC in 1930 and continued after World War II and during the Korean War in the Reserves, Ed earned five battle stars for work he accomplished. He retired from the U.S. Army in the 1950's, after the Korean conflict.
Ed returned to his wife, Connie and their family, in Bakersfield after the war and worked at Shell as a geologist- petroleum paleontologist until he retired in 1970.
All airplanes used by the Allied Forces for Operation Overlord had Invasion Stripes painted on the wings so ground forces would know not to shoot at them. There were five stripes, alternating three white and two black. Each stripe was about two-feet wide, and was painted on the top and bottom of the wings, so they were impossible to miss.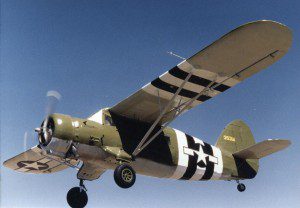 A Noorduyn Norseman UC-64 was the first plane on the beach after the Normandy invasion on June 6, 1944. All Allied aircraft carried large white invasion stripes during the D-Day Invasion in World War II.
My husband, Al Hansen, bought a Norseman in 1986 with his partners for a trade with the Air Force Museum and painted it with military olive drab with invasion stripes.
I still remember how big the Norseman was, similar to an AN-2 in size and able to carry up to 10 passengers or 2,500 pounds of supplies. It is a single-engine utility transport manufactured by the Noorduyn Aviation, Ltd., Montreal, Canada, and was first flown in 1935.
The Norseman was designed for rugged Canadian bush country operations and could be equipped with wheels, floats, or skis. It was the first aircraft that was exclusively Canadian designed, built and sold around the world.
Robert B. C. Noorduyn was born in Holland, on 6 April 1893, and received his engineering education in Holland and Germany. In 1913, he went to England, learned to fly and worked in the engineering drafting department with Sopwith Aviation, Ltd.
Noorduyn was in Canada in the 1930s and saw a growing need for an aircraft that was rugged and reliable, one that operators in Canada could use for their businesses and make money. He decided it should be a high wing monoplane to facilitate loading and unloading of passengers and cargo at seaplane docks and airports.