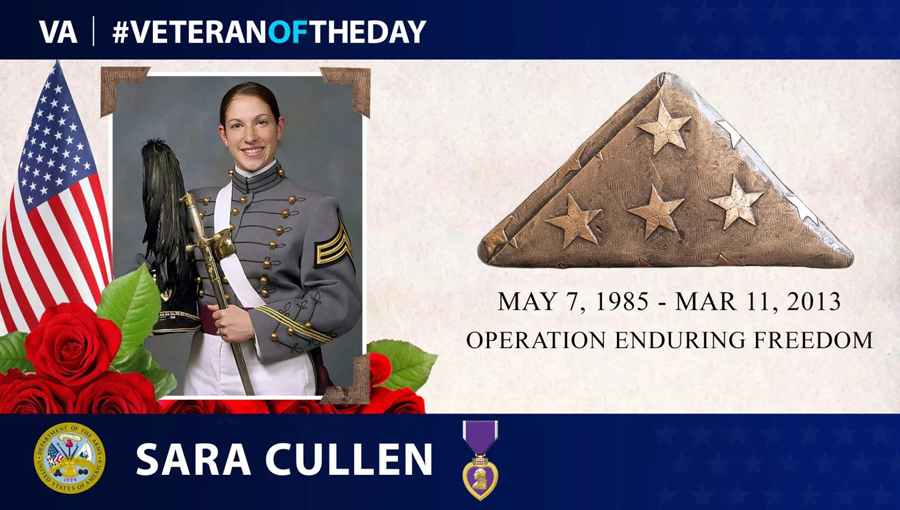 Sara Knutson Cullen was born on May 7, 1985, in Baltimore, Md. She was killed during a training mission aboard a UH-60 Black Hawk near Kandahar in Afghanistan on March 11, 2013. The crash occurred during a heavy rainstorm in Daman district and a total of five soldiers were killed, the Department of Defense said.  According to the U.S. Military Academy alumni website, Cullen served previously at Fort Wainwright in Alaska and deployed on a humanitarian mission to Pakistan.
She was 27-years old.
Cullen attended the United States Military Academy, West Point, graduating class of 2007, to study law. At the time of her death, she was a Black Hawk helicopter pilot stationed at Headquarters and Headquarters Company, 3rd Combat Aviation Brigade, 3rd Infantry Division, out of Hunter Army Airfield, Ga. In November 2012, she married Chris Cullen, a former Black Hawk pilot she met in the Army.  When she was deployed to Afghanistan in January 2013, her husband followed her working for a civilian contracting company reported the Baltimore Sun.
Her mother, Lynn, told WBAL-TV 11 that when her daughter's helicopter went down during a training mission in Afghanistan, she died doing something she loved.
According to the Department of Defense, also killed were Staff Sgt. Steven P. Blass, 27, of Estherville, Iowa; Chief Warrant Officer Bryan J. Henderson, 27, of Franklin, La.; Staff Sgt. Marc A. Scialdo, 31, of Naples, Fla.; and Spec. Zachary L. Shannon, 21, of Dunedin, Fla.
"On (March 13) I had the unfortunate honor of returning to U.S. soil with the fallen aircrew of 3rd Combat Aviation Brigade," her husband Chris wrote on his Facebook page as reported by the Patriot Ledger. "My sadness over the loss of my wife … was overpowered by the honor and pride of being among fallen brothers and sisters…"
Capt. Sara Knutson Cullen was laid to rest at Arlington National Cemetery.  Her medals include a Bronze Star and Purple Heart.
We honor her service and those of her fellow crew-members.