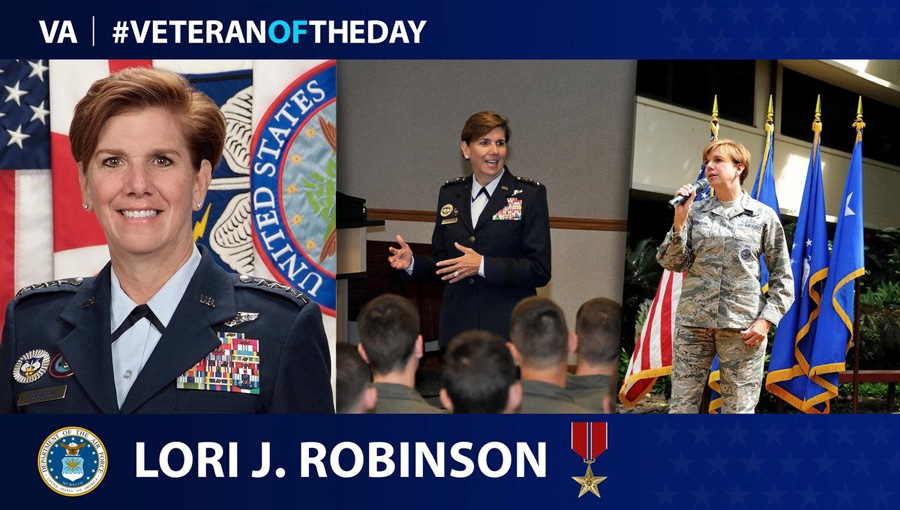 Lori J. Robinson was born in 1959 in Big Spring, Texas. She attended the University of New Hampshire, where she joined the Reserve Officers' Training Corps (ROTC) program. This led her to enter the Air Force in 1982.
Robinson served as an instructor and commander of the Command and Control Operations Division at the United States Air Force Weapons School and as the chief of Tactics in the 965th Airborne Warning and Control Squadron. In 2003, she deployed as vice commander of the 405th Expeditionary Wing; she led more than 2,000 airmen, flying B-1 Lancer, KC-135 Stratotanker and E-3 Sentry aircraft in operations Enduring Freedom and Iraqi Freedom.
Later, in 2005, Robinson served at the Pentagon as director of the Secretary of the Air Force and Chief of Staff of the Air Force Executive Action Group.
On September 21, 2007, Robinson was stationed at Tinker Air Force Base, Oklahoma. There, she became the first air battle manager and the first female 552nd ACW commander to be frocked to brigadier general. From October 2014 to May 2016, Robinson acted as commander of the Pacific Air Forces at Base Pearl Harbor-Hickam, Hawaii, making her the first U.S. female four-star commander of combat forces.
On March 18, 2016, U.S. Secretary of Defense Ash Carter announced that Robinson would become commander of the United States Northern Command and North American Aerospace Defense Command (USNORTHCOM and NORAD). USNORTHCOM aims to connect homeland defense, civil support and security cooperation to defend and secure the U.S.; NORAD conducts aerospace warning and control in the defense of North America. Robinson was the first woman to command a unified combatant command. In June 2018, she retired from the Air Force as a four-star general.
Robinson earned several awards throughout her career: she holds the Distinguished Service Medal with two oak leaf clusters, Defense Superior Service Medal, Legion of Merit with two oak leaf clusters, Bronze Star Medal with oak leaf cluster, Defense Meritorious Service Medal, Meritorious Service Medal with three oak leaf clusters, Aerial Achievement Medal and the Air Force Commendation Medal with two oak leaf clusters.
We honor her service.