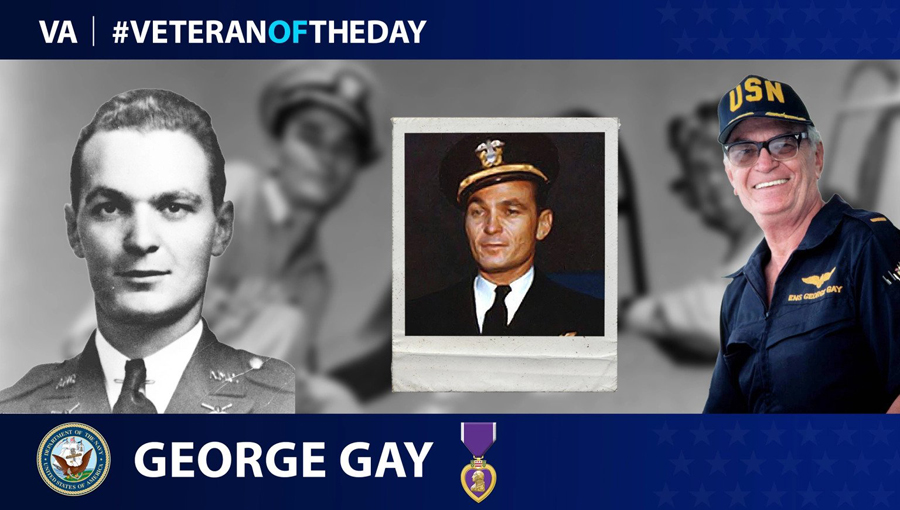 George Gay, often referred to as the "sole survivor" of Torpedo Squadron 8, was born in March 1917 in Waco, Texas.
After graduating from high school, Gay attended Texas A&M University, studying mechanical engineering. In 1939, he planned on withdrawing from school to join the United States Army Air Corps. His desire to fly developed after he and his grandmother attended the Texas State Fair and rode in a Ford Tri-Motor plane together. However, due to a heart condition, he was rejected from the service.
In February 1941, Gay was accepted to serve in the United States Naval Reserve. That year, he began flight training at the Naval Reserve Aviation Base in Miami, Fla. On Sept. 3, he officially earned his wings. A month later, he was assigned to serve on USS Hornet and Torpedo Squadron 8, located in Norfolk, Virginia.
With USS Hornet assigned to the Pacific Theater, Gay first saw combat during the Battle of Midway. Thirty men, including Gay, were ordered to fly toward the Japanese aircraft carrier; their squadron commander ordered all five groups to attack the Japanese Zero fighters. With no support nearby, the Japanese fleet attacked each American plane, killing Gay's gunner. Gay's plane was later shot down by Zeros. The only chance for him to survive was to pull himself out of the cockpit. He managed to survive for over 30 hours in the ocean before a Navy patrol boat rescued him.
For his actions at Midway, Gay was awarded the Purple Heart, the Navy Cross and the Presidential Unit Citation. He returned to his home state of Texas to recover from his injuries. Upon his return, he was featured on the cover of Life magazine and was offered a movie about his story by 20th Century Fox. He turned down the offer and instead returned to serve in the war in 1942. He later served as a torpedo bomber instructor at the Naval Air Station in Jacksonville, Fla., and was discharged in 1945.
After the war, Gay worked for Trans World Airlines as a commercial pilot. In May 1946, he got married and, together with wife Esther, moved around the country to several different states.
On Oct. 21, 1994, Lt. Cmdr. George Gay died from a heart attack. His ashes were spread along with 29 of his squadron's aviators who died in combat.
We honor his service.