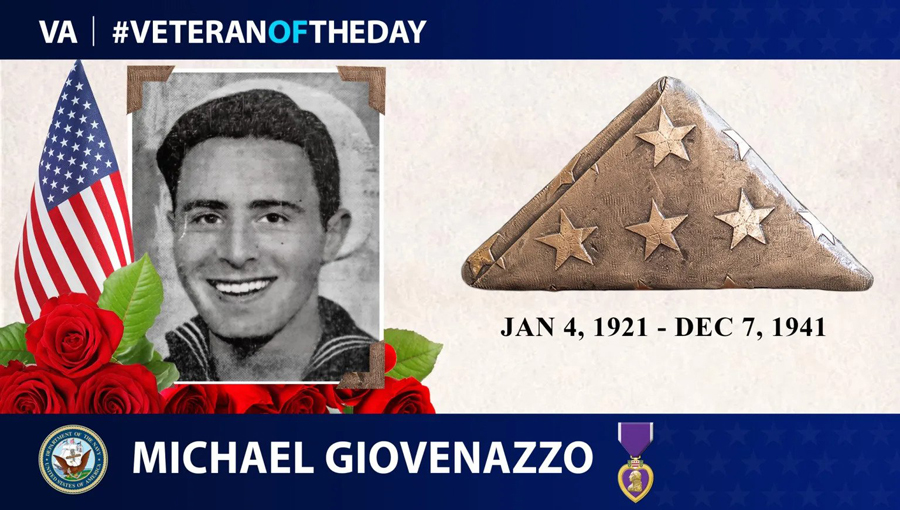 Michael J. Giovenazzo was born on Jan. 4, 1921, in Silvis, Ill. He was one of eight siblings in the Giovenazzo family and graduated from East Moline High School in 1938. He enlisted in the Navy after graduation and was assigned to the USS Arizona at Pearl Harbor, Hawaii, as a water tender or boiler custodian.
On the morning of Sunday, Dec. 7, 1941, Japan attacked Pearl Harbor. The U.S.S. Arizona, along with the USS Oklahoma and USS Utah, would sink in the harbor because of the bombings. Giovenazzo's younger brother, Sam, also enlisted in the Navy—like many Americans—after the bombing of Pearl Harbor.
While Giovenazzo died that day, another brother—Joe, who was also in the Navy—had survived the attack at Pearl Harbor. The Giovenazzo family, back in Silvis, were told by the Department of the Navy that both brothers were safe, due to a mixup. On Dec. 22, the Giovenazzo family received word that Michael was missing. Almost two months would pass without a word of or from him.
On Feb. 16, 1942, the Giovenazzo family received a letter signed by Secretary of the Navy Frank Knox that Michael was considered killed in action:
"Owing to the length of time which has elapsed since your son was first reported missing and due to the fact that no further word has been received about him, the Navy Department has abandoned all hope of his surviving an engagement in the Pacific. However, subsequent findings have revealed that the man listed as surviving is a brother, Joseph. The Navy Department and I extend to you our sincere sympathy and deep sorrow at the loss of your son."
Michael Giovenazzo would be one of three other sailors from the Quad Cities to lose their life on that day. The Arizona, Oklahoma and Utah became tombs for the 1,664 who died on Dec. 7.
We honor his service.