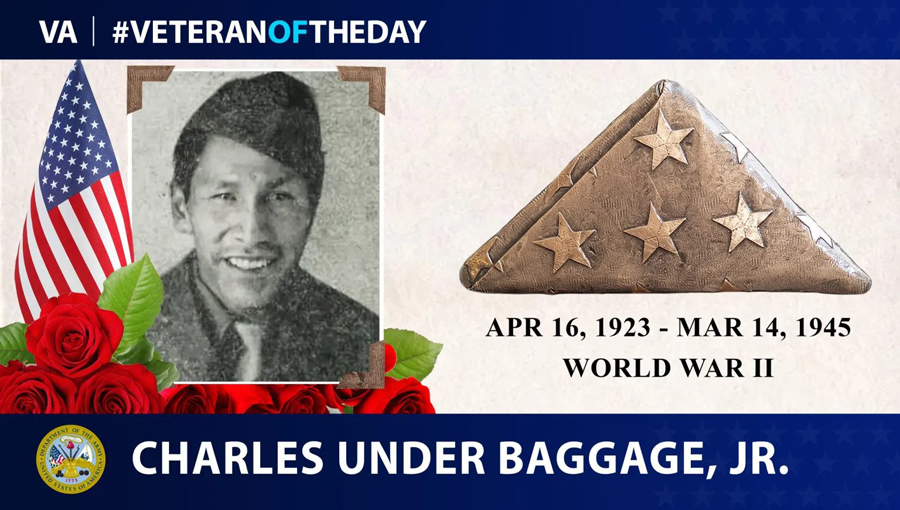 Charles Under Baggage, Jr., of the Oglala Sioux Indian tribe in South Dakota, was born on April 16, 1923. He attended the Medicine Bow Day School and went to high school at Pine Ridge Agency. He volunteered to join the Army in 1943 and served with the 508th PIR of the 82nd Airborne Division.
According to local newspapers, Baggage jumped into Normandy with the 82nd. On March 15, 1945, he and the men of the 508th were scheduled to jump in Reims, France, with the rest of the division. The famed actress Marlene Dietrich was nearby and decided to watch the spectacle of 450 men filling the sky with their parachutes.
During the jump, one of the C-47s lost its starboard propeller. Baggage's friend Werner Angress described what happened next: "As the plane descended, it struck and killed seven troopers who had jumped from another plane. Among these men were … Private Charles Under Baggage, Jr., and five other friends, all members of the regiment's intelligence section. Marlene Dietrich was in tears."
Under Baggage was 22 years old when he died.
In 1948, Baggage's remains were sent home and he was reinterred the Black Hills National Cemetery. His younger brother Alfred, a soldier himself, accompanied the remains—and two years later, be sent to fight in Korea—a grief the Baggage family would again face.
We honor his service.