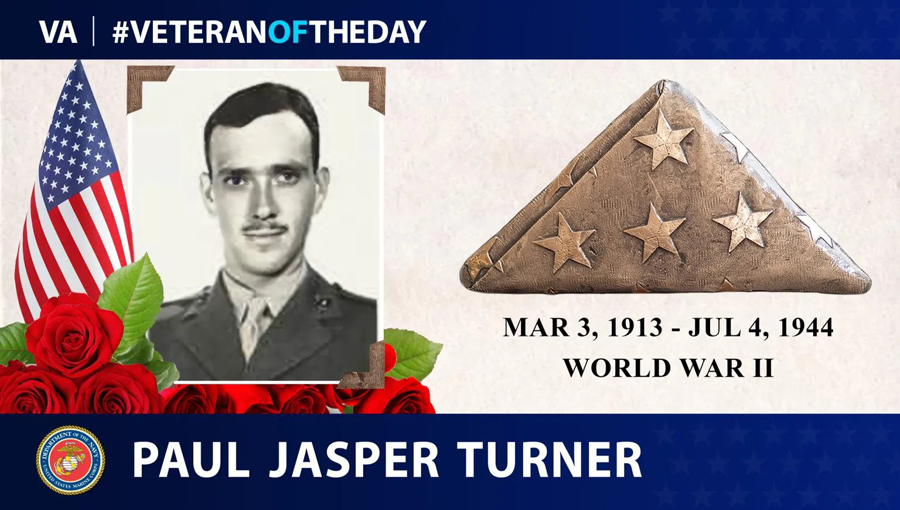 Paul Jasper Turner was born in Nebraska on March 3, 1913, the son of Peter James and Eva Belle Corbin Turner. Before the war, he was a crane operator at the Pollock-Stockton Shipbuilding, Co., and a mailman. In 1934 he married Ester Louvenia, and they had two children together, Peter and Erin.
Turner joined the Marines during World War II and served in the 3rd Battalion, 24th Marines, 4th Marine Division. He commanded a rifle platoon during the invasion of the Marshall Islands, where he was wounded. He recovered in time to rejoin his men for the invasion of the Mariana Islands.
July 1944 found Turner and his fellow Marines on the island of Saipan, facing a fierce resistance. As it turned out, the Japanese soldiers on Saipan were cut off from resupply and had vowed to fight to the last man.
Saipan is hilly, and Independence Day 1944 saw the 4th Marines involved in clashes designed to push the enemies off the hills. One hill was appropriately dubbed "Fourth of July Hill." It was during this battle that Turner was killed.
Gen. Holland "Howlin' Mad" Smith distributed the following message to his tired troops, reminding them of what they fought for: "The Commanding General takes pride on this INDEPENDENCE DAY in sending his best wishes to the fighting men on Saipan. Your unflagging gallantry and devotion to duty have been worthy of the highest praise of our country. It is fitting that on this 4th of July you should be extremely proud of your achievements. Your fight is no less important than that waged by our forefathers who gave us the liberty and freedom we have long enjoyed. Your deeds to maintain these principles will not be forgotten. To all hands a sincere well done. My confidence in your ability is unbounded."
Turner's remains were sent back to the United States after the war and he was interred in the Golden Gate National Cemetery on Jan. 20, 1949.
We honor his service.