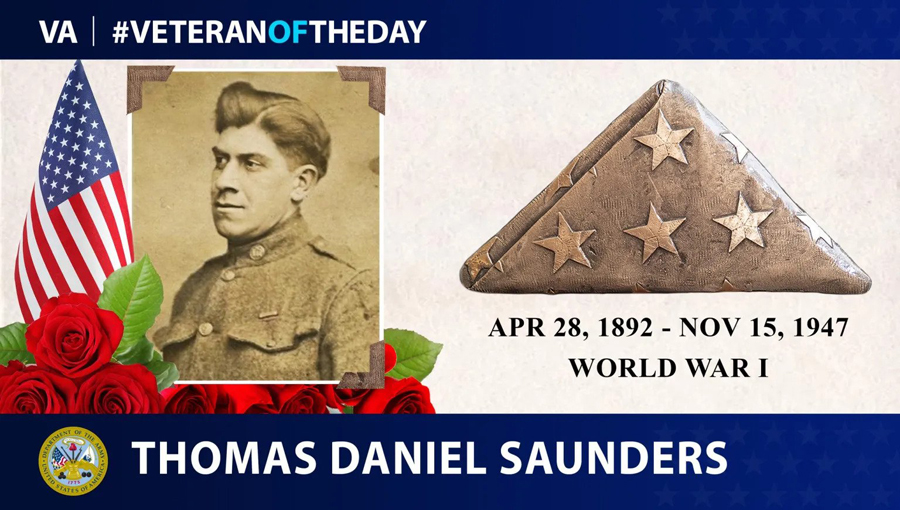 Thomas Daniel Saunders was a Northern Cheyenne Indian born in Medicine Bow, Wyo., on April 28, 1892. At the outset of America's involvement in the First World War, Native Americans were not allowed to enlist. This situation was rectified in June 1917, and as soon as it was, Saunders joined the Allied Expeditionary Forces.
He served in Company A, 2nd Engineers, 2nd Division and received his baptism of fire during the Battle of Château-Thierry in July 1918, where he was wounded in action. A few months later, he led a daring patrol under fire at the town of Jaulny, where he and a fellow Doughboy captured an astonishing 63 German prisoners. For this, he was awarded the Distinguished Service Cross. One month later at Blanc Mont, Saunders led another audacious patrol that earned him the French Croix de Guerre.
Speaking of Saunders, his commanding officer noted: "This soldier has shown himself under trying situations to be far above his comrades, in all operations requiring alertness, coolness, and dependability, backed by fearlessness."
When the war over and Gen. John Pershing was given the responsibility of hand picking the body bearers for the dedication ceremony of the Tomb of the Unknown Soldier at Arlington National Cemetery, he picked Saunders to be one of the six.
Saunders remained in the U.S. Army for nearly 20 more years before being discharged and working for the Army Corps of Engineers in Los Angeles. He died on Nov. 15, 1947, as Wyoming's most decorated enlisted man of World War I. He now rests in the Golden Gate National Cemetery.
We honor his service.