The Northrop Grumman-built B-21 Raider made its first flight from Air Force Plant 42 in Palmdale, Calif., Nov. 10, 2023.
Neither the Air Force nor Northrop Grumman made any prior announcements about the flight, but the aircraft was spotted in the skies of Southern California's Antelope Valley, home to the Northrop Grumman facility that is designing and building the United States' newest bomber, and Edwards Air Force Base where the bomber will be tested.
"The B-21 Raider is in flight testing," Air Force spokeswoman Ann Stefanek said.
The test "is a critical first step in the test campaign managed by the Air Force Test Center and 412th Test Wing's B-21 Combined Test Force to provide survivable, long-range penetrating strike capabilities to deter aggression and strategic attacks against the United States, allies, and partners," Stefanek continued.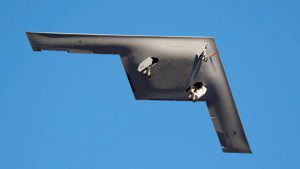 The Raider is designed to carry conventional and nuclear weapons, in either a crewed or uncrewed configuration.
According to Northrop Grumman, the "program is reimagining traditional acquisition processes. Through active contract management, Northrop Grumman and the Air Force have worked in a partnership focused on shared success over the long term. The teams' focus on transparency is evident in the industry-first data sharing agreement that provides the end user with access to valuable data, including the B-21 digital twin."
Northrop is using agile software development and digital engineering tools to mitigate production risk and enable modern sustainment practices for the B-21 program. Ground testing demonstrated the efficacy of digital modeling with results that outperformed industry standards, paving the way for next-gen platforms and systems.
The B-21 program, under Northrop Grumman, has put together a nationwide team to design, test and build the bomber. The B-21 team includes more than 8,000 people from Northrop Grumman, industry partners and the U.S. Air Force, with more than 400 suppliers across 40 states.
The B-21 Raider is named in honor of the Doolittle Raid of World War II when 80 airmen, led by Lt. Col. James "Jimmy" Doolittle, and 16 B-25 Mitchell medium bombers set off on a mission that changed the course of the war. The raid was a catalyst to a multitude of future progress in U.S. air superiority and serves as the inspiration behind the Raider name and the pioneering, innovative spirit instilled across the workforce bringing the B-21 to life.
"This isn't just another airplane," Defense Secretary Lloyd Austin said at the announcement. "It's the embodiment of America's determination to defend the republic that we all love."