Airmen assigned to the 563rd Rescue Group rescued four teenagers that were stranded on Mount Baldy in Dixie National Forest, Utah, Nov. 12, 2020.
One hiker, who was in critical condition, was transported to Dixie Regional Medical Center in St. George, Utah, and was treated for hypothermia and altitude sickness. The other three were taken to the incident command post and then further transported by helicopters to higher medical care.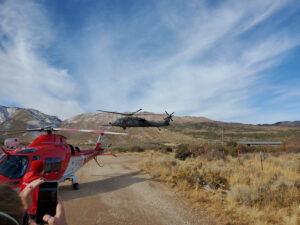 "The initial notification was that four teenage hikers had been stranded for approximately two days in incredibly rough, mountainous terrain at a high altitude," said U.S. Air Force Maj. Philip Veltre, 66th Rescue Squadron assistant director of operations. "Local civilian Life Flight helicopters were able to infill two flight medics nearby who then hiked two miles to the stranded hikers. The hikers were suffering from various degrees of altitude sickness and hypothermia. Onehiker's condition was more severe and therefore prevented the medics from moving to a location where the Life Flight helicopters could land to pick them up safely."
After the Washington County Sheriff's office contacted the Air Force Rescue Coordination Center, the 66th RQS dispatched two HH-60G Pave Hawks with crews that included eight aircrew members from the 66th RQS and five pararescuemen from the 58th RQS. These Airmen are trained to scale rugged and steep terrain in harsh weather conditions to execute search and rescue missions.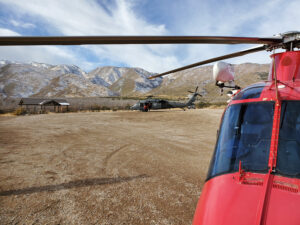 "It feels good to get a rescue mission in because it's a lot of hard work we put in on this, a lot of preparing and flying this aircraft to give us the tools to make sure this was executed safely," Schrock said. "The motto of the unit is 'these things we do, that others may live.' In these aircraft, we have 13 people who are going out of their way to save these hikers and bring them back to their families."
This rescue is one of several real-world rescues over the last year performed by the 563rd RQG, and another great example of how these Airmen are always ready to execute their mission, whether at home station or downrange.