Luke AFB Thunderbolt – Base Newspaper for Luke AFB, serving the West Valley region of Phoenix, AZ – May 2019
Click the image below to view the May 2019 digital edition.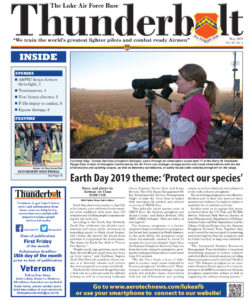 Welcome to the May edition of the Luke AFB Thunderbolt! This month's Earth Day cover story explores efforts by the 56th Range Management Office Environmental Science Management Flight at Luke Air Force Base, to preserve the endangered population of Sonoran Pronghorn at the Barry Goldwater Range East. This stewardship of resources is an area of our mission that is not often talked about. Click on the link below and take a moment to learn how our military mission coexists with Mother Nature.
http://online.flipbuilder.com/vzwd/tkrv/
Here are some more highlights from the May issue:
Luke welcomes new library director: page 5
Thunderbolt families learn about equine therapy: page 8
Military Working Dogs participate in Desert Dog Trials: pages 10 & 11
At Ease/ Luke Events Guide: Pages 21 – 24
All this and much more, in this month's edition of Luke AFB Thunderbolt! Pick up a copy of the paper at distribution points on base and in the West Valley starting May 3, and "Like" our Facebook page for daily updates on news coming out of Luke and other military and defense installations in the desert southwest. It is our privilege to serve you – have a great week! #aerotechnews #lukeafbnews