Luke AFB Thunderbolt – Digital and Print Publication for Luke AFB, serving the West Valley region of Phoenix, AZ. An AerotechNews.com Publication.
Click on the image to view this month's digital edition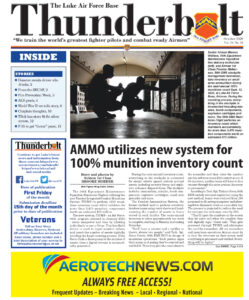 Hello, everyone and thanks for checking out the October 2020 issue of Luke AFB Thunderbolt! The 56th Equipment Maintenance Squadron Munitions Flight is utilizing the new Theater Integrated Combat Munitions System (TICMS) to perform 100% munitions inventory count, which validates for more than 3,470 munition components. Imagine how much more efficient it must be to conduct inventory with a fully digitized system! Staffing was reduced from 160 personnel to 45, and the process is projected to reduce the need for recounts due to human error by 66%. Click through on the link below to read this and much more news in the latest digital edition of Luke AFB Thunderbolt, viewable on your computer or mobile device.
https://online.flipbuilder.com/vzwd/mmrj/
 Here are some more highlights from our October issue:
U.S. Air and Space Forces innovate to defend the American way: page 2

Airman Leadership School congratulates its latest class: page 4

Remembering: A World War II veteran's story: page 6

Luke Airman's story is a tale worthy of the big screen: 12

57th Wing plans 'threat' paint color scheme for aggressor F-35s: page 13
All this and much more, in this month's edition of Luke AFB Thunderbolt! Hard copies of the paper will be available at various distribution points on base and in surrounding areas starting October 2nd. "Like" our Facebook page for daily news updates – we now regularly cross-post news and features from the military bases we serve throughout the desert Southwest, as an extension of our military and defense community. As always, THANK YOU for your support – it's our privilege to serve you! Be safe and be well.   #aerotechnews #lukeafbnews