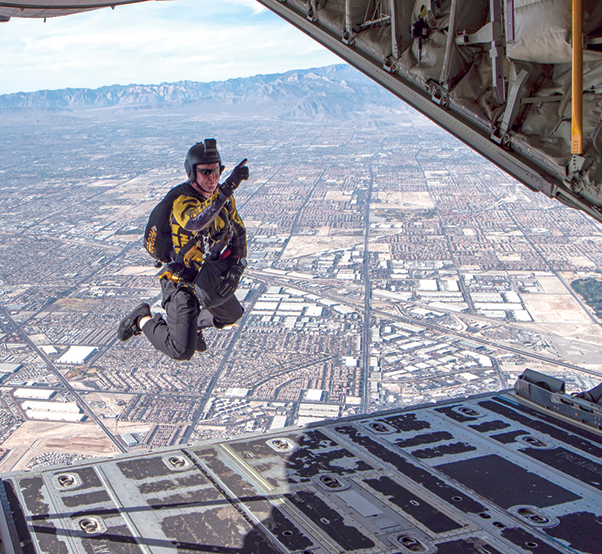 Hovering at 5,500 feet above Nellis Air Force Base, Nev., an HC-130J Combat King II lowers its rear door and gives the final signal to the U.S. Special Operations Command Para-Commandos parachute demonstration team waiting to jump out of the aircraft.
Their aerial proficiency is exhibited as they uniformly free fall to the earth–thrilling and entertaining the crowd below.
The Combat King II assigned to the 79th Rescue Squadron from Davis-Monthan Air Force Base, Ariz., traveled to Nellis to participate in the Aviation Nation Air Show Nov. 16-17. The crew provided a jump platform for the SOCOM Para-Commandos parachute demonstration team.
"This is our first year participating in the air show, so we are very excited," said Capt. Timothy Oswald, HC-130J pilot assigned to the 79th RQS. "Air shows like this are an awesome way to connect with the next generation. A kid in the audience might look up, and say 'wow, I want to do that for a living.'"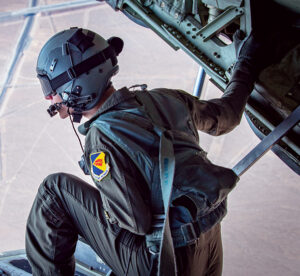 This year's theme for the air show is "salute to our veterans." The Para-Commandos aim to inspire the crowd while saluting our veterans with their performance.
"It's important that we honor our veterans because as military members, everyone that serves sacrifices," said Oswald. "Whether at a personal, physical or emotional cost, it's important that their sacrifice is recognized and acknowledged."
In order to put on this performance, the air crew and team vigorously trained to establish their proficiency. Their extensive practice allows them to ensure proper execution during show time.
"Whenever you're dropping people out of an aircraft, nothing is standard," said Oswald. "There are lots of eyes on you at a show like this and mistakes are amplified. The Para-Commandos are absolute pros, so working with them is incredibly easy."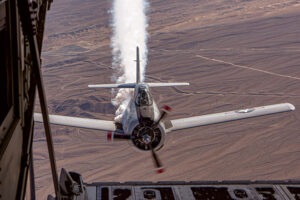 The HC-130J crew were given a small flying window during each day of the show and one opportunity to complete their demonstration; communication is paramount.
"The most challenging part is getting everything right the first time," said Oswald. "We depend on getting a really good pre-briefing and getting on the same page with the team. We don't have the time to say let's try this again, so that brings added pressure."
Carrying out search and rescue missions and providing a jump platform is a core mission set of the HC-130J. Aviation Nation provided the opportunity to show the capabilities of this aircraft and connect to the public.
"For us, participating in Aviation Nation is important," said Oswald. "Being able to entertain and inspire the crowd while honoring our veterans is extremely rewarding."