Airmen from the 14th, 15th and 16th Airlift Squadrons at Joint Base Charleston, S.C., participated in the Joint Forcible Entry 19B exercise to practice interoperability operations with the U.S. Army and other aircraft platforms over the Nevada Testing and Training Range, Nev., Dec. 6-8, 2019.
Three C-17's from JB Charleston, along with three more C-17 Globemaster III's and 17 C-130 Hercules, conducted nighttime airdrop operations for the airdrop element of the JFE exercise.
JFE 19B was the capstone event for the Combat Weapons Course run by the 57th Weapons School Squadron. Its main objective was to help the 82nd Airborne, from Fort Bragg, N.C., take control over a certain plot of land or area from adversary forces, said Air Force Capt. Nicholas Cox, 16th Airlift Squadron pilot instructor.
"Think of the June 6th 1944 D-Day invasion," said Cox. "We want to simulate that as far as us being able to push back the bad guys [by] dropping the 82nd Airborne. As soon as they get their own sustainment operations around, we'll bring the air-land planes.
They'll land and continue on pushing back the enemy and taking control of that area."

Cox added that the graduate-level weapons course takes pilots who are experts on their jets and turns them into a strategist who knows how to incorporate multiple aircraft platforms and other branches of services to execute a successful operation.
"The weapons school is the premiere course and graduate-level course to take pilots and tacticians to make them great strategists to be able to be advisers throughout the military level and the civilian leadership level," he said. "In essence, every single weapons school graduate is, one, an expert in their plane but also, as we see here in the exercise, they know how to integrate with other platforms as well as other branches of the military.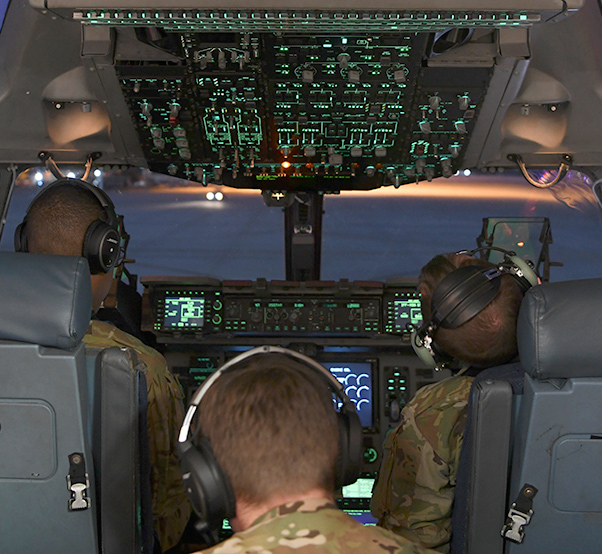 "It's important for the big air force," Cox continued. "Not to say you can't get the same level of knowledge that a weapons officer has and you can't get it if you don't go to the school house, that's not the case at all, but this is six months dedicated to making you the best pilot, the best tactician, the best strategic planner that you can possibly be."
This was the third time Cox has flown to support the JFE exercise; once as a copilot, once as an aircraft commander, and now as an instructor. The experience he got from participating in the weapons course capstone helped prepare him for when he starts the course as a student on January 6, 2020.
"It's good to see the end product that eventually one day will be the capstone of my event," he said. "So it's great to take notes, learn and make mistakes so I can get those lessons learned and apply them in the future."