Varsity Pacific West Military Basketball Conference tournaments were held at the Warrior Fitness Center at Nellis Air Force Base, Nev., Dec. 7 and 8.
Multiple teams from different military services within the Western United States, competed in week three of the season.
"The varsity basketball team here at Nellis (Air Force Base) held their first (of the season), home games this weekend," said U.S. Air Force Master Sgt. Gary Gaines, the 99th Logistics Readiness Squadron superintendent at individual protective equipment and coach of the Nellis AFB's Lightning basketball team.
The Pacific West Military Basketball Conference started in 2015 to incorporate the various military services at different installations to compete at the base or post level in basketball.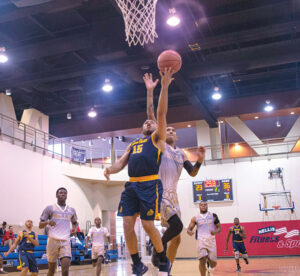 "We travel pretty often-every month to play at different military installations," said U.S. Navy Chief Petty Officer James Milt, a Navy Recruiting District San Diego recruiter and coach for the Naval Base San Diego Tritons basketball team. "We just played our third game (against the Lightning) this weekend. We won two yesterday."
The conference is a way for joint services not only to work together in joint operations, but to compete against each other in friendly sports to gain and maintain mission success and effectiveness.
"First and foremost it builds that camaraderie between our sister services," said Milt. "We don't get a lot of opportunities like this to interact and build a partnership with other services and installations."
"Nellis (AFB's) Lightning team holds tryouts for anyone who's interested," said Gaines. "There's great spirit between services and an opportunity to build life-long friendships."