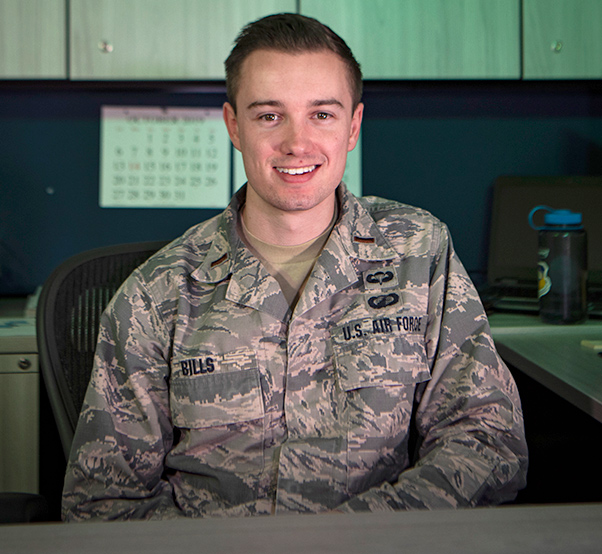 Nellis' Finance Department launched a three-month test trial of their new virtual finance assistant, chatbot [https://www.nellis.af.mil/Units/99-CPTS/].
The new program will allow the finance team to address issues faster without customers having to physically go to the finance office.
"For the number of people we support and the things we are required to do, our finance department is always looking to improve and become more efficient," said 2nd Lt. Trevor Bills, financial operations flight commander at the 99th Comptroller Squadron. "The chatbot is the next step in our evolution as we strive to perfectly serve our customers."
To enhance efficiency and accessibility, customers will be able to speak directly to a finance Airman through any internet connection, including mobile devices.
The virtual finance link will provide basic finance information, updates on briefings and access to the chatbot anytime. Actual agents will be available for more complicated or in-depth issues during normal business hours, 8 a.m. to 3 p.m., Monday to Thursday.
"The chatbot will always be open and it filters requests getting straight to the issue," said Bills.
"Ultimately we want to make sure that everyone is paid correctly and on time, so timeliness is paramount."
To ease the transition into the virtual program, customers will still have access to the finance lobby until Jan. 2. Starting Jan. 6, the lobby will be closed, and the chatbot will address all finance needs.
"We looked at organizations providing customer service and realized we might be antiquated having a traditional lobby where customers come to us," said Bills. "Anyone with an issue will immediately be helped. First in, first out via the chatbot system."
Traditionally, the Finance Department prioritized people in the lobby, which lead to complaints from customers waiting to communicate over the phone or via email. They hope the new system will increase their reach and provide added convenience to customers.
"Every minute that someone is in our lobby waiting, we recognize that's time that person could be on the flight line launching jets or at the medical center giving out immunizations," said Bills. "If we can maximize our efficiency and save people time, then the entire base benefits from it."