Through a thorough selection and application process, six instructors were chosen and graduated the Reconnaissance Weapons Instructor Course, Dec. 14, 2019, at the U.S. Air Force Weapons School at Nellis Air Force Base, Nev.
This course, which is approximately five months, was created to build expert instructors with a working knowledge of the U-2 Dragon Lady and the RQ-4B Global Hawk.
"For the RQ-4 course, we based our syllabus off of the capabilities of the aircraft, with a heavy focus on intelligence, surveillance and reconnaissance," said Maj. Zachary Deshetler, 19th WPS RQ-4 instructor. "The goal of that is to effectively meet the ever-increasing complexity timelines and technological requirements of current and future warfare.
Two enlisted Airmen, Tech. Sgt. Christopher Hook and Staff Sgt. Robert Barnett, 19th WPS RQ-4 instructor senor operators, collaborated with the RQ-4 pilots and provided subject matter expertise on the sensor operator portion of the aircraft.
"We've been providing more information on the sensors, how to employ the effects of the sensors and how to leverage those capabilities," said Hook. "Our main objective is to amplify the pilot course as much as possible and, by next year, we are going to start to develop a course for sensor operators and push to get that validated."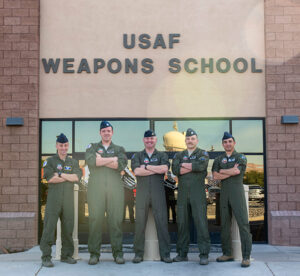 After the graduation, the new instructors will receive the first set of students. Their primary goal at the end of each class is to have the students increase the level of knowledge at their units.
"We're going to increase the baseline level of awareness across the U-2 and RQ-4 community and help build people who are ready to increase effective integration so that we can layer with other assets to provide actionable Intel in a timely and relevant manner," said Major John Mattson, 19th WPS U-2 instructor.
The officers selected were:
Maj. Zachary Deshetler
Maj. John Mattson
Maj. Joseph Raisner
Maj. Jonathan Young
Capt. Ryan Blakeney
Capt. Benjamin Jones