After nearly four years of construction, the Department of Defense's newest cyber facility has been officially activated as of Jan. 10, 2023, housing the 53rd Computer Systems Squadron at Nellis Air Force Base, Nev.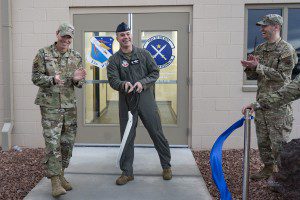 The 53rd CSS mission is to operate, protect, and maintain classified and compartmentalized communications and information systems in support of Operational Test and Evaluation, Electronic Warfare, and Advanced Program operations.
The unit operates and defends a high-speed localized network to provide a robust file storage solution used to store test and evaluation data safely and securely for F-35, F-22, F-15E, and F-16 fighter variants.
With the stand-up of the 53rd Wing's brand new eight-million-dollar data center, the 53rd CSS will be able to rapidly scale for future mission and data growth, reduce the risk of big data loss, and align data center baselines with industry standards for telecommunications, power distribution, and environmental containment solutions.
"Those of us outside the cyber world take a lot of things for granted when we turn on a computer, send an email, download information, upload information, or process data; cyber is the light switch in our lives: we flip a switch, and we expect the light to come on," said Col. Matthew Bradley, 53rd Wing commander. "While we may get frustrated with some of the classified and unclassified issues we have, the special access network infrastructure is critical to guaranteeing combat capability and protecting national security 24/7 around the world."
The main objective of the 53rd CSS is to provide geographically separated operators, analysts, and engineers secure, high speed, uninterrupted access to OT&E, EW, and AP data; accelerating information to leadership and acquisition partners.
"The men and women of the 53rd Computer Systems Squadron are proud to provide cyber solutions to the Air Force's sole wing dedicated to operational test and evaluation," said Maj. Tobias Pedretti, 53rd CSS commander. "This new facility will better enable us to move, store, and manage critical test data in support of the warfighters in the 53rd Wing and the larger Department of Defense."
This project was led by a collaborative effort between the 53rd Wing, 688th Cyberspace Wing, 99th Air Base Wing, with tremendous support from the 53rd CSS civilian personnel that provided continuity throughout the duration of the project.