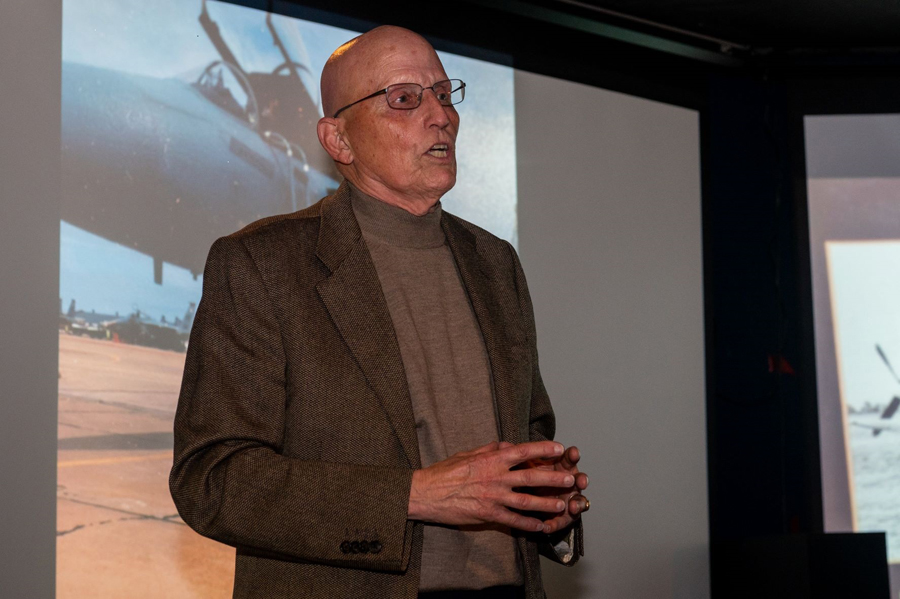 After 40-plus years of Air Force service the father of Air Combat Command Weapons and Tactics, Jacob 'H.A.' Hamilton retired during a farewell event at Nellis Air Force Base, Nev.
The WEPTAC program shaped the Air Force and nation's strategy and Tactics, Techniques and Procedures in the Air and Space domains because of his heavy influence.
H.A. started the WEPTAC program in 2000 after retiring from active duty as a colonel, reshaping and fostering warfighters for 23 years – having a monumental impact.
Gen. Mark Kelly, command of Air Combat Command, spoke at the ceremony and presented H.A. with a coin.
"In this profession we stand on the shoulders of giants and every now and then we have a giant amongst us, H.A. is one of those giants." said Kelly. "His steadfast efforts have directly impacted our nation's ability to control the Air and Space domains.
"Equally important, his experiences and mentorship during his over four decades of service to our Air Force have provided an immeasurable depth and breadth of knowledge to our warfighters. Thank you, H.A."
His combat experience included service as a Vietnam War F-4 pilot, early transition to the F-15 at Kadena AB, Japan, and serving in the Air Force Inspector General Fighter Division. H.A. performed as the lead architect that shaped the integration of Tactical Air Command and Strategic Air Command into Air Combat Command.
"H.A. is a mentor and highly values people and relationships, he takes the time to develop our Airmen and Guardians," said Lt. Col Orion "Rhino' Vail, Chief of ACC Weapons and Tactics Branch. "His four decades of service has a positive influence on our warfighters."
In closing remarks H.A stated that the reason WEPTAC was so successful is because of his teammates.
"The result of [warfighter solutions] that you've developed to past on to Air Force senior leaders, they are the future solutions that a lot of you guys are going to be [implementing], it's really not me," said H.A. "We have an incredible staff within ACC, especially within A3TW.
"We have absolutely, outstanding leadership. And they are all looking for what can we do to work for warfighters."
H.A. has a proud family heritage of service and dedication to the U.S. Air Force. His father was active-duty Air Force and served as a pilot in combat operations over Italy and across Europe during World War II. H.A.'s father was also the first Tactical Air Command Flight Operations Division Chief when the position on the staff was established.