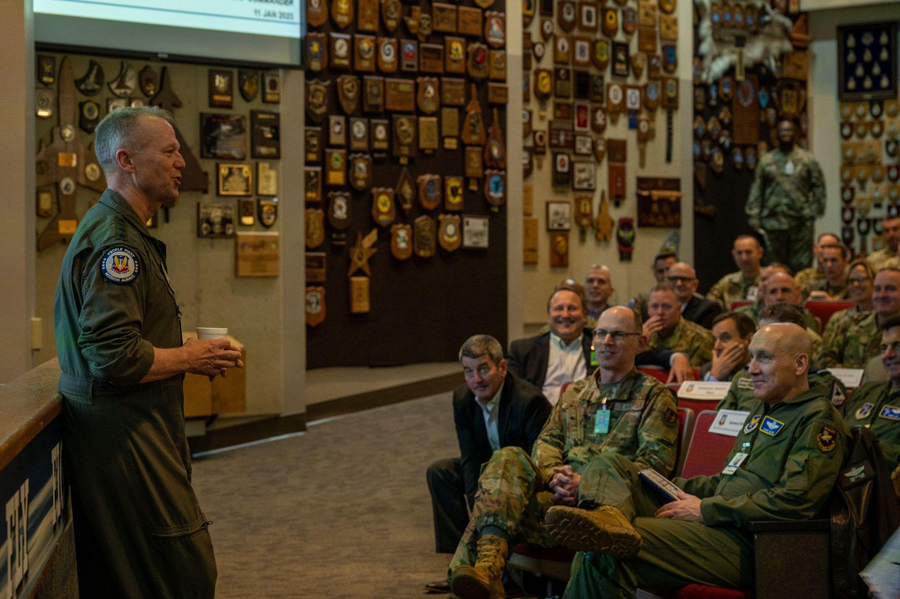 U.S. and international combat air forces senior leaders converged at Nellis AFB Jan. 2-13, 2023, to participate in Air Combat Command's annual pinnacle of tactics and warfare, the Weapons and Tactics (WEPTAC) Conference and C2 Summit, with a charge to accelerate the modernization and development of solutions for the Joint employment of forces across the range of Air Force core warfighting functions.
"There is a common saying of 'As goes Nellis, so goes the Air Force,'" said Maj. Gen. David Lyons, Air Combat Command director of operations, in a speech to an audience of nearly 1,400 U.S. and allied service members. "The primary focus of WEPTAC is the National Defense Strategy and therefore the U.S. Indo-Pacific Command. We are here at the nexus of air power to advise and shape our nation's warfighting prowess."
Pacific Air Forces Commander Gen. Ken Wilsbach gave the keynote address to this year's C2 summit and WEPTAC attendees, emphasizing a need for constant forward motion with innovation as a requirement for mission success.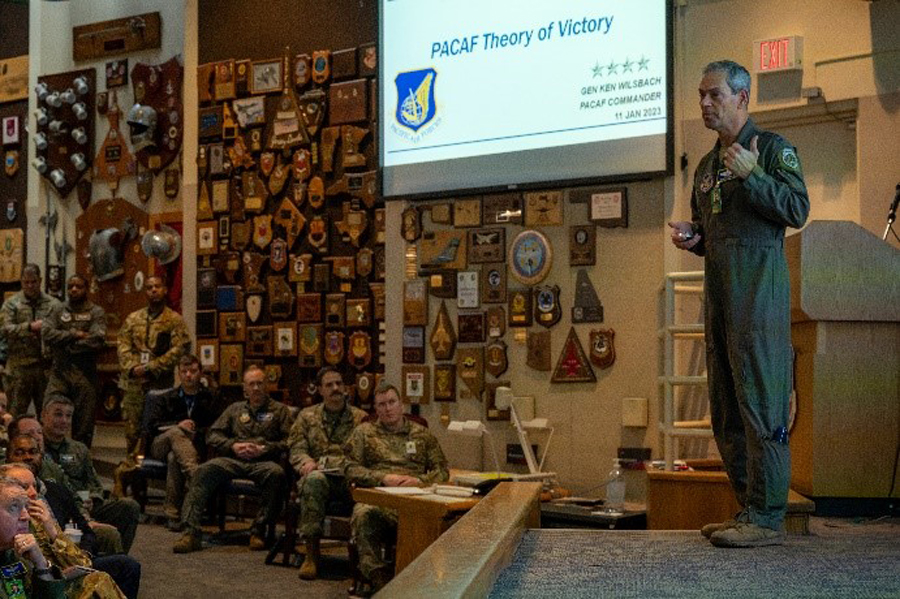 "Innovation will be the key to ultimately winning the next fight," said Wilsbach. "Improvements in innovation talked about at previous years' WEPTACs can be seen in PACAF today."
Lyons added that while focus on emerging technologies and processes like the Advanced Battle Management System are critical to the Air Force maintaining competitive advantage in the Indo-Pacific, effective employment of warfighting constants like mobility and logistics capabilities also remain vital to success in conflict in the region.
"Do not wish away logistics. There is no room for error when we look at the tyranny of distance in the Pacific," Lyons said. "You cannot overlook tanker plans, logistics and sustainment, weapons, communications, and mission-type orders. Think about and talk about these things, including swap-out plans, rejoin plans from disparate locations, and comm-out mission planning – there is nothing we can't tackle when we put our minds to it."
Along with the tyranny of distance in the Pacific, fiscal and political constraints limit the establishment of new enduring air bases. To address these challenges, the Air Force introduced Agile Combat Employment (ACE): a proactive and reactive operational scheme of maneuver executed within threat timelines to increase survivability while generating air-combat power.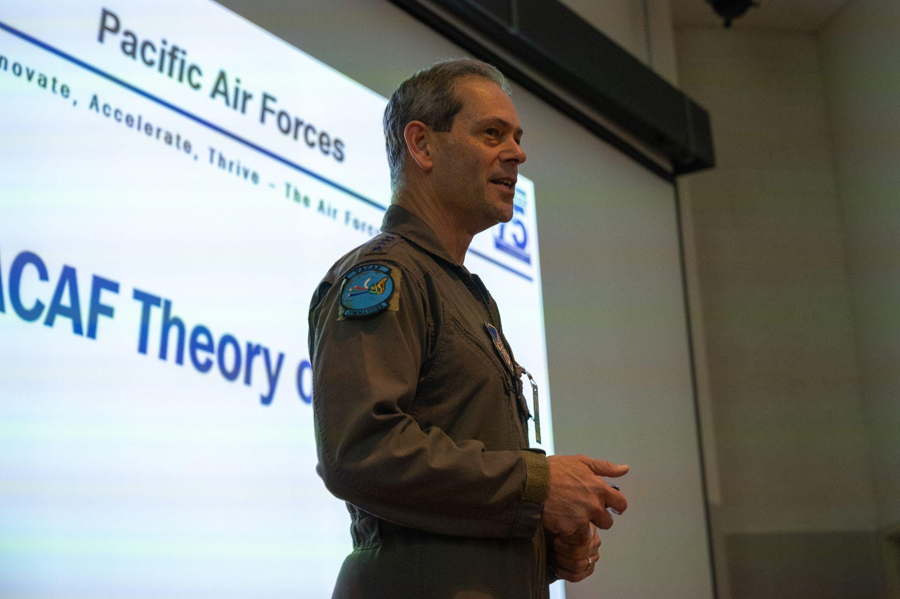 "ACE will expand the envelope in the next fight; it will be a highly contested environment," said Wilsbach. "ACE needs to be exercised in every squadron, every day."
The National Defense Strategy states that to enable our military advantage in the air domain for the long term, we must shift away from legacy platforms and weapons systems that are decreasing in relevance today and will be irrelevant in the future.
Addressing the Air and Space Force senior leaders in the audience, Lyons highlighted the multi-disciplinary specialists conducting WEPTAC's various working groups, noting "We have provided you experts of multiple disciplines to inform your solutions and outputs across multiple programs and resources to provide tangible, feasible decisions to support our conclusions."
WEPTAC's scope and purpose brings the future faster and accelerates change in the United States Air Force. In its 23rd year, WEPTAC continues to provide feedback from warfighters directly to general officers and decision-makers that lead to substantive enhancements and improvements across the Joint Force, both from tactics development and science and technology advancement recommendations.
Wilsbach concluded his speech with a straightforward charge, "It's not going to be easy, but we must put in the work. No shortcuts."